Hello, marketers,
hope you were successful with your social media marketing in 2016. You might have prepared all your end-of-the-year analysis reports and heading towards planning marketing budget for 2017.
I suppose you are doing a research on the trends that are cooking in the marketing industry and testing the things that would work for your business.
In order to make your work faster, here I'm sharing some hot trends of Digital Marketing that worked so good for many businesses in 2016 and will work great for your business too in 2017.
You should consider these two elements and invest in them like for any other aspects of marketing. You should because, these are the trends that are buzzing in the social world. So here you go:
1. Live Streaming
Today on Twitter, I have seen a tweet from a popular Bollywood actor stating that he would go live on the Facebook and YouTube pages of his apparel brand.
Going live on @hrxbrand FB & YT page today at 6 pm IST answering your fitness queries #AskHRX pic.twitter.com/LrEmYrlBm6

— Hrithik Roshan (@iHrithik) January 10, 2017
Actually, I'm a big fan of that actor. But unfortunately, I never knew about the brand he owns. And I think there are many others like me.
With the live streaming, he's spreading awareness of his business and going to make profits. A small strategy for big results, isn't it?
Your audiences want everything fresh right at the moment. They can't wait to see their favorite celebrity talking about his personals. They can't wait to see the preparation of their favorite foodies.
So what should you do?
Put your thinking cap on. Know what your audiences are interested in and want to know about from you and plan a live streaming on their favorite social network. After all, you need not spend a single penny to buy the air time.
Check where you got most of your fans from like Twitter or Facebook etc. All of the social platforms are providing this live streaming facility that you can interact with them on any social network.
Things to remember:
Set a proper goal for your live streaming. When you know what you want from it, you can know how to do it. If you want to spread awareness of your new products, live stream the launch show of the product. If you want to interact with your audiences, conduct AMA session with the key people of your organization. This will generate huge engagement and build credibility.

Publicize the thing that you are going live at a specific time. Promote this as much as you can that most of the audience can turn to you.

Measure the results from the live streaming. Use the analytics tools properly to measure the ROI of your marketing budget.
2. Professional Video
It is not an exaggeration that above 70% of the web traffic is video content. 60% of the people trust a business only when they see a professional video of the business.
If you haven't published your professional video yet, make it immediately. Because, you are on the edge of losing the trust of your prospects.
Have you already published your video? Don't relax buddies. Promote them as much as you can and reach masses. Then, keep creating videos and promoting them on social media.
The world doesn't need any special introduction of Mercedes-Benz and its cars. I had just checked their Facebook page and I found most of their content as video.
And I found an interesting fact that, videos are generating more engagement when compared to the image content.
So, it is clear that they are getting the results for each and every penny they are spending on creating video content.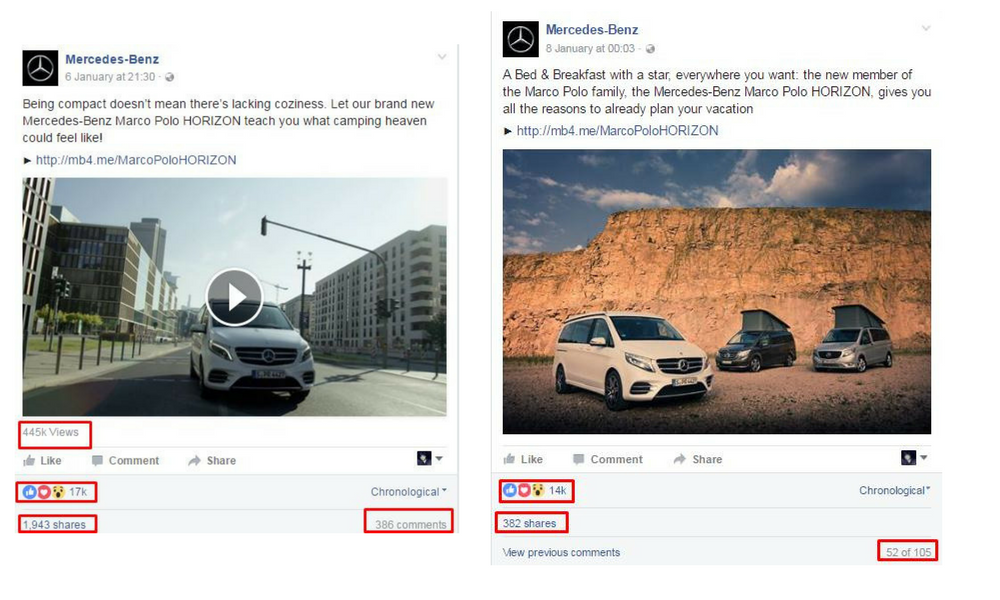 The things to remember are same as while streaming live. You need to determine what you need from the campaign, whom to reach with the content and what you achieved at the end of the campaign.
These are the two important elements of social media marketing that you need to include in your marketing budget in 2017.
I'm sure of getting great results from this and you would be keeping on rising the budget for live streaming and professional video content creation.
Some More Quick Links: