There are several Social Media Management Software available on the internet, but do you need these tools? Or are they just another avenue for software developers to earn money? Let's find out!
Social Media Management: The Big Picture
As technology began to develop rapidly in the early 2000s, social media has had a massive impact on people everywhere. From sharing pictures on platforms like Flickr and Instagram to sharing daily individual updates on websites like Facebook and Myspace, social media gave an avenue to every individual on this planet to come closer.
Sharing your ideas and reaching out to people across the world was just a mouse click away. A little later, the fine line between physical reality and the virtual world came to a blur as social media began impacting our daily lives.
Today, according to a survey done by Statista in 2020, 3.78B people are using social media daily, which accounts for about 48% of the world's population. This number is said to only grow with the growing population of the world.
Social media is easy to access, and with a simple smartphone, an individual can reach millions sitting in the comfort of their couch. It could be the #1 reason for the boom in the usage of social media.
An individual, on average, is said to clock approximately 2.5 hours daily on social media using popular apps like Facebook, Twitter, and Instagram. It makes social media an excellent place for digital marketers to promote their brand and analyze what works with their target audience and what does not.
These platforms gain approximately 1.3 million users every day, from which they get all the information on these users that they can. This information is priceless to marketers who want to learn about what their audience wants and their needs. This information also gives marketers input on the audience to target, as not everyone in the population would be interested in one thing.
All these years, social media marketers have been working with this information. But because of the several platforms present and the overwhelmingly large number of users on each of these platforms. Social media marketers have a hard time working on these platforms to curate content. Along with responding to customers who are interested in their brand.
Because of these overwhelming numbers, software developers and social media marketers have come up with several free social media management software to lighten their burdens and struggles in the industry.
Today, social media management is an organizational process that involves planning, content creation, scheduling, analyzing, and engaging with content on our favorite social media platforms. But because social media has users signing up on the platforms every second of the day, marketers must keep a keen eye on the trends and preferences of their audience.
However big social media may seem, some tips go a long way, and marketers who have been working in the industry abide by these by heart. Some of them are:
5 Social Media Tips for 2022!
Here are some social media tips that will assist you in creating a substantial impact once you implement them:
Identify your brand's goals and objectives: According to some studies, 30% of people who wrote their goals, who achieved them, so it is crucial to have your goals written down somewhere.
Audience Research: An organization must study the demographics they are operating in and conduct surveys to learn more about the needs of their audience.
Calendars are vital: Social media marketers need to keep a post calendar that helps them know when posts need to be up live and when to schedule the ones they have already curated.
Curation of Content: If the quality of the content shown to your audience does not resonate well with them, no tool can help it gain traction. Brands need to be careful when curating their content. They need to impact their audience and cater to the guidelines provided by the platform as well.
Tone down the sales mentality: People online do not want nosy salesmen tactics on their news feed and will instantly scroll away if your advertisements get too on their faces. It is crucial to make the audience feel comfortable while interacting with your audience.
There are tools available online that help marketers take a breather now and then, allowing them to schedule their posts and automate tasks that they can. These tools have become a necessity in most organizations today.
Importance of Social Media Management Software
As discussed above, social media management software aid you in scheduling and automating your daily tasks. It helps in saving time and cutting costs which are valuable to a brand. These tools help you increase the quality of your content available to your audience and boost their quality. These aspects are vital to look into when it comes to engaging your target audience with your content.
What do these SMM software bring to the table?
Free social media management software packages have several purposes. They come with tools that help you analyze and reach your target audience. It ensures the successful reach of your posts and makes sure that your posts are at the top of your audience's news feed and not lost in the crowd of posts made by your competitors.
They help social media marketers in the following ways:
Scheduling Posts: Earlier, when these tools didn't exist, social media marketers would have to sit and curate content for when they need their posts to be live, which rarely ever lined up with the actual time of posting. It became more problematic as brands started growing and attracting audiences from different parts of the world. Marketers would have to be up at odd times to post their content to cater to their audience who lived far away.Scheduling these posts helps marketers curate their content as and when they want and queue them for the exact time that they need it live. It lets them have a good night's sleep and wake up without any hindrance in their work.
Monitoring Audience Response: Brands must follow up and respond to their audience if they get any responses. Social media marketers handle several accounts on several platforms, making it difficult to catch up with the messages and respond to them promptly.
These tools assist you in doing exactly that. Responding on your behalf, using a chatbot ensures that your audience does not think less of themselves and loses interest in your brand.
Engagement Analysis: Platforms already offer several tools for you to analyze your engagement with the help of insights on reach, etc. Social media management software helps you go beyond those insights and give you information on your content's engagement, how much time they spend, and how often they interact with your brand. They offer insights on where these audiences come from and more depending on the brand's needs.
Content Collaboration: Nowadays, with viral content clouding the news feed of our audience so heavily, it is difficult for the posts of our brand to be on top of our audience's news feeds. Social media management software helps you to collaborate with other employees in your office. The addition of teamwork tools in these software packages makes it easier for everyone in the office to have insight into the campaign.
Social Media Management Software has a lot to provide to marketers catering to different brands. A brand has to curate content which appeals to their audience and utilize these tools to ensure their posts have maximum reach and traction on social media.
Also Read: How Instagram Giveaways Can Benefit You In Business
Most of these software packages have a huge learning curve attached to them. Marketers have to look for so much that they lose interest in learning about these software packages and fail to utilize them properly. These social media management software packages must be user-friendly so operating them can be fast and hassle-free so that these marketers get their work done fast.
Fortunately, marketers do not need to venture out and look far away for a powerful and effective social media management software that is easy to use. The answer to their questions is Socioboard!
What is the best software for Social Media Management out there?
Socioboard has been a boon to most marketers out there. It comes with features that make a life for a social media manager easy: official support for all the major social media platforms out there and maximum utilization of all the tools provided by these platforms.
With open-source core support for Socioboard, its extension Socioboard is available on Android and iOS. It lets its users manage numerous social media feeds, draft messages and posts and queue them to be sent and published later. It also allows them to assign personal and team tasks for follow-up, lead generation from anywhere in the world.
Being the best social media management software means that it just doesn't stop at that. Along with scheduling, Socioboard allows automation so that none of your messages go unanswered and all your audience's queries are responded to as quickly as possible.
To aid marketers in their content curation, Socioboard offers the creation of multiple artboards for different posts meant for numerous purposes. With the dependable support of team collaboration, work along with your team no matter where you are!
Socioboard offers its users the following features for them to be at the top of their social media marketing game:
Support for major social media platforms such as Facebook, Twitter, Instagram, etc.
Schedule your posts so you can be active, even when you are not!
Real-time management of multiple social media accounts across different platforms
Automated analytical reports: Allows users to be updated about their insights, as and when needed.
Dual Tone Dashboard: Keep track of the time of your demographics with the help of an automated theme-changing dashboard that changes its theme according to the time.
Content Studio: So you and your team can let the creativity flow without any bounds.
24×7 Customer Support: We are committed to assisting you, no matter where you are or what time it is.
Social Media Management Software packages have come a long way, and as we turn towards technology for so much. The scheduling of posts was a small breakthrough but a necessary one.
Socioboard currently provides scheduling and automation support for Instagram, Facebook, Twitter, Tumbler, Pinterest, Youtube, and Linkedin. What sets it apart from other social media management software packages out in the market is that it allows users to use media from top media platforms like Flickr, Giphy, Dailymotion, Imgur, etc.
In the future, Socioboard will be adding support for all these major social media platforms: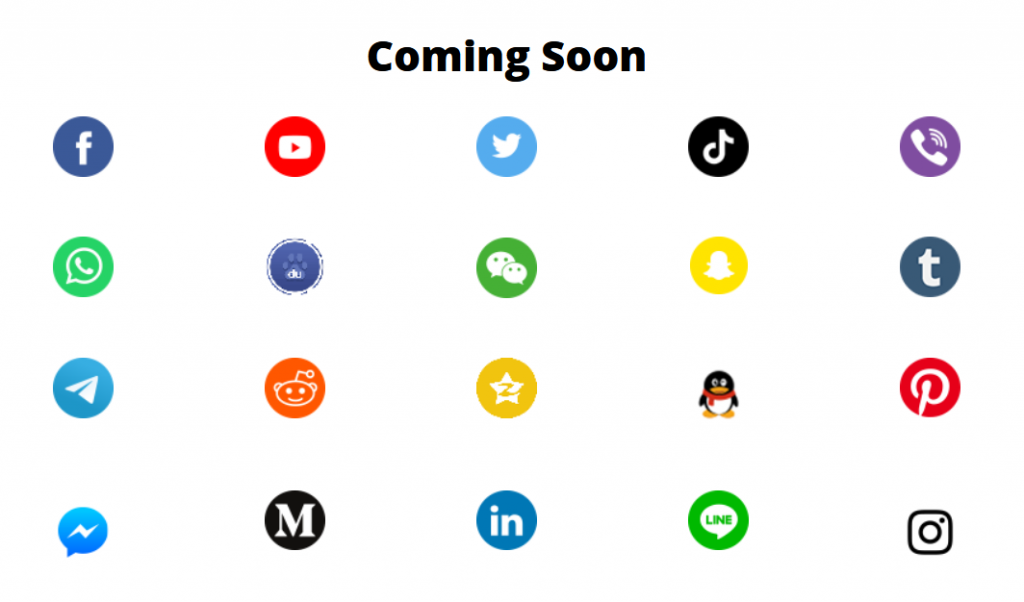 Say goodbye to those panic-inducing wake-up alarms and the rush to post for your social media accounts with the best social media management software ever! Check out Socioboard today and skyrocket your reach amongst your competitors like never before!