The top social media platform management tools make it simple to handle your social media marketing in a targeted manner. It is especially essential because businesses spend a lot of money developing content for Facebook, Twitter, Instagram, and other social media sites. Whatever industry you're in, the ubiquity of social networking platforms is critical to reaching your customers, clients, and readers.
However, it's pointless to devote time and resources to creating fantastic Facebook posts and tweets if you don't know how to track impact and influence. You've only revealed part of the tale by counting how many followers you have.
While many organizations appreciate the importance of social media, they fail to recognize that social media viewers are not in a transactive mindset. Therefore, direct sales are rarely successful unless they are time-limited. Social media, on the other hand, maybe quite efficient as a communication tool for brand growth.
Making the most of your selected social media platforms as part of your entire online marketing plan will be an essential aspect of your content marketing. Here are some of the top social platform media management tools to make managing your social media posting, marketing, and management easier for you.
We've compiled a list of the top 05 features to look for in a great social media platform management tool to make your job easier.
The costs.

Is it a free trial or a free plan?

Offering a product

Supported via social media.

It has unique worth.
Let's start with the best tools for social media platform management.
SocioBoard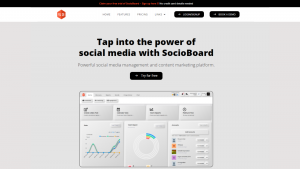 Socioboard is a robust framework for social media platforms management and content marketing. Users can use this social media management software to automate their social media and content marketing activities. We assist brands and businesses in bettering their social media platform management and enhancing their presence to be successful and leading companies in an ever-changing digital space. With Socioboard, we want to deliver a full-featured and powerful platform for users to improve their social media platform management and get results.
The technology allows users to develop, arrange, and schedule content during the hour when their users are most engaged and interacting. With Socioboard, users may create a smooth publishing schedule. It currently supports Facebook, Twitter, Instagram, Pinterest, LinkedIn, and Google Plus, intending to expand to new social networks shortly.
Socioboard provides the following features to assist customers in making the most of their social media platforms: a mart inbox, quick feeds, auto RSS feeds, Google analytics, sentiment analysis, advanced scheduling and publishing, unique social discovery, in-depth analytics and reports, effective and efficient engagement, constant real-time monitoring, team collaboration tools, social CRM, and helpdesk integration.
Users may fine-tune how their teams interact with Socioboard by assigning tasks, managing permissions, and tracking team performance. Articles can easily reach the audience during the optimal times, resulting in increased interaction and consumer engagement.
Sprout Social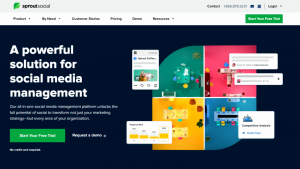 Sprout Social is one of the most professional social media platform management tools and lacks the free or low-cost plans offered by most of the other platforms examined. It does, however, provide a 30-day free trial for its pricier services.
Sprout Social offers a rationally put-out design with a simple interface. It has a Smart Inbox that keeps track of all of your social messages. You can mix and match your social inboxes however you want.
It has a Listening module that functions in the same way. You keep track of mentions of your brand, competitors, or keywords you've chosen.
Sprout Social makes linking your social accounts simple, especially for Instagram, which is notoriously hard. It comes with capabilities that allow your entire team to collaborate. You may effectively assign duties to each team member. Sprout Social greets you with a Dashboard that suggests what you should do next every time you log in.
It has one of the most comprehensive and user-friendly post-creation systems. You may tailor your posts to fit the best practices of various social networks and schedule them for different times. You can import content from a variety of sources and then postpone or add it to your queue.
The cost of Socioboard starts at $4.99 per month as a flat charge. A free version is available. There is no free trial available for Socioboard.
Checkout Latest Blogs-
Social Champ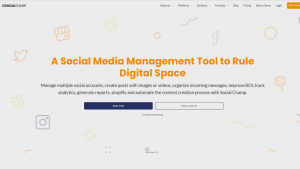 Social Champ is a comprehensive social media platform 
management application. Even though you only get a 7-day free trial, it's plenty to acquire a feel for the platform. Through a series of social media marketing tips, it aids teams in gaining a tighter grip on social media. You get a graphic social media scheduler, as with most sites. You can read all material here or use filters to see bulk, queue, scheduled, recycled, and Forever posts. It also displays sent, prospective, and unsuccessful postings, allowing you to keep track of any content that didn't make it to publication and change your schedule accordingly.
Top-performing content will display in analytics, and platform-specific graphs will highlight how audiences respond to content on each channel. You'll appreciate Social Champ's collaboration function if you're as busy as most social media marketers. You can use it to create workflows, allocate rights to team members, and immediately turn social content generation and posting into a predictable and enjoyable process that yields the best outcomes using the best social media manager. Users who are always on the lookout for new ideas will like Social Champ's Chrome extension, which allows them to share photographs, blog entries, and videos with a single click.
Zoho Social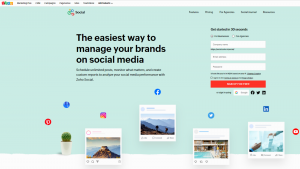 It is a social media platform created by Zoho.
Zoho Social can help you develop your business or agency by boosting your brands on social media networks. The application has a well-organized feature set that allows you to track the performance of your social channels with ease.
With Zoho, you may schedule your posts according to your timeline or use Zoho's forecasts for the times when your followers are most active to enhance reach rates. A content calendar is included with the program, allowing you to visualize the posting timeline and categorize your posts as needed. Thanks to the many listing columns that keep you updated about what's relevant across channels, monitoring your posts on Zoho Social has never been easier. You may gain a better knowledge of your audience insights with the whole analytics tool bundle. It includes Facebook lead ads, CRM integrations, and numerous reporting choices.
Individuals, corporations, and agencies can all benefit from Zoho Social's cheap options. Each plan comes with a feature list that adapts to the needs of the market. You can try these plans for free first and then pay after the trial period has ended.
Conclusion
The reality is that we live in an impulse-driven culture where artificial intelligence of many kinds is at the forefront of technological advancement. In the area of social media platform management services, this is no different. Which type of social media management platform best suits your goals, budget, and preferences will decide your individual business needs and is social media management for small business a good decision?
We recommend you choose a social media manager that will save you and your team valuable time. How? By automating social media marketing processes, collaboration workflows, and actionable insights with various price points serving the market and plenty of features offered among social media platform management software. Therefore consider choosing a partner that will save you and your team valuable time automating social media marketing processes, collaboration workflows, and actionable insights.
Examine the tools listed above to find which one is best for your company and supports all of the social media platforms you require.