Amid an ever-changing social-media management scenario, buckle up your marketing game with focus and technique to make an impression and increase profits.
Sharing below 11  basic, never failing, intelligent social media management strategies to level up amid tough competition.
11 Effective Ways to Improve Social Media Management
1. Audit Your Existing Social Media Strategy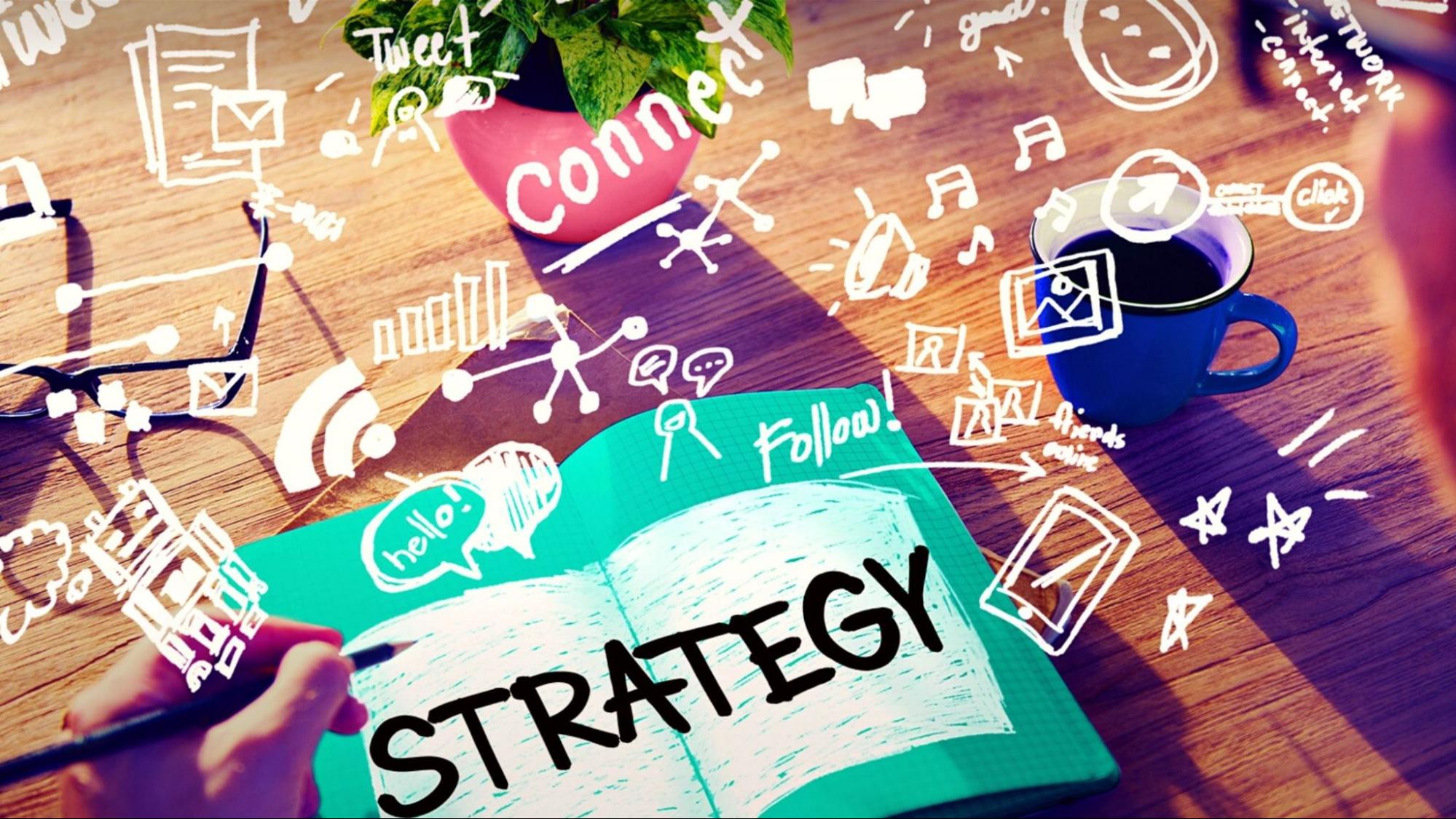 When using a social media management platform, always make time to audit your marketing strategy to gather crucial insights into your marketing.
With a social media audit, you can understand what's working and what isn't profitable within your social media campaigns.
Additionally, you get to improve on your shortcomings for better conversions and ROI(Return on investment).
A social media audit enables better customer satisfaction and increased customer engagement, both are concerning metrics for social media management strategy.
Typical Social Media Management Audits include:
Reviewing your social media goals.

Ensuring the same branding across social media platforms.

Compiling your social media metrics,  like followers, engagement rate, and more.

Analyze social media metrics to identify trends such as content preferences.

Reviewing your competitor's

social media marketing management.
2. Research Your Target Audience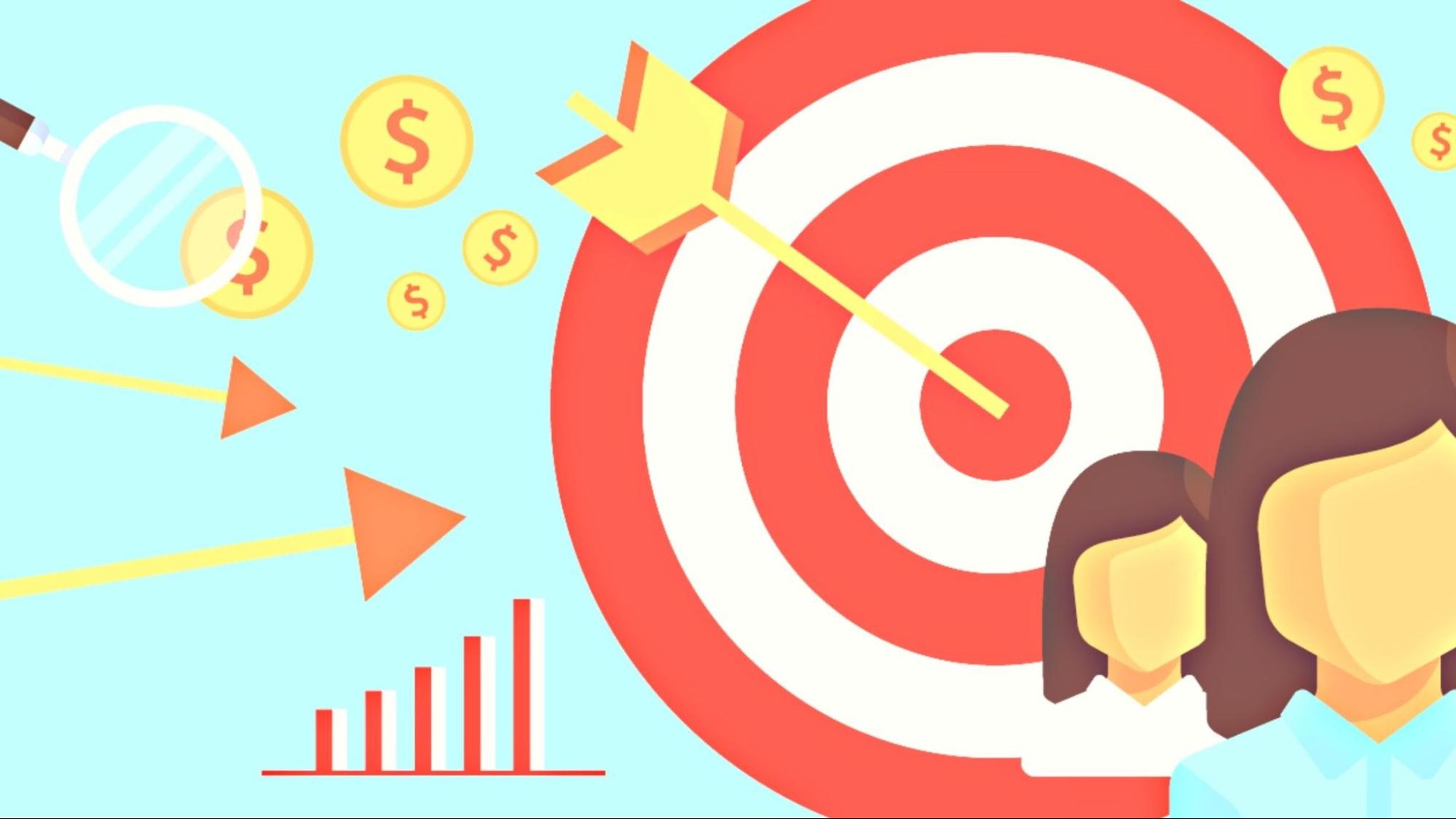 It can be really challenging to create a social media strategy if you are unaware of your target audience.
Investigating your target audience is a crucial part of social media marketing strategy to increase followers and profits in turn. 
Research your target consumers on their preferred platform to earn maximum or sometimes unexpected ROI (return on investment).
For example, social media strategy for the healthcare sector cannot be the same for all segments, as there are several different niche consumers for heart care, dental, eye care, pediatrics, and orthopedics.
Gather precise information on target consumers like insights about gender, age, and purchase preferences to tap into the hidden niches.
With accurate research practices, you can ensure the required investment in the ad spends, creating content and advertisements that target the right users.
3. Choose Your Social Media Management Platforms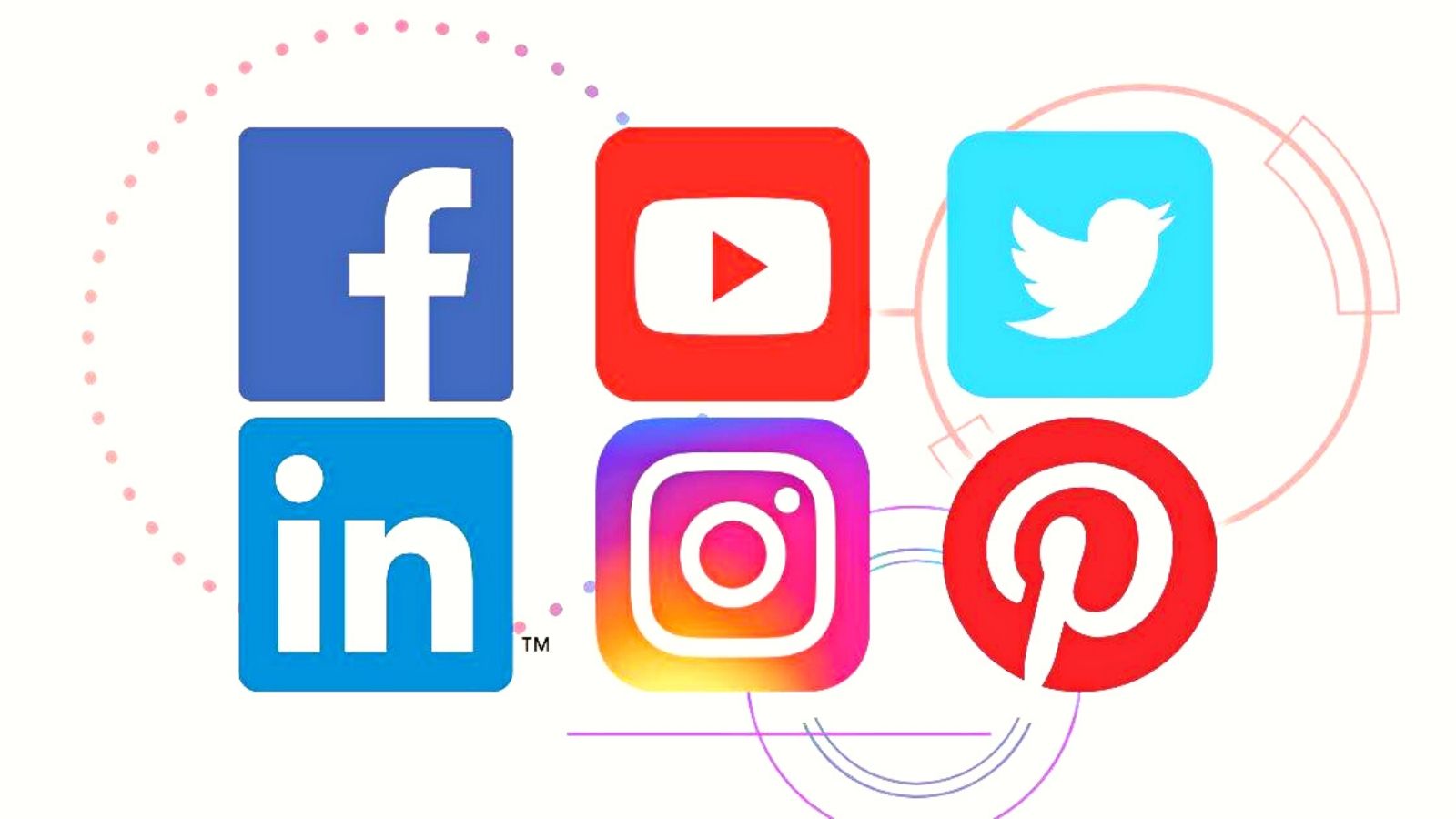 Be very careful with your social media management platform selection, as time is the most valuable resource for social media marketing for businesses.
Focus your efforts only on those networks that matter most to your audience.
Ensure having a profile on every top social media network, like Facebook, Twitter, and LinkedIn, but prioritize your time on social media platforms by how much your audience uses them.
Find out which networks matter most to your target market by reviewing demographic data. If you conducted a social media audit, you could also reference your engagement rates to see which networks performed best. Check competitor activity, as well.
You can rely on the best social media management tools like SocioBoard to manage your social media and content marketing needs.
SocioBoard streamlines your content marketing and social media management operations through its flexible scheduling process for all major social media platforms.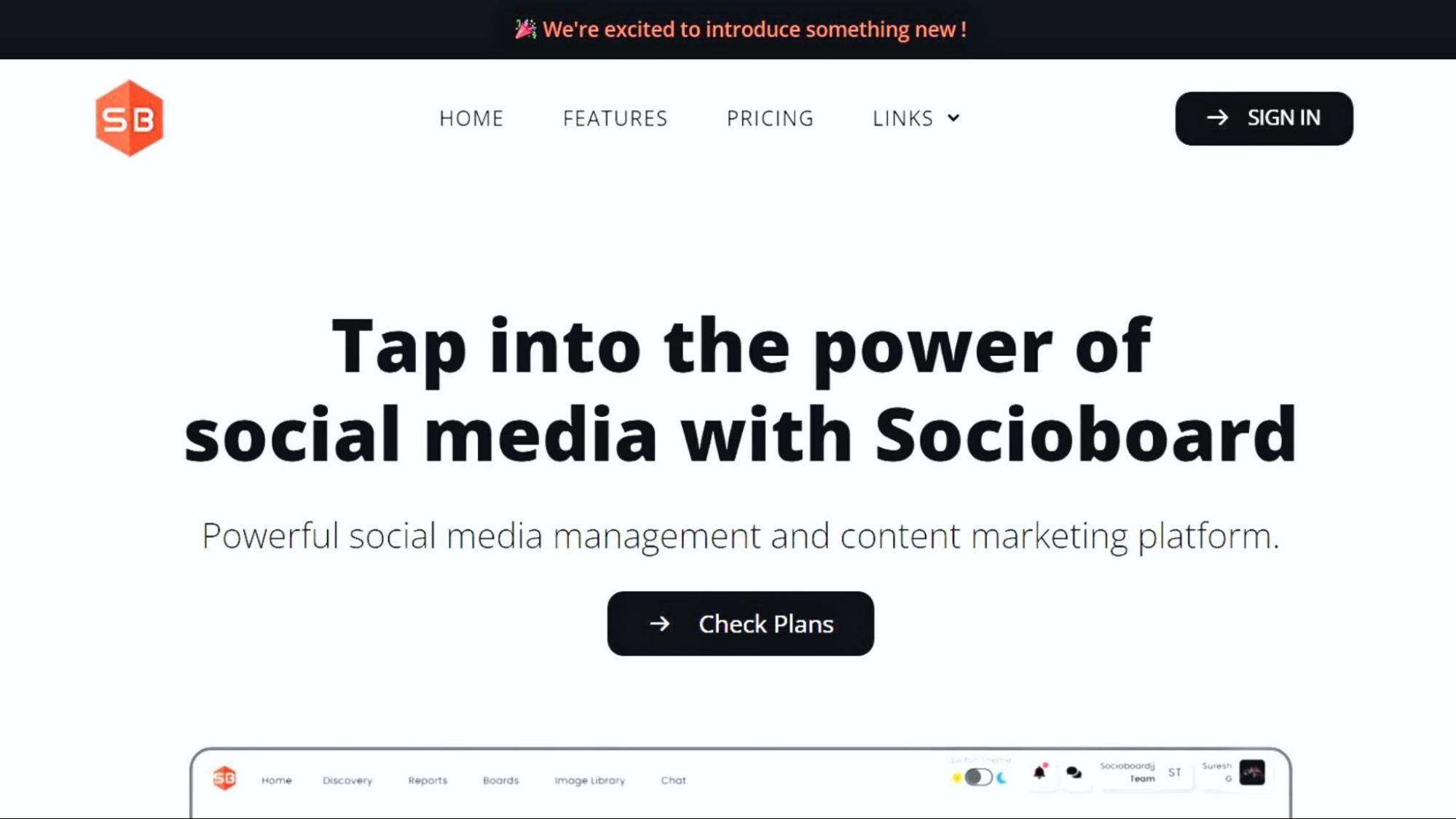 Main Features-
Flexible Scheduling-
You can create, plan and schedule your content according to the most active time of user engagement so that they can participate and join in your offers. SocioBoard provides a seamless publishing experience by giving you scheduling control.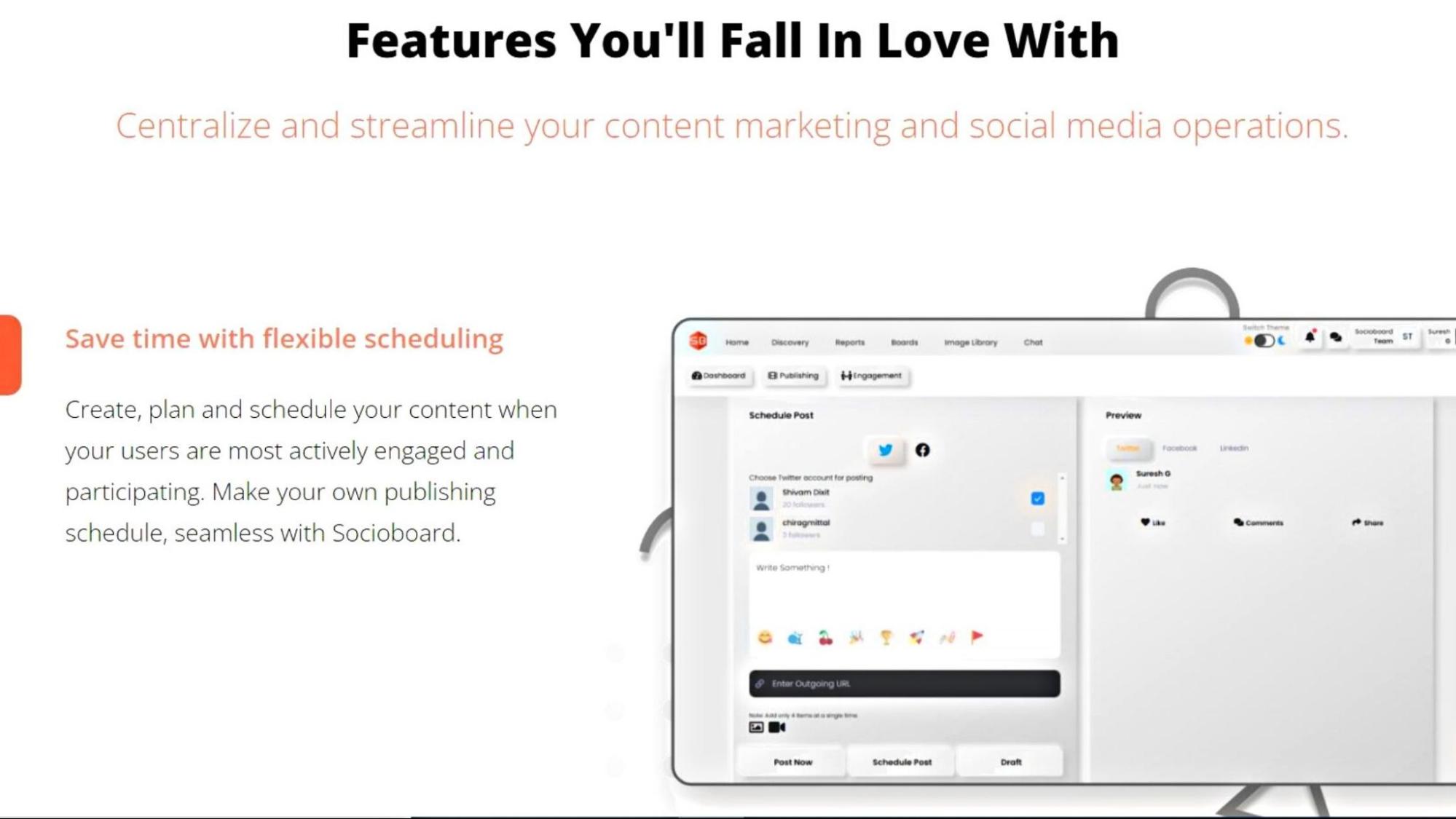 Simplified RSS Feed-
All of your RSS feeds are organized in one place with an RSS content manager. You can discover fresh pieces of information by filtering them through search phrases, or you can sort them by feed name, date or category.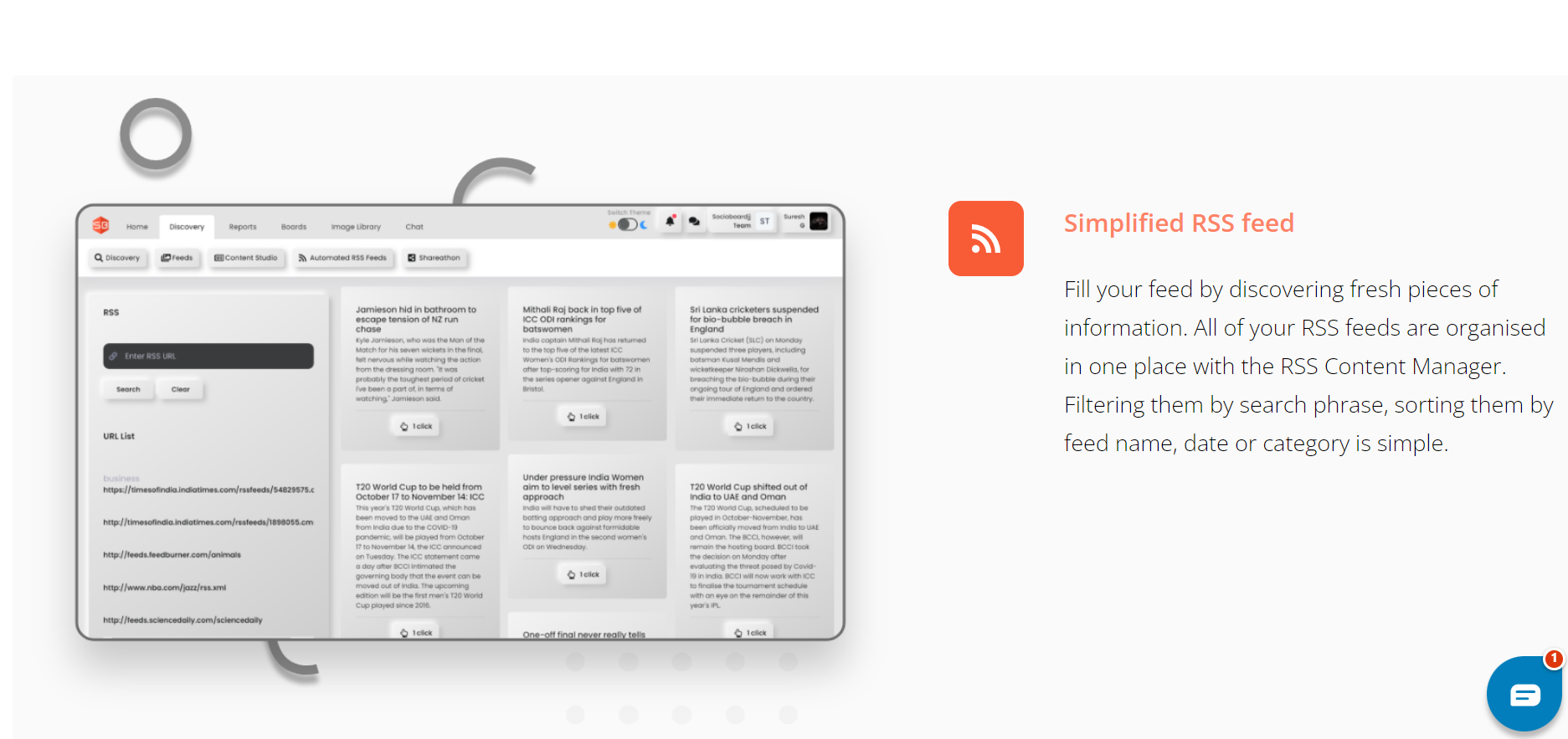 Manage Multiple Accounts-
What else can anybody ask for when some application is taking care of all your social media accounts? SocioBoard lets you manage multiple accounts all-in-one and remove which are not in present use.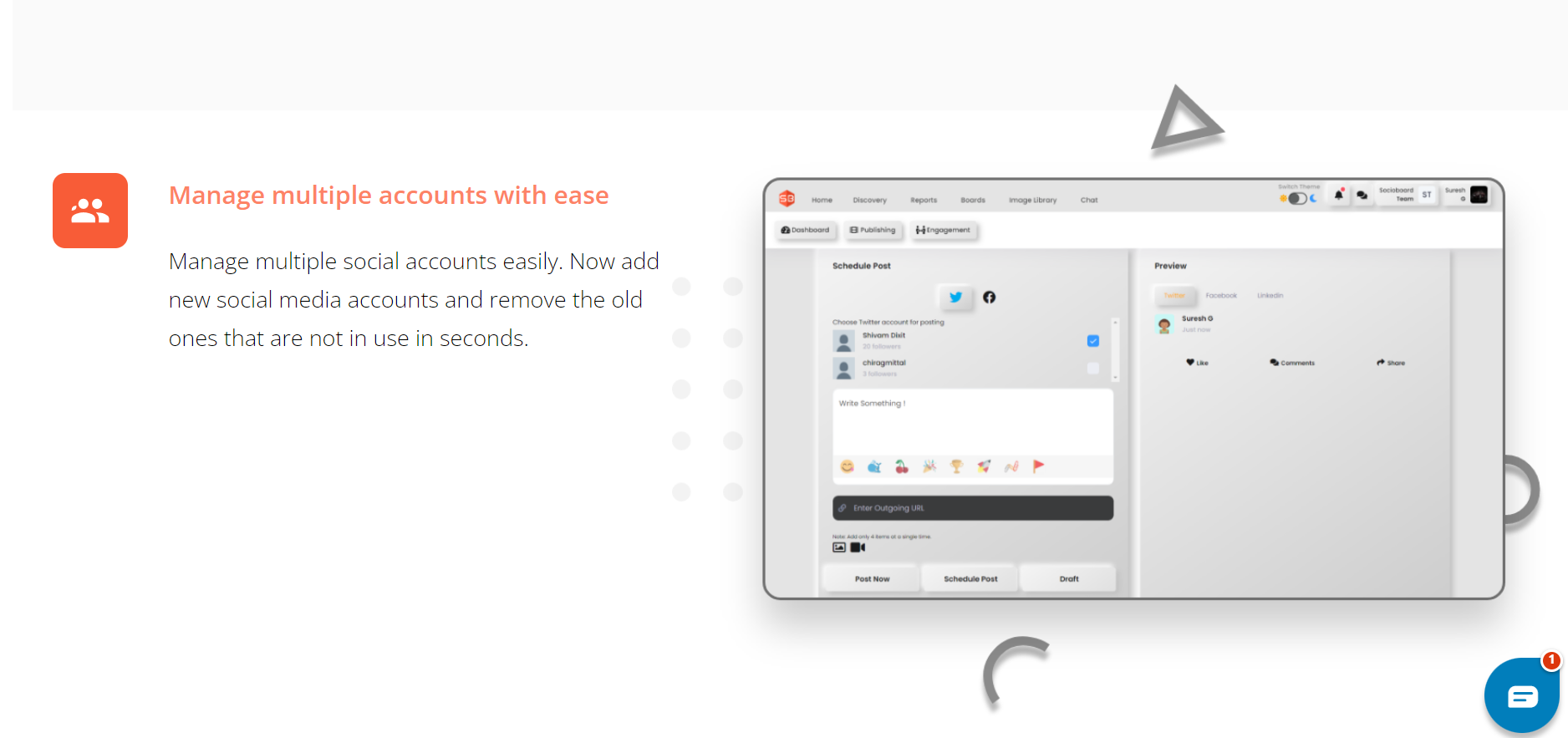 Stay Ahead with Accurate Analytics –
Recognize your target audience by how they interact on social media. You can get pre-built reports or can make your own, depending on data that matters to you.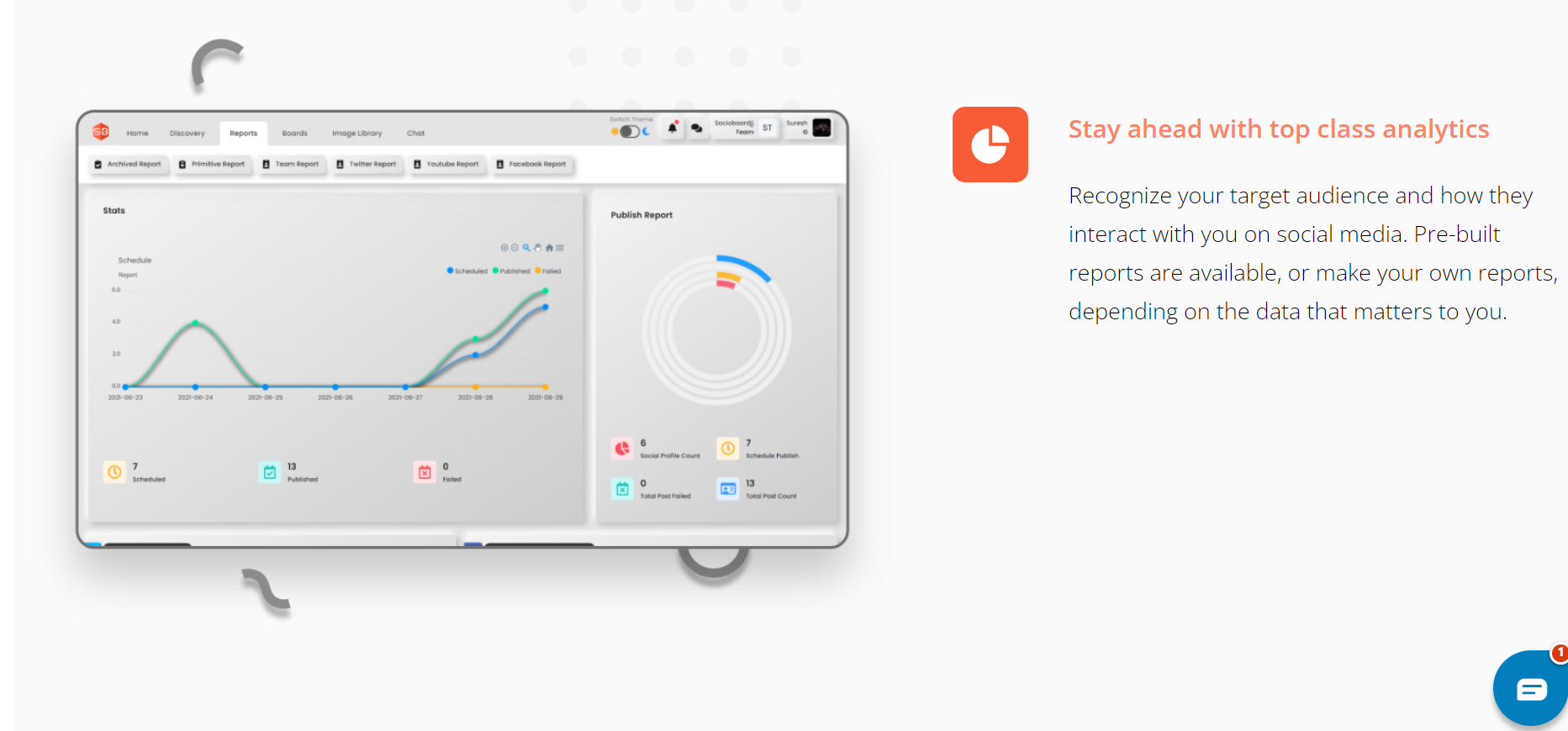 Improved Content Curation-
With built-in stock picture libraries, sophisticated search features, and powerful editing tools, you can find, organize and modify all your social media content in one place.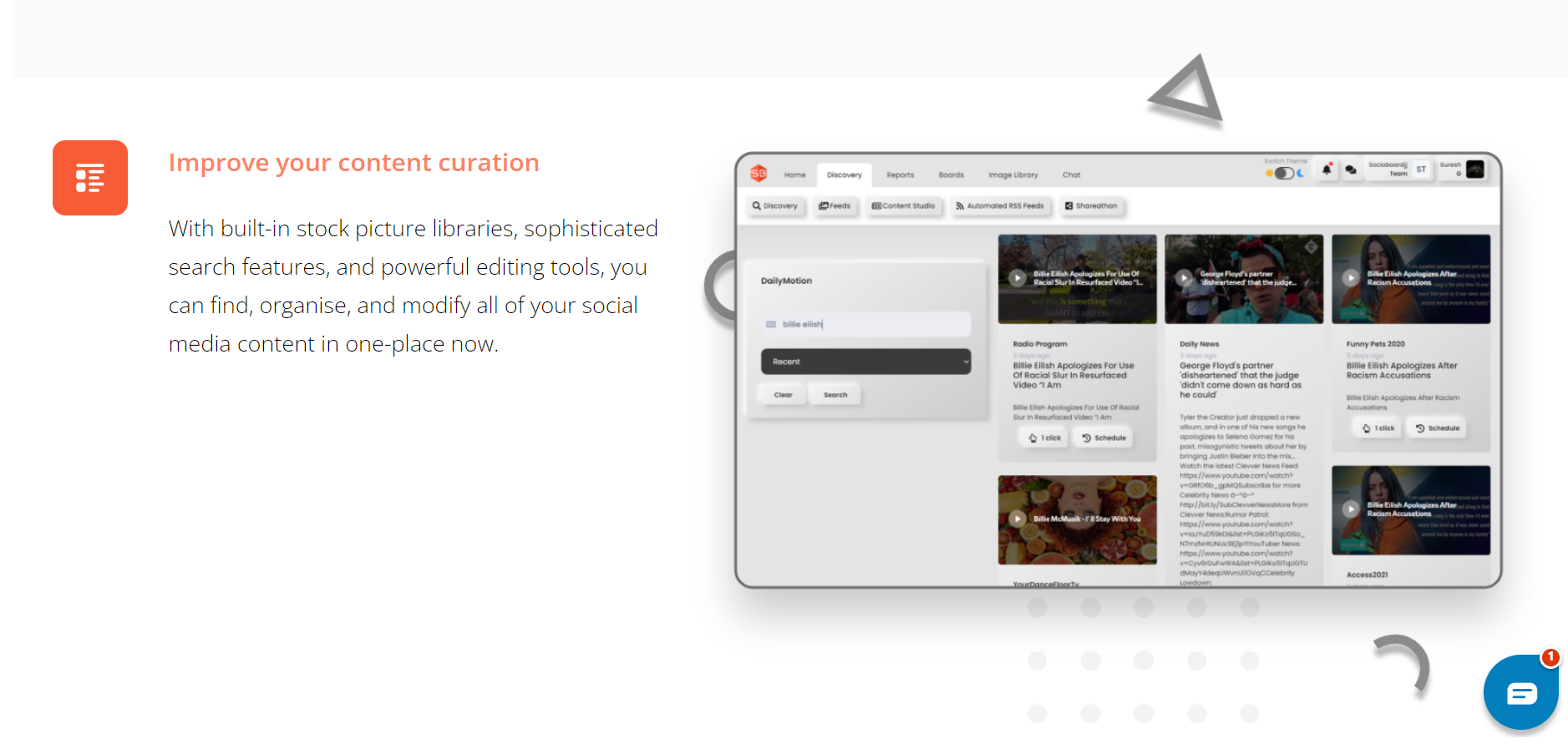 Collaboration with Others-
Set team roles, assign tasks, manage approvals and customize account permissions in a jiffy.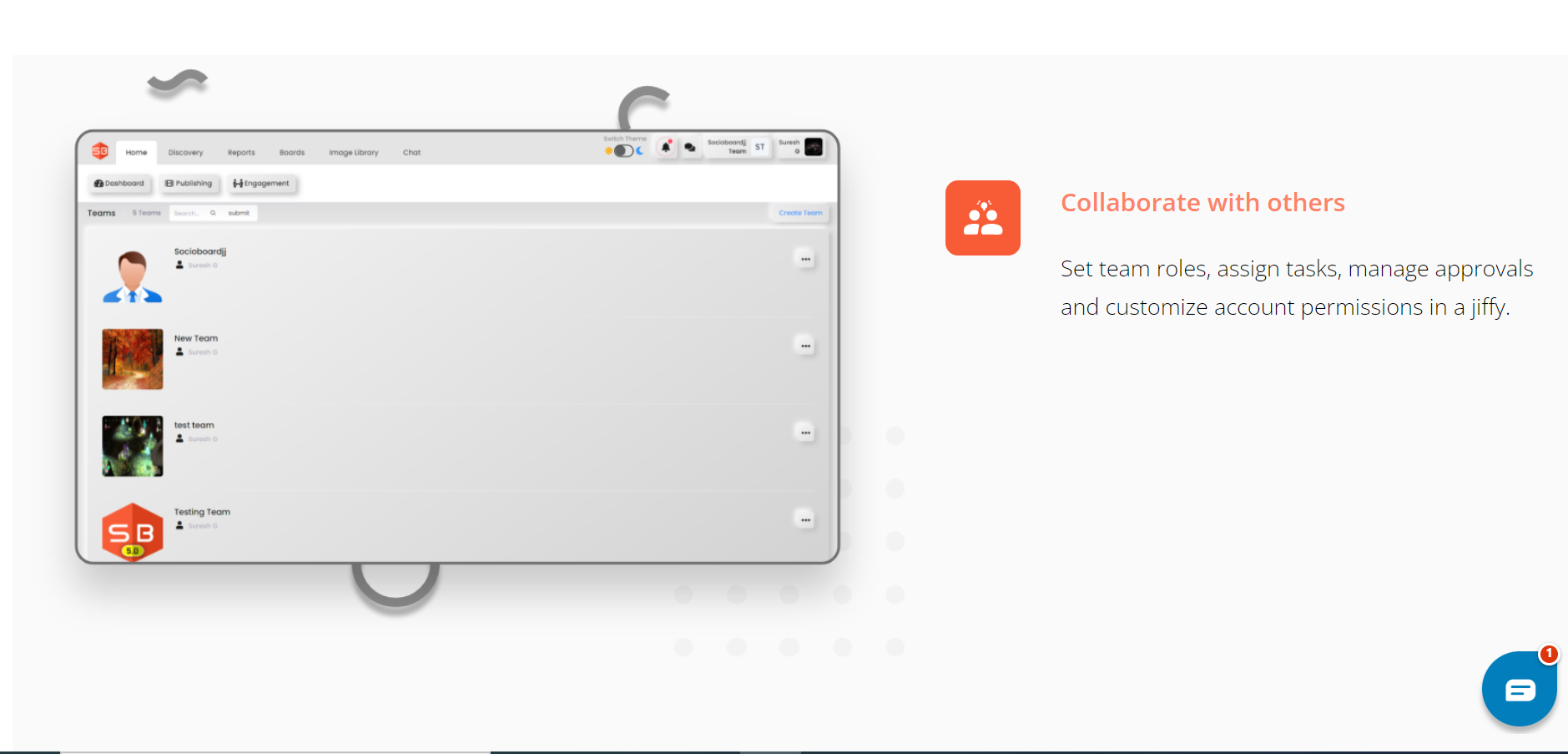 Auto Email Reports-
You can access your dashboard statistics, social media account and team reports right in your Email with an automated Email report feature. Also, you can schedule your Email reports to arrive at any time, to any Email address you want, so you can get a quick summary of your data without ever having to visit the dashboard.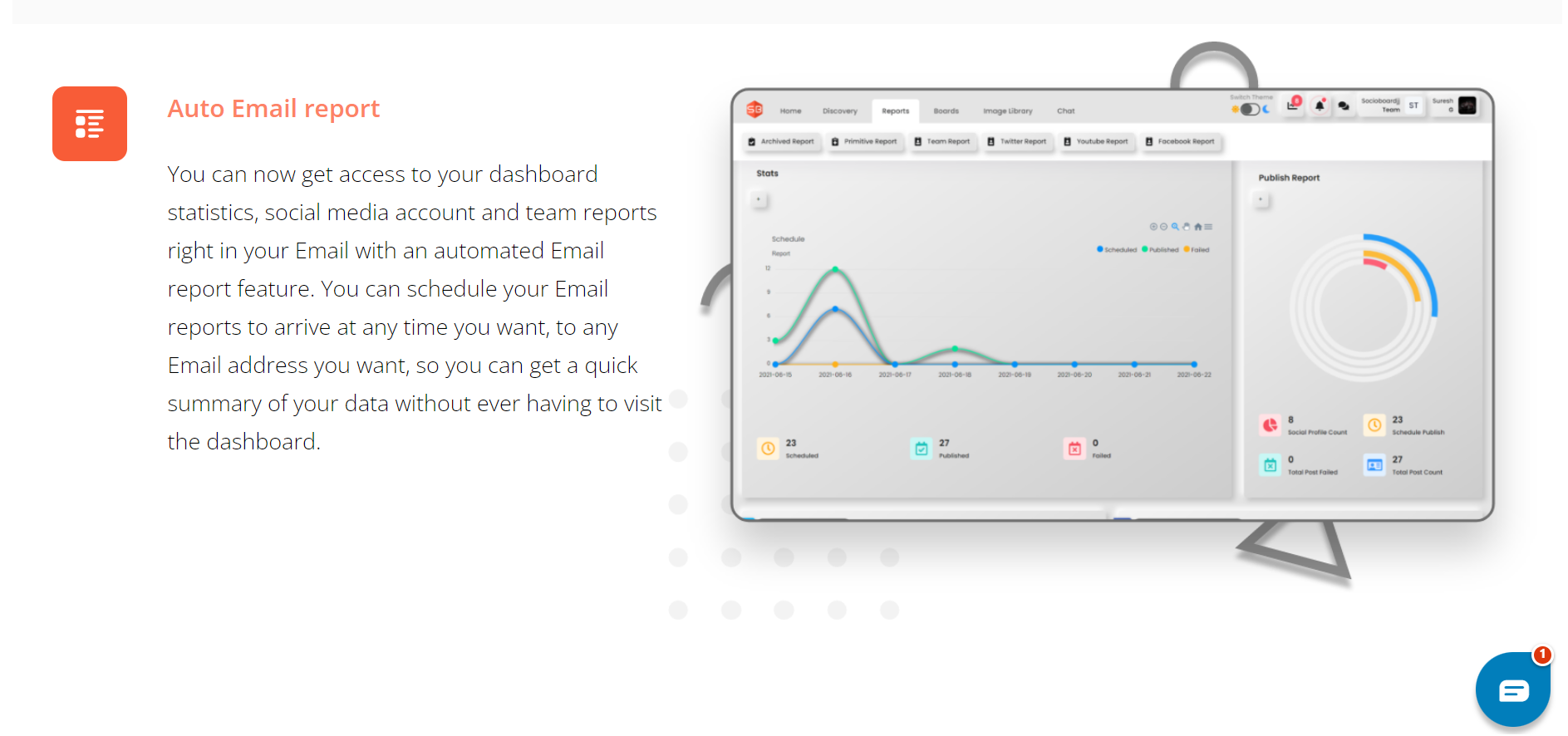 PDF Cart Download-
The PDF cart download feature allows you to add the sections you see in the application to the cart. The complete screenshot will be added and you can download the page as a PDF. Also, you can just print the results to PDF.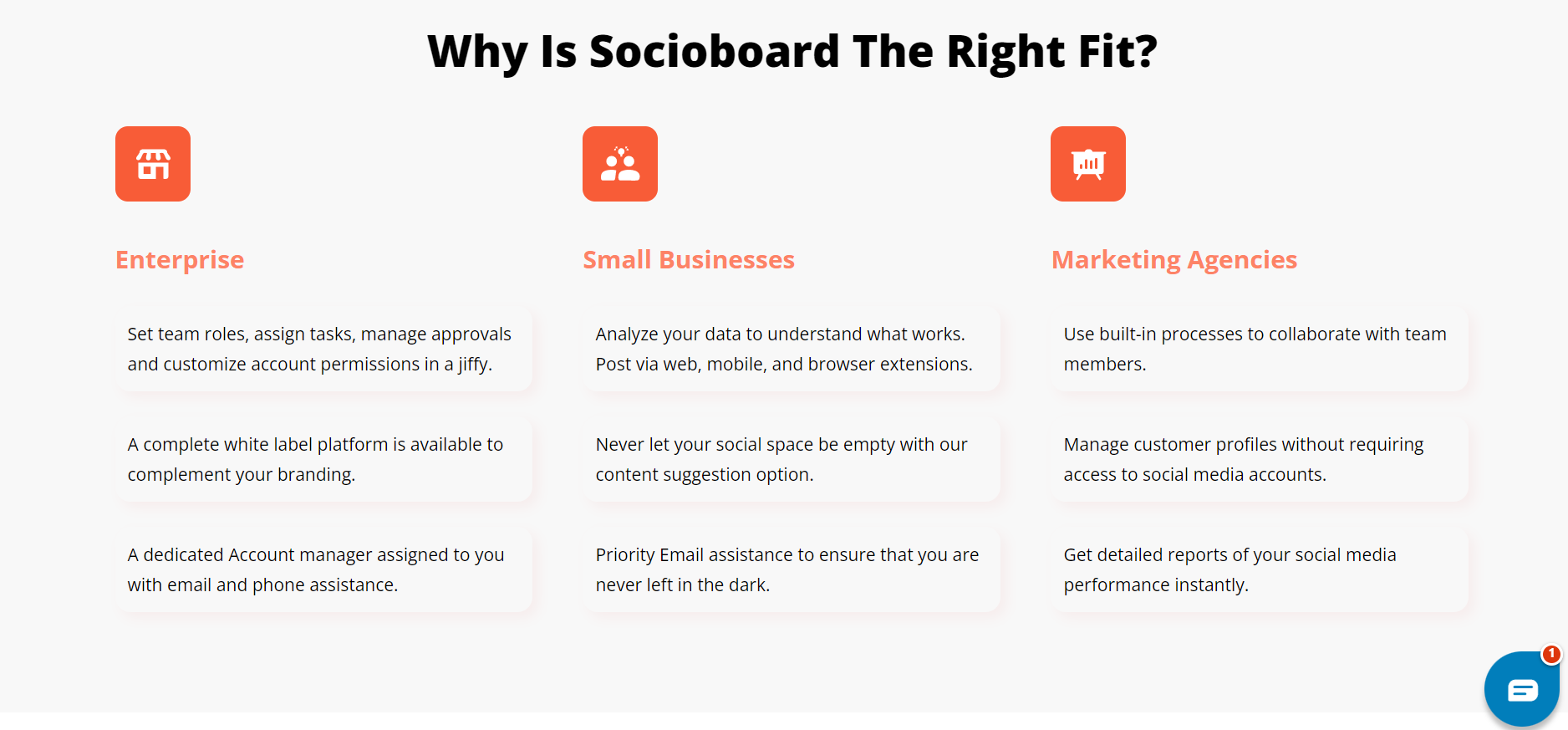 SocioBoard is the best social media management application for teams of all sizes because of the following specialty features-
Small size Business-
Analyze your data to understand what works. Post via web, mobile, and browser extensions.

Never let your social space be empty with a content suggestion option.

Priority Email assistance to ensure that you are never left in the dark.
Marketing Agencies-
Use built-in processes to collaborate with team members.

Manage customer profiles without requiring access to social media accounts.

Get detailed reports of your social media performance instantly.
Enterprise-
Set team roles, assign tasks, manage approvals and customize account permissions in a jiffy.

A complete white label platform is available to complement your branding.

A dedicated Account manager assigned to you with email and phone assistance.
4. Create a Social Media Strategy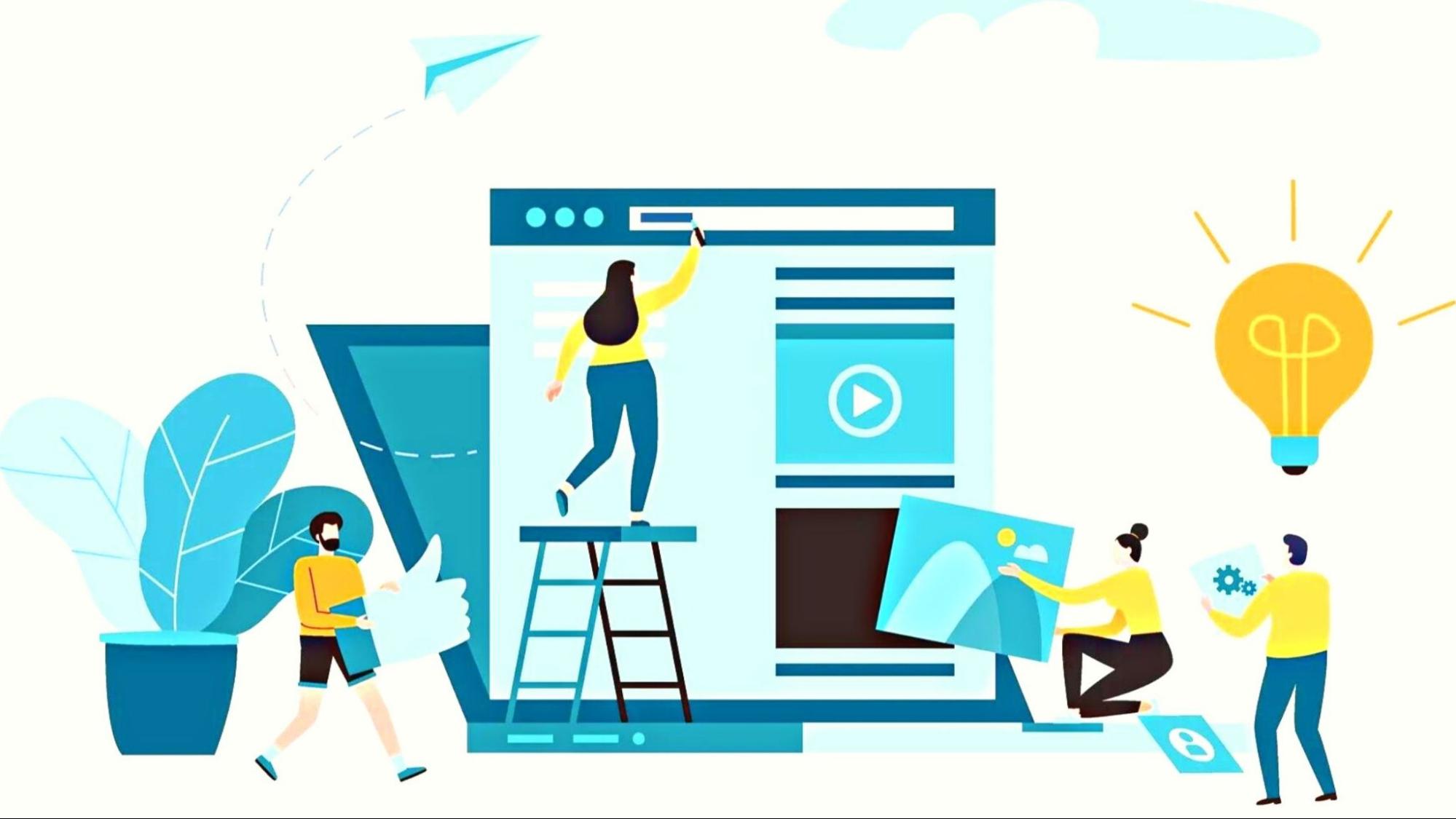 Before even planning to launch your social media campaign, please focus your efforts on developing the best social media strategy for your brand promotions. Try to build a plan according to the specific needs of each social media management platform.
Every platform requires specific strategies like- Twitter, LinkedIn, Facebook, and other social media platforms have different roles and use so require niche strategies respectively.
In addition to considering your audience, also look at the following factors:
Your Goals

: Measure the goals you want to accomplish with social media for your business. Do you want to build more brand awareness among consumers or establish brand loyalty among existing clients? Or, looking to accomplish something else with social media? Evaluate everything in advance before going full throttle on campaigning.

Your Industry

:

Consider the requirements of your audience in your industry to gain more on every front. Are there content gaps, such as guides or blog posts, that you can fill and share on social media? Or, is there a lack of industry connections and networking you need to focus on? Analyze, plan and then implement!

Your Brand

: Focus on your brand voice and implement the same across all

social media management

platforms. Do you have a set of standards or processes when engaging with clients in a public forum? Or, how does your branding influence the colors and media that you use?
Some of these will require your direct input and involvement at every stage before launching your campaign.
5. Design Social Media Profiles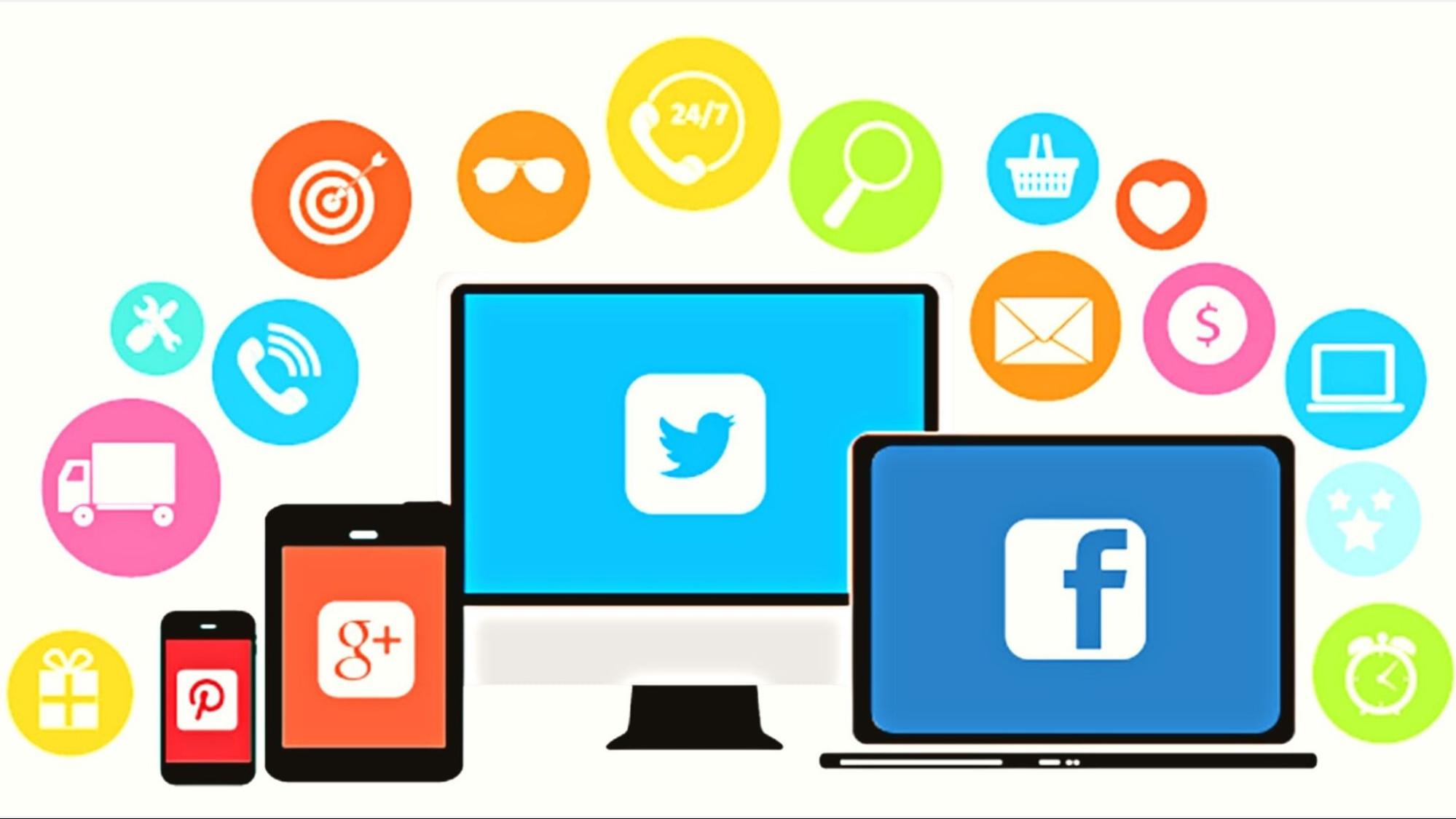 While creating or updating your social media profiles, make sure they fit in with your brand voice. Ensure they are in tune with your social media strategy and social media design.
Focus on creating well-designed professional images that capture your brand aptly and make a great first impression on consumers.
In most cases, social media design will focus on your account's static images, such as:
Your Twitter header and background.

Facebook header, icon, and profile picture.

Instagram profile picture.
Once you have well-designed images ready, start working towards your marketing goals, such as increasing post engagement or driving conversions afterwards.
6. Develop Specific Social Media Ads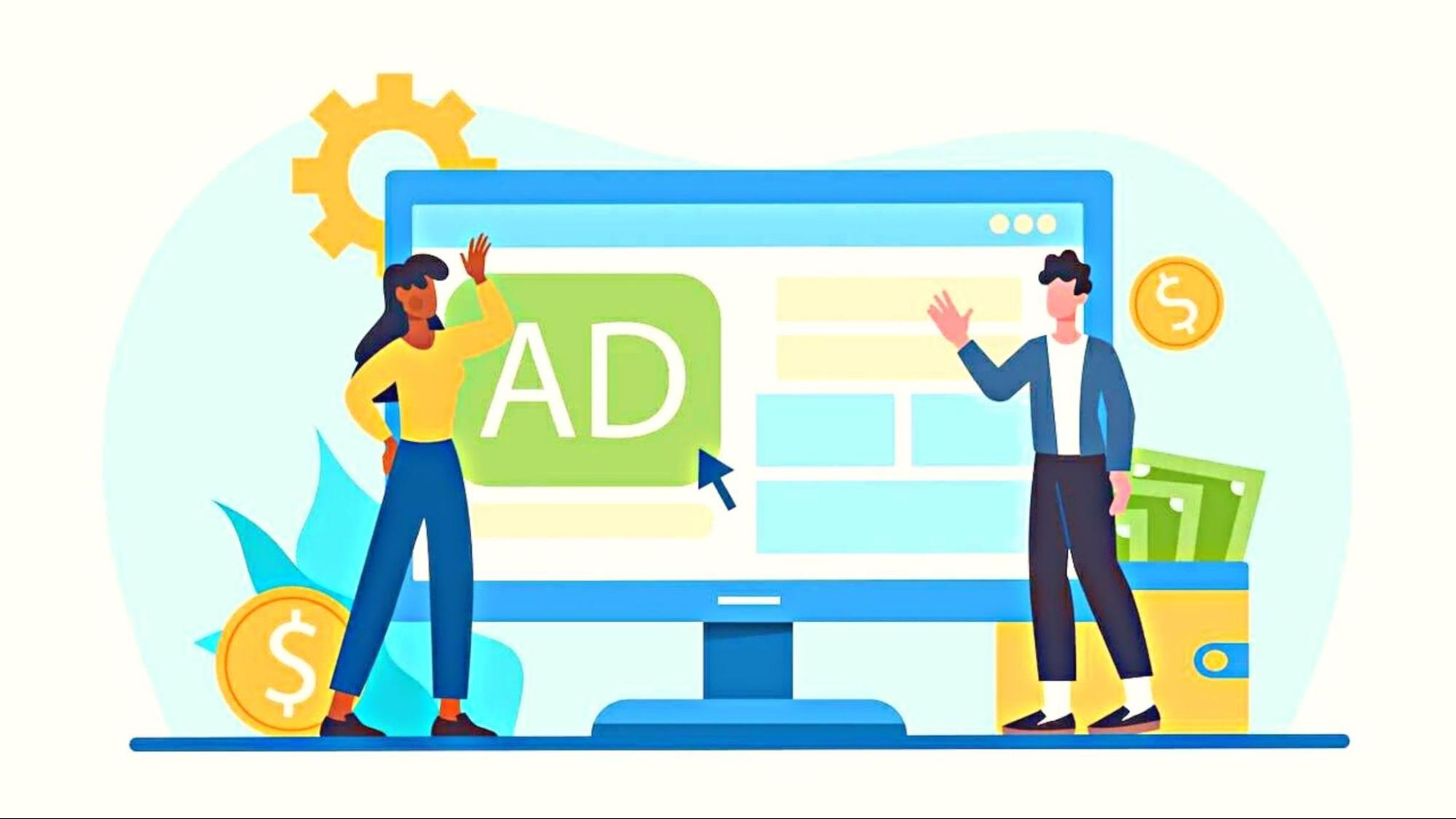 Depending on your business goals and social media strategy, start building an advertising strategy for your brand. If you are looking to connect with the consumers and earn genuine followers, encourage user engagement on all platforms for which your social media ads need to be impactful and attention-grabbing.
Platforms, from Snapchat to Facebook, vary in their approach to ads. They feature different ad types, as well as different goals. Facebook, for example, offers the option to create ads for increasing brand awareness, generating leads, earning store visits, and more.
Explore every platform and create specific advertisements for that and use in-built features also, if any, to facilitate better lead generation and earning avenues.
Some other Ad features that you need to focus:
Audience

Media

Content

Calls-to-action (CTA)

Cost-per-click (CPC)

And more
These are critical factors that influence the success of your advertisements. You may create an ad with a compelling CTA, but if you target it to the wrong audience, you won't see the results you expected.
Before launching an ad campaign, review and sign off on your ads.
7. Build Your Social Media Content Calendar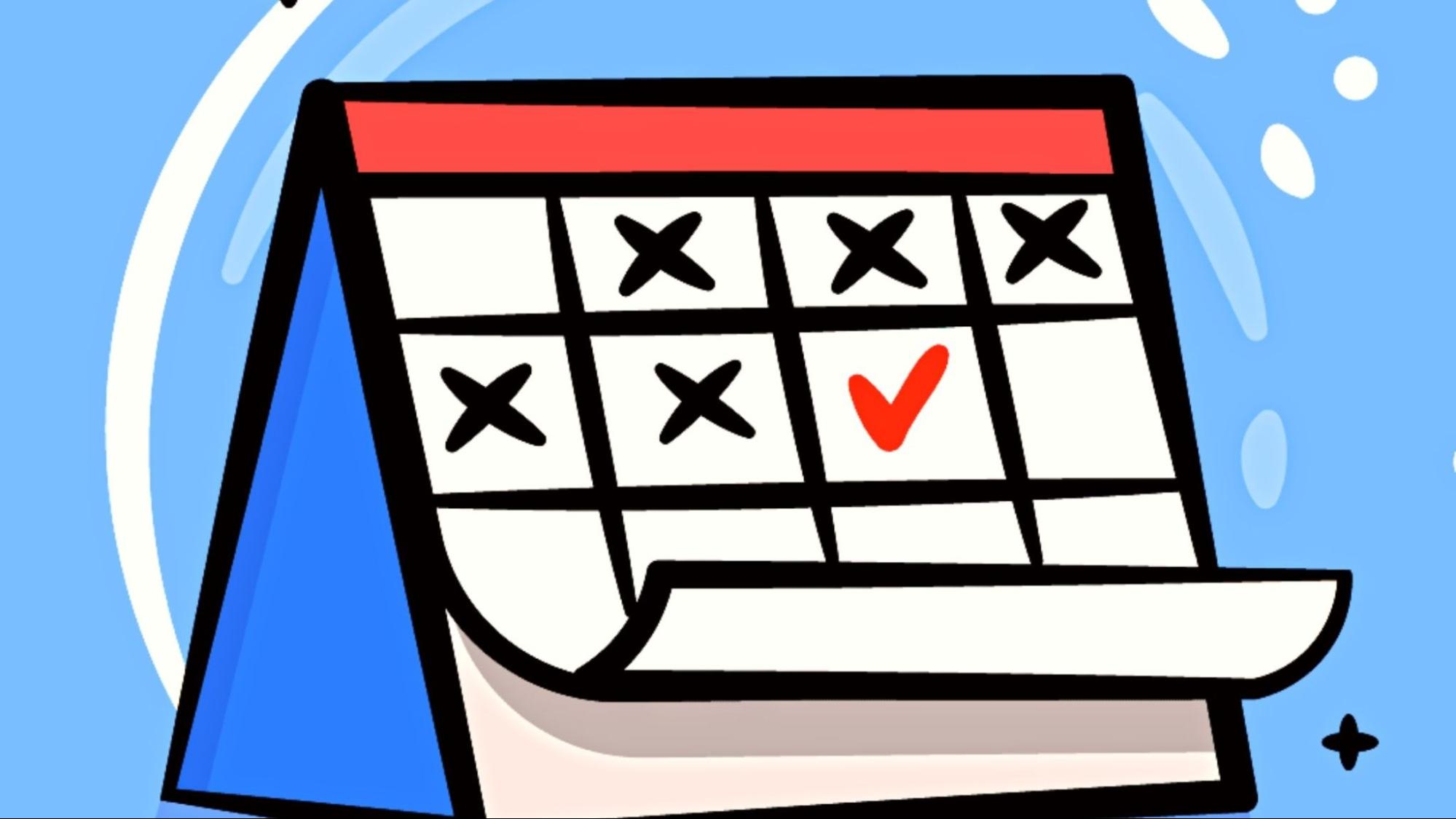 Another deliverable for social media management is a content calendar for each of your social media accounts. This calendar serves as a reference point for your social media management team.
In the content calendar, you can view scheduled posts for your social media accounts. These posts may include company announcements and holidays as well as shared content, such as a blog post from your website or an image from a client.
All these requirements can be very well taken care of by the flexible scheduling feature of SocioBoard, as mentioned above.
Before publishing these posts, you can request reviews and approval of all the content. While this requires some effort, it guarantees that the live content is the content you want.
8. Create Platform-Specific Content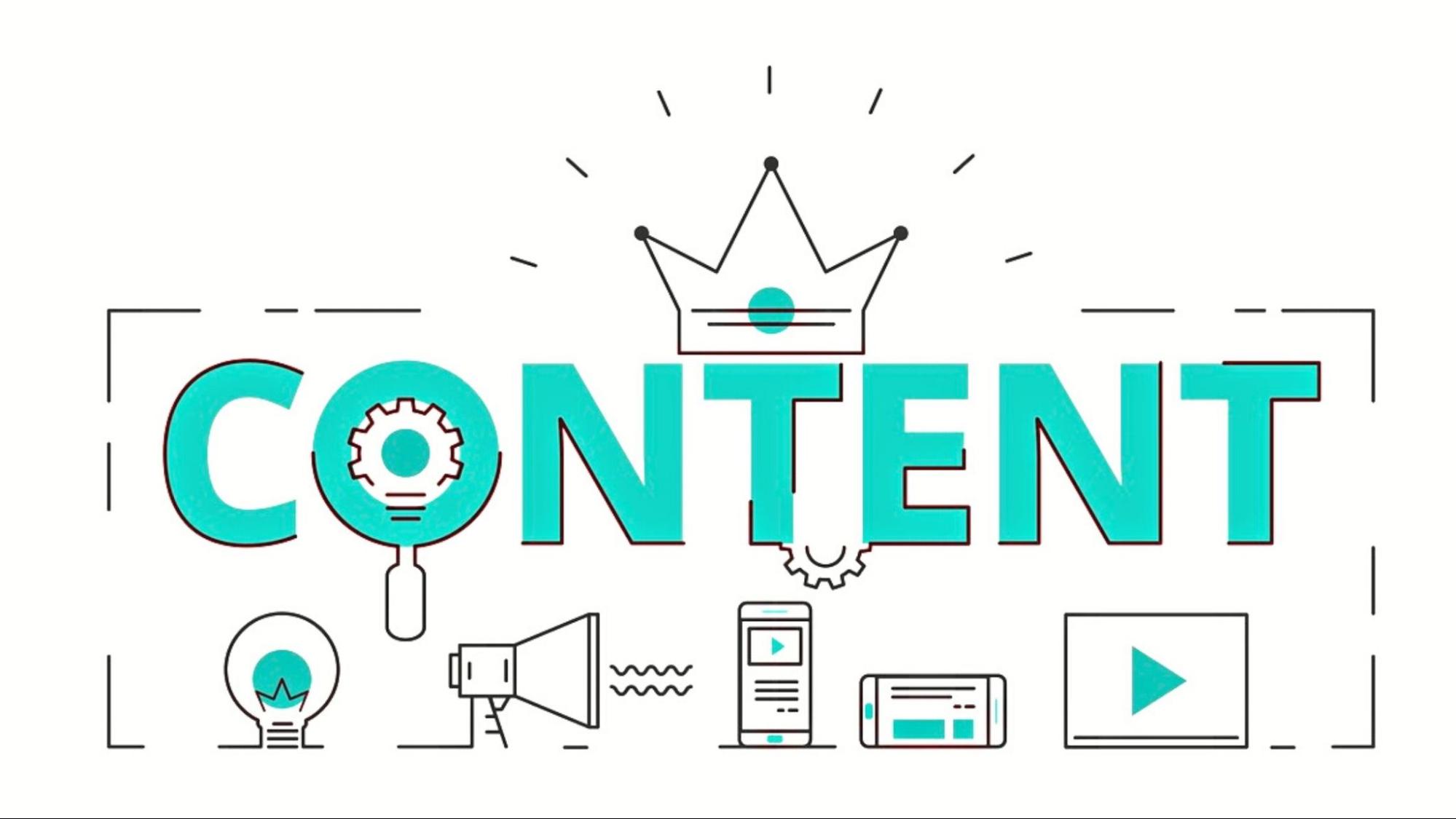 To create the best possible content, work with the best graphic designers and copywriters to have an amazing piece of content that resonates with users and accomplishes your company's goals.
Additionally, use expert social media management tools like SocioBoard that improve the content curation experience for you. A social media management expert application does more than building a content calendar by accentuating the quality of the content on it.
With built-in stock picture libraries, sophisticated search features, and powerful editing tools, you can find, organize and modify all your social media content in one place.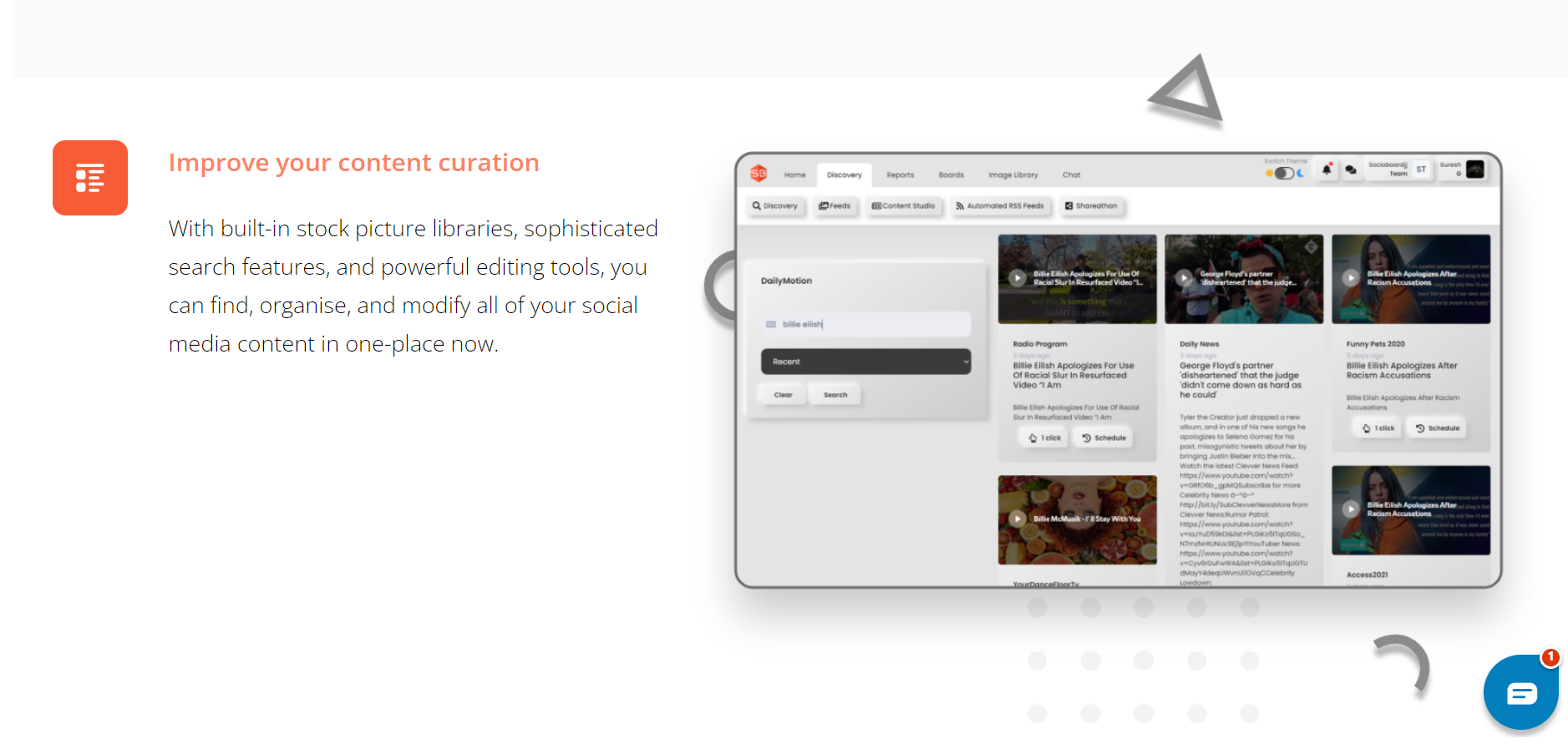 9. Connect with Your Social Media Followers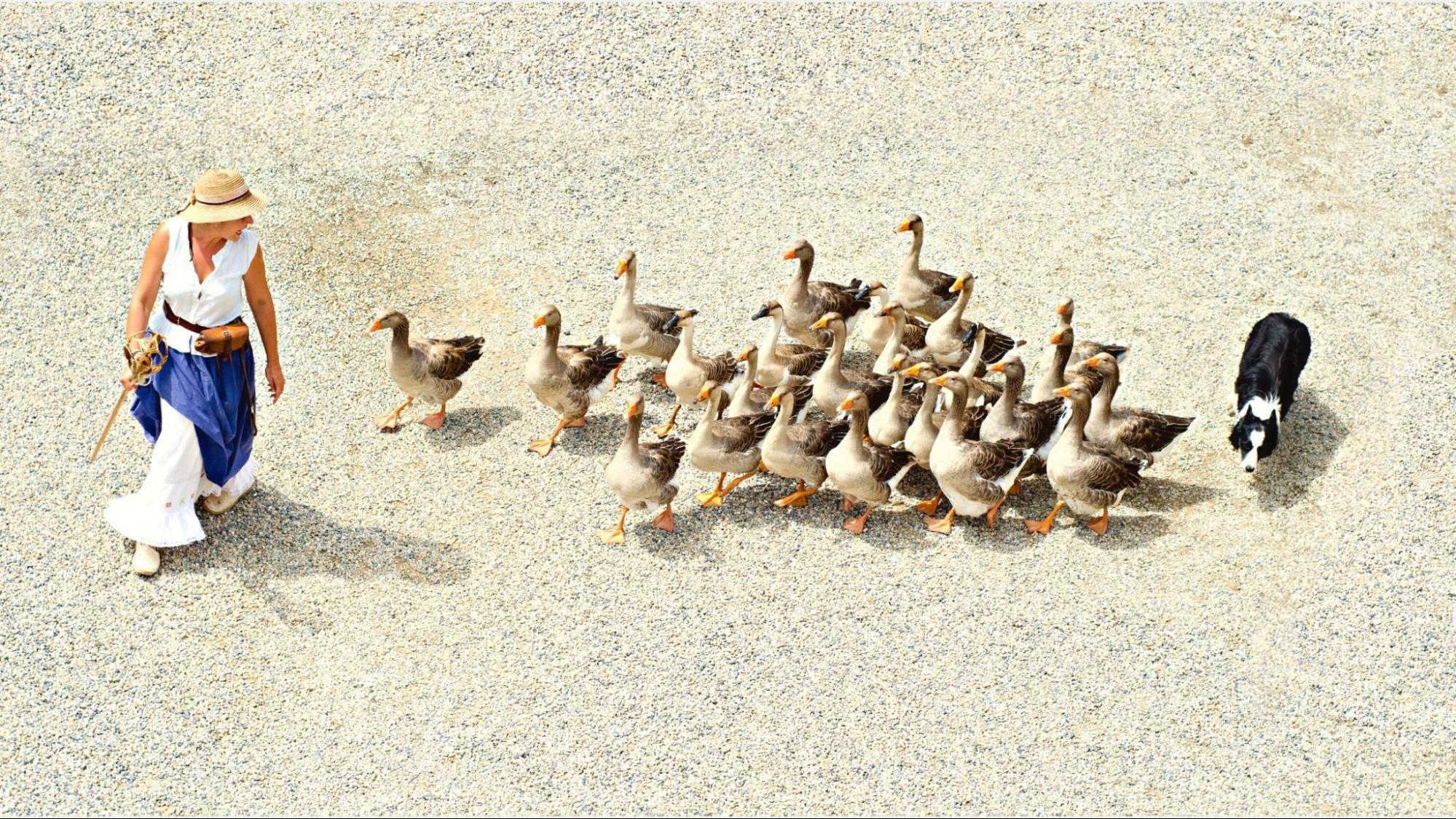 Daily interactions with your followers and commenters is quite  underrated, but is invaluable, as it has a direct impact on brand awareness and brand loyalty.
Adhere to your brand voice and company goals while engaging with users. Connection with your social media users demonstrates that you care and are a genuine, motivated, committed business.
Also, user engagement is a selling point for consumers in many industries, when more than 65% of people use social media for customer service.
Connect, engage and grow.
10. Grow Your Social Reach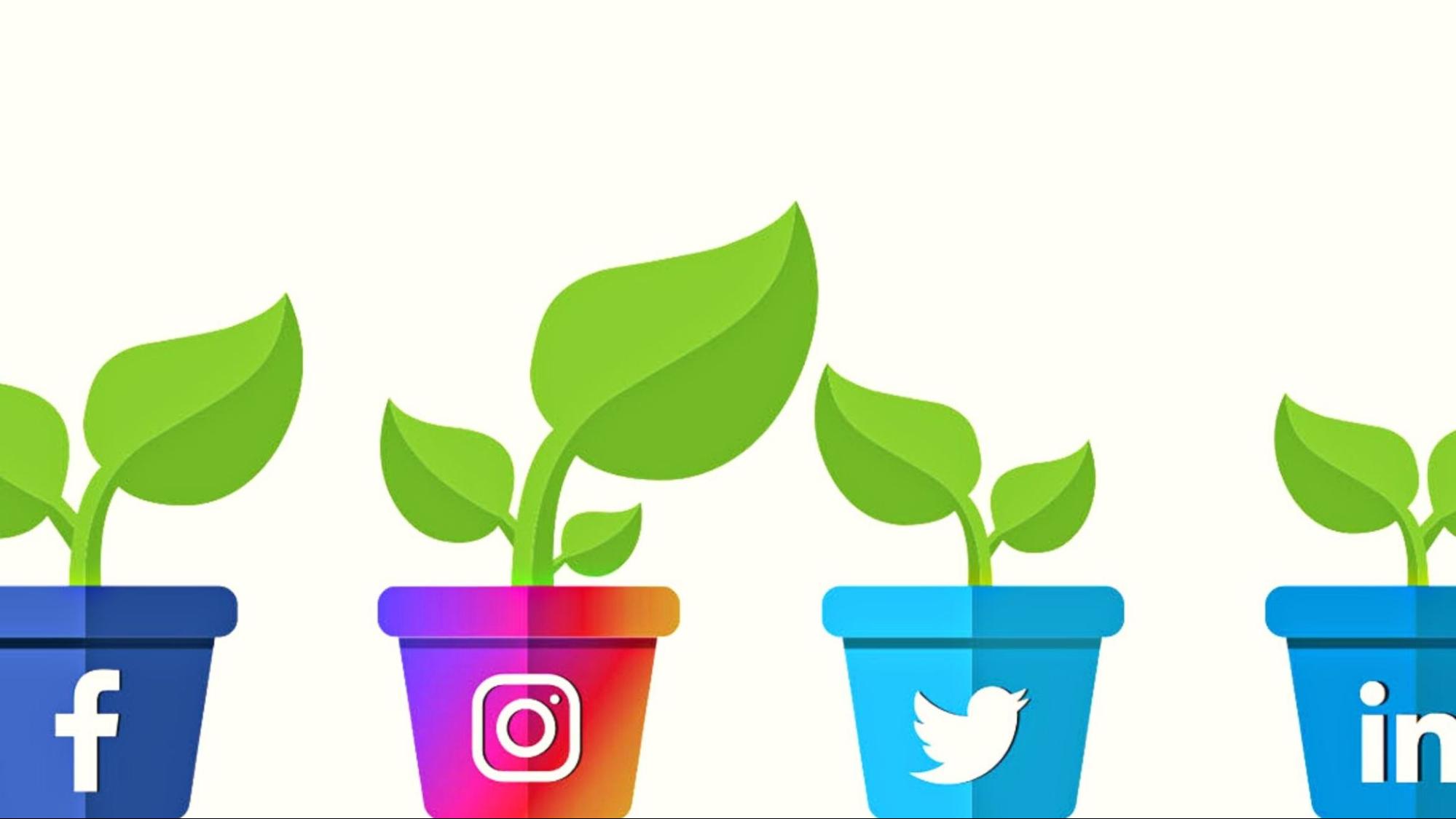 Grow your social reach to build an impressive social media presence and increase your followers on social networks.
Focus on networking and reach out to the best in business, like trusted organizations and influencers, to establish your brand. You can connect with their followers through your ads, resulting in more exposure for your brand and a chance to earn more followers and business clients as well.
You can join hands with an influencer for promoting your products on their channels by highlighting your post or sharing their experience with your products. 
It will give you the required coverage on many social platforms.
11. Regularly Monitor Your Social Media Performance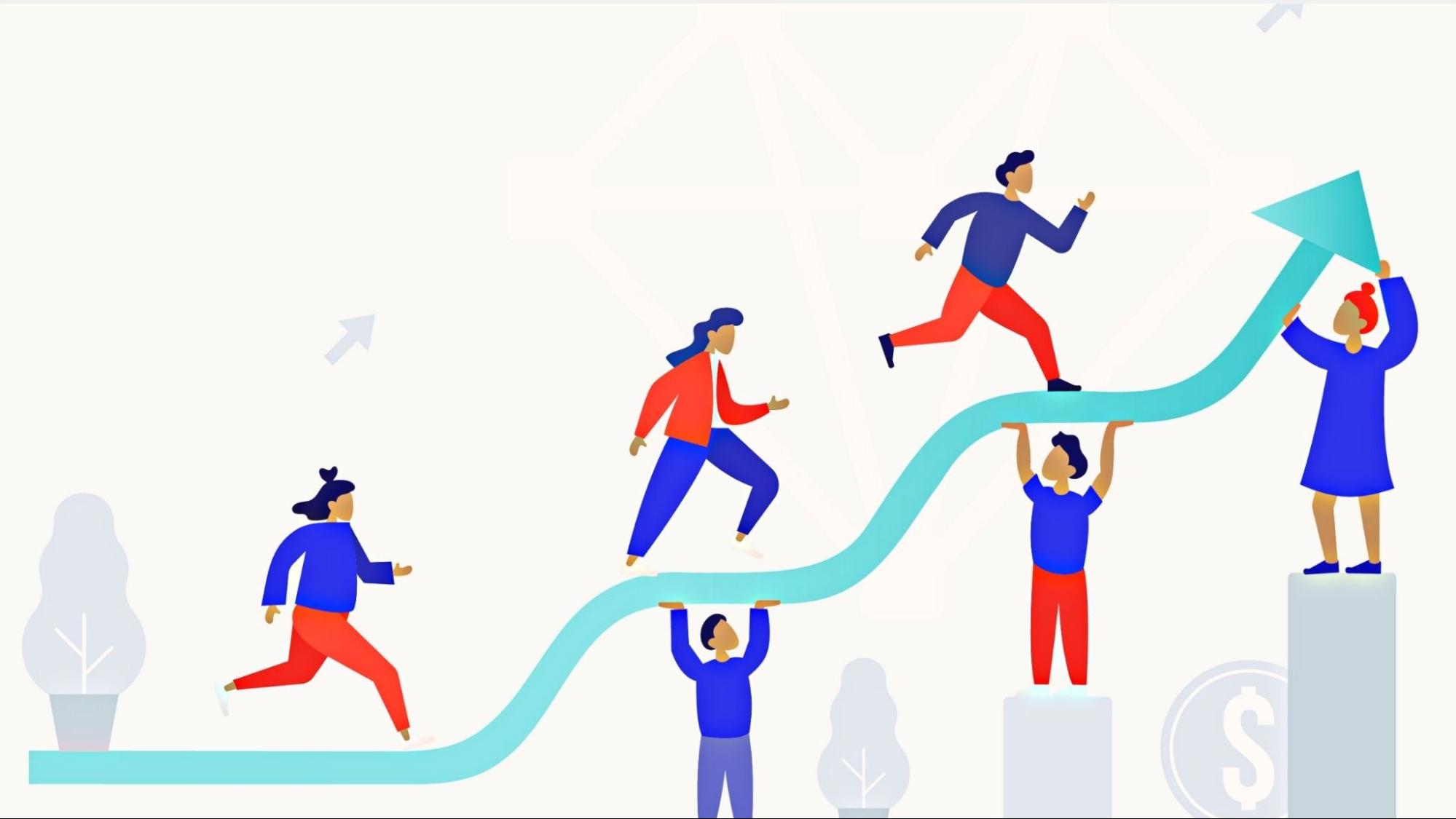 An important part of social media management is regularly monitoring the performance of your efforts. This will let you track the performance of your ads and creative content to analyze their performance for improving results and a better ROI(return on investment).
Since you are here, Read some more-

What are the Instagram Management Services? How does Instagram Manager Beneficial for its Users?

What is the Best Time to Post on Instagram in 2022?