Social media management and monitoring aren't just about posting and replying, social media is a growing, deeper science.
Companies don't drive leads or make money by curating three relevant posts a week – if they did, we wouldn't be writing this blog. If you're a social media specialist or marketing manager, your job description is much more robust than simply posting and replying on Facebook, Twitter, and Instagram. You've probably worked with your team to deliver a social media management strategy to increase followers, drive engagement and develop a strong interest in your service or product, and part of that strategy should also include selecting the best social media management tool.
Whether you're part of a team or working solo, the best social media management tools can help drive results by boosting your productivity. In this post, we'll explain what features are important and how to make the most of your tool.
Why Do You Need to be Using Social Media Software?
Social media software puts you in control of your accounts. Not only can you streamline everything, but you can also collaborate with team members and allow them to work with you on projects.
Below are some benefits of using social media software:
Streamline your accounts
Increase time management
Invite team members to collaborate
Listen to what is being said about your brand online
Find Leads
Search keywords related to your brand
Manage your advertisements for all socials from one place
Access to analytics
Schedule your content (never forget to post again)
If you want to improve your social media management and streamline your accounts, then you should seriously think about using social media software.
Price and Billing Options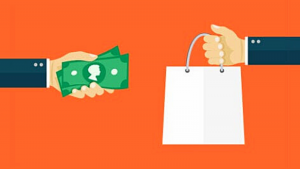 We all have a budget. The tools you use (and there's a good chance you'll need more than one) have to work with the budget you have. There are tools out there ranging from free to $500 a month or more. We all have different cash flow and needs, so not every tool, or every payment plan works for everyone. Once you have a good understanding of your needs, price and billing options is the first thing you should look at.
Look at billing options – Some tools offer a discount if you can afford to pay annually.
Look at plan cancellation options – Some companies let you cancel annual contracts and get a refund for unused time. Many don't. Once you sign up, you're locked in.
Take advantage of free trial periods – Get free access to the tool for some period of the time, for evaluation and actual use.
Checkout Latest Blogs-
Security
If you have multiple people working across your social accounts, it is important to make sure the correct permissions are allocated to each member. This allows your team to avoid publishing any content that hasn't been pre-approved, and it makes everyone accountable.
Security features are also a great way to be alerted of any suspicious activity on your social media channels. And this should be one of the main features to select the best social media management tools for your brand.
Message Scheduling Tools
If you're not taking the time to plan your social media content calendar, you could find yourself scrambling to find something to share at the last minute.
Since networks require an insatiable amount of content, that time spent scrambling for content could lead to a massive headache. It's key to have a social media tool that allows you to sit down and plan weeks, or even months, the worth of content at once.
Try to find a tool that allows you to visualize your entire content calendar at once. This helps you address gaps in your posting schedule which you can then fill to ensure a seamless flow of unique social content.
Socioboard-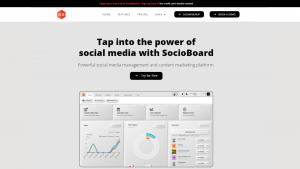 Most freelance Instagram marketers struggle to find a perfect Instagram marketing tool. Socioboard is one of the best social media management tools that you can use to increase the number of followers on your Instagram account.
In this case, this social media management software can assist you with one of its incredible features, which allows users to not only schedule Instagram posts directly from their desktop or mobile devices but also to write an engaging post that is appropriate for your Instagram profile. You can also use Socioboard to find more popular subjects for your upcoming posts, search for relevant hashtags, and obtain detailed data on each social media account to link to Facebook.
Apart from that, Socioboard offers some helpful features such as smart boxes, prompt feeds, auto RSS feeds, Google analytics, unique social discovery, in-depth analytics and reports, and so on.
Engagement
Social media is a two-way street. We can't just put out content and drop off the face of the earth. It's important to respond to our audience online to build trustworthy relationships.
Most best social media management tools allow you to set up streams to allow for easier engagement. You can choose to see new followers, comments, and shares on Facebook, or mentions and retweets on Twitter. If you have the same questions that are regularly asked on your social media channels, you can save time by using approved suggested replies.
Performance Optimization
Productivity is not only important for your employees. Your social media campaigns can also be monitored. Find a social media engagement tool that collects data on the performance of your campaigns as well as your team's social media efforts. This data can then be used to highlight strengths and weaknesses and optimize workflows and campaigns.
Customer Service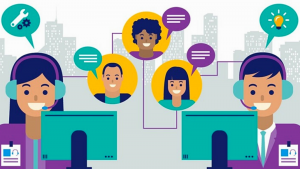 Test the product's support team during your free trial. Focus on their response time and the effort they put into addressing any concerns you might have and meeting your needs. Also, check the type of channels you can reach them on to find answers quickly.
Alerts
Alerts may be helpful in the instance of an emergency or a sudden influx of mentions. Being notified of events like this will certainly help your team to respond and resolve customer service issues promptly.
Keywords
Track keywords associated with your brand to make sure you are staying relevant. Many of the best social media management tools allow you to set up a stream with allocated keywords. This is perfect if your social media strategy requires you to source user-generated content.
Tracking keywords is a great way to find followers that are more likely to be interested in your brand.
In Conclusion
That's a lot of information to digest when considering to choose the best social media management tools, but the reality is that social is growing in importance all the time, and you need to spend quality time picking out the perfect solution for you and your company.
Fortunately enough, many of the social media manager out there, such as Socioboard, offer a great opportunity so that you can get your hands on it and test drive each platform for yourself!