Facebook has over two billion active users. With such a user density, creating engaging posts for Facebook is crucial.
You need to include captivating images or messages that will catch your attention. These images are appealing because they are eye-catching and can cause people to stop at what you have posted. Some copies might seem too obvious. But if your post is compelling enough, then people will look at them.
Facebook is a social media behemoth. But, it is easier for your content to get lost in the endless updates on the Newsfeed. You need to know how to create engaging posts for Facebook that can stand out from the crowd.
Well, there is a lot to discuss, so why not rush into it. 
Engage with trends
Trends can be the most optimal topic to create engaging posts for Facebook. Many brands leverage trends to connect with other brands and engage with their audiences. Plus, this is a one-way ticket to promote your brand too!
One piece of advice I can give you for leveraging trends is to keep your content short and to the point with high-quality images and texts or videos. Try to be creative and use the angle that relates to your brand better. 
Minimal content is easy to promote. Also, trend posting is the second most chosen way to bring traffic to your page. The first is meme content. And always will be!
Share other people's content
Sharing content is another way of appreciating the work of other creators. You can do this to strengthen your relationship with them. In this way, you can make a loyal audience stick with you in the long run.
Also, you can collaborate with other creators and use their audience pool to fill in your engagement ratios. Social media engagement is all about likes, comments, shares, and saves. Everything you do revolves around these four pillars. So it is crucial to exhaust every opportunity to get ahead of the algorithm.
Post your behind-the-scenes content
Your audience appreciates the real you. No matter what character you play or what you do to present on the Facebook wall, it will get more attention if you make them see the backstage efforts and process. And this will help them build an idea of valuing your work and becoming your loyal fan. 
Post reviews and testimonials
Everyone who personally appreciates your work is a big milestone. If you ever get such a chance of getting appreciated by someone. Then let other people know about it. You can post a thank you post for any big celebrity liking your posts or commenting on them. 
Also, if you like someone else's work, then publish an appreciation post for them too. It counts! And this move will help you lay better relationships with them which can help you eventually. 
Ask questions
Questions are necessary to know what your audience requires from you so that you can ensure your audience stays with you. One most crucial patriot of creating engaging posts for Facebook is knowing your audience.
You can post questionnaires and multiple-choice questions to engage with your audience and also to know them. Or you can post stories so that your audience can land straight to your DM. Therefore you can answer them personally.
Meme Content
It's not a secret that meme posts have a high engagement value because they are humorous and sarcastic and lightens your mind.
Also, they are relatable to your situations. It is good to post memes on your walls that relate to your audiences and promote your brand.
Share illuminating thoughts
Sometimes engaging posts for Facebook is only a thought away. Share your random thoughts that you think can help you reach more audiences in a more personal way. You can make a reel out of it and express your thinking and sentiments to your audience.
It is best to stick with imagery content, stories, or reels to share such content. 
Post tutorials
Tutorials are another most engaging category of content. Your audience likes the way you work and express things on your wall. The best you can do to make it interesting is to teach them your style. 
Tutorials are the most informative and savable content. So they have better prospects of getting engagement than regular posts.
Post recommendations
Anything you like that worked for you is a kind of thing that you can share with your audience. For example, the hair oil you use, which helps maintain your hair, is a sharable topic. 
Your audience might want to be like you. They can follow through too! You can use these product promotions or recommendations for affiliate purposes and earn commission also. 
Compare your journey
Post about your journey. Use the then and now idea to tell your story. Or you can use a ten years challenge idea. To sum up your growth and changes. This kind of content always has a trending value. Use them and stay young within your community.
How To Create Engaging Facebook Posts For Businesses?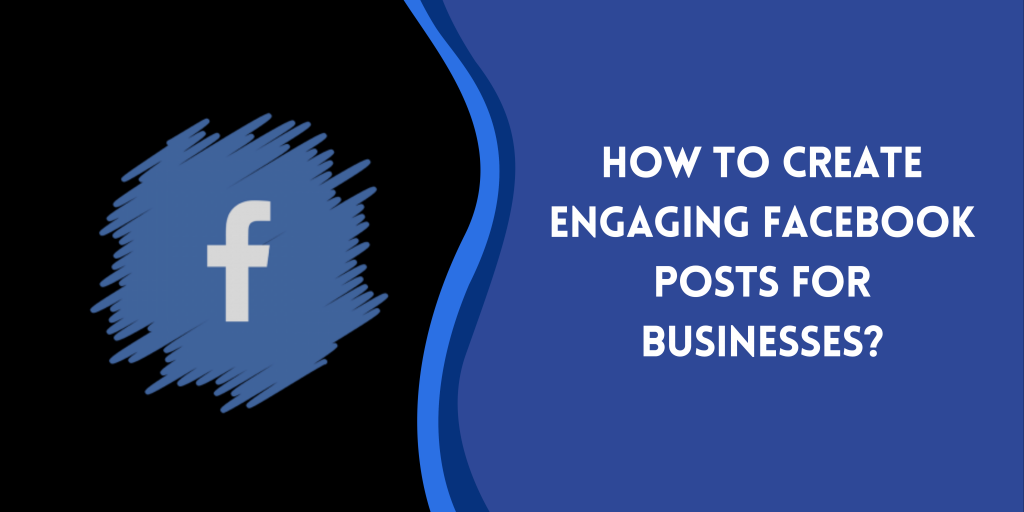 How to create engaging Facebook posts for businesses that will help you generate more traffic to your page? Want to dig deep into this question? Then stick with us up to the end! And know the best ways to craft your posts to seal the deal.
People love to engage with images. That could be an image of an eye-catching billboard, cool infographics, great artwork, an entertaining meme, or even a funny gif. You must know what you are doing on the different platforms out there.
To make sure you know what you are doing on social networking, I've put together five things to help you create engaging posts for Facebook.
With a large presence on Facebook, you will have the best chances of engaging your customers and turning them into your raving fans. Here are five tips that you can use to create a Facebook post to make it stand out among the rest.
Start with your brand description
It is crucial to introduce your brand before you build an online presence on Facebook. You can start by describing what your brand does, its services, and its products. First off, you need to narrow down the ways of presentation on your page. Nowadays, short video content is trending between people and facebook algorithms also. So you cannot afford to miss that. 
And then, after you have finally decided what type of content you want to pursue. There are few things you might want to consider. Your content should be of high quality and original. 
It is best to keep it unique. Also, your content should obey the community and creators protocol of the platform.
When these quality checks are over, you can proceed to boost that content by paying some amount. At the initial stages, promote all the engaging posts for Facebook that you create. It will ensure that you will reach your customers efficiently.
Use humor to lighten up your post
Lightening up your post with something funny will make people want to engage with you more and give you a chance to stand out from the crowd. A report says that Facebook users are more likely to engage with funny posts than simple informative posts. So if you are planning to create engaging posts for Facebook, make them humorous or sarcastic. And this will give them an extra edge to reach potential customers.
Many brands also leverage memes for branding purposes because memes have a huge engagement potential. 
Every engaging post for Facebook is either meme content or sentimental content. You need to decide which type of content suits you the best. For example, if you are into the finance industry, you need sentimental value to showcase your brand. Whereas, if you are into the nutritional powder business, you need to showcase the humor to present your brand. 
What tone your brand follows is up to the niche you have chosen. So you need to follow that to build a brand image.
Use an image that will get people talking
Images that get people talking and sharing are good for business. It will ensure your post get seen by the right people. Many brands participate in the trends and continue the conversation for their audiences. This move helps them to reach the masses as well as keep up with the current times.
Communication is good for business! You need to know your audience better. Sometimes hiring a social media marketer is not enough. You need to let yourself out and ask people what they want. 
Your audience appreciates honesty and transparency. Through facebook stories and posts, you can upload questionnaires and raise questions so that people respond in comments or DMs. With this move, you can analyze their responses and do better in the future.
Use reels and videos to connect better
Video is the king of all content types. Leverage short videos such as reels and present your products in a fun way. You can use dialogues or simply music attached to an animated video that helps your audience to know you better. 
If you are into the restaurant business, you can upload short recipes, customer testimonials, restaurant insides such as kitchen, the aura of dining halls, and more. There are so many creative things you can do. 
Many prefer to make reel content because they are short and extremely engaging. However, video contents are best for food blogging and awareness posts. Well, there is no limit on how you can use video content on your page, but knowing what suits best in a particular placement option can create magic.
Do not stop at Facebook
Share your other social media accounts in your posts. It is crucial to branch out when you want to grow faster. Also, share your Facebook posts with every social media you are present in. You want to gain as many customers as you can get. Right? Then depending on only one social media is not practical. 
Every social media has a particular algorithm. You can modify that single post into various modes and post in different social media accounts as per the algorithm's favorite. For example, Instagram is promoting video content on its platform. So you can convert your content into a small video or animation and post it there. Similarly, Twitter's algorithm is more into text. So you can post static images or tweet the content then and there. It will generate as much impact as you want.
Can You Create Engaging Posts For Facebook Groups Using SocioBoard?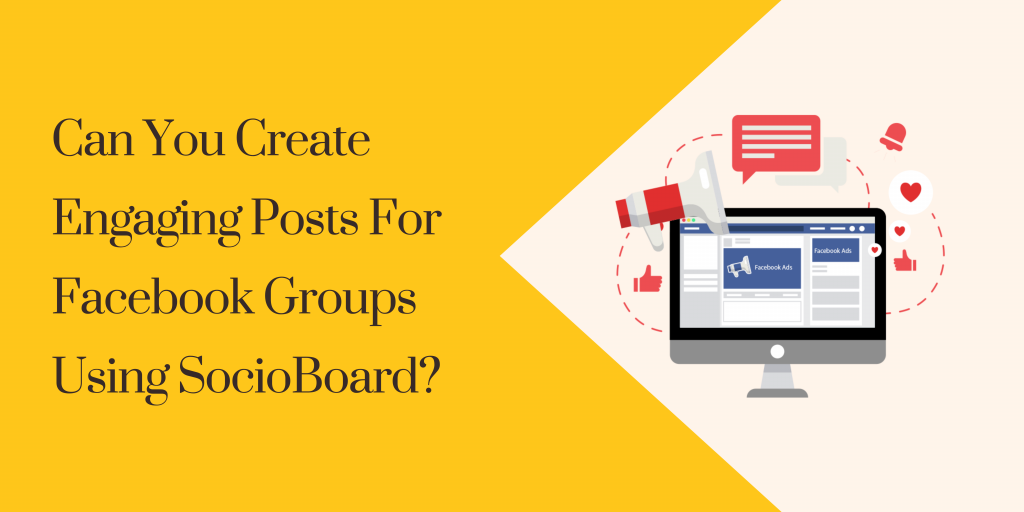 The answer is yes! You can curate engaging posts for Facebook using SocioBoard.
SocioBoard is a powerful and easy-to-use software to operate Facebook groups for businesses. It creates a forum for small business owners to promote their business, connect with other businesses and build a trusted community of people who will spread the word about your business. Using Socioboard is a great way to increase conversions, boost your business's value, and improve your marketing strategy.
Well, there are a lot of words on what Socioboard can do. But what actually is it? Let us know it thoroughly.
SocioBoard is a social media management software. It has integrations with six social sites; Facebook, Instagram, Linkedin, Twitter, Youtube, and Pinterest.
With this software, you can easily schedule posts, curate content, get a hook on the latest news, operate several social profiles in one go, have robust reports on social engagements, and much more!
Every feature is enchanting in a way you can relieve marketing pressure. Well, creating engaging posts for Facebook Groups is one of them.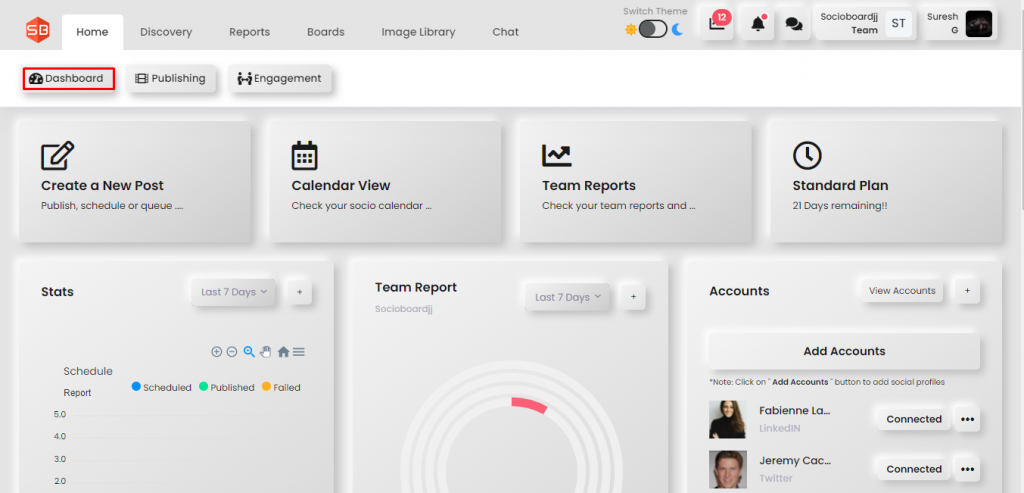 Step 1: Log in or sign up to SocioBoard.
Step 2: Choose Discovery and click on any of the websites listed on the wall.
Step 3: When you click, a page will open. Enter keyword and date of post over there.
Step 4: Choose the content you like and then choose the platform.
Step 5: Hit the post button or save it on draft for later use. 
Socioboard allows you to effortlessly create engaging content integrations with raw content sites like Pixabay and Flickr. Without the need to ever leave the app. You only need to follow some steps to curate engaging posts. However, this feature is not available yet and is soon going to go live on the platform. 
Wrap Up!
At the moment, about 2 billion people are using Facebook, and they send more than 24 billion likes, comments, and shares every day. Understanding that Facebook is a big deal, businesses are looking to reach their audiences with engaging posts.
Use these amazing ideas and tactics to get the most out of your marketing effort. There is no time to remain curious about how to create engaging Facebook posts for businesses. Competition is at its peak. So brush up on your strategies and get started!
Facebook is an effective platform for advertising your business. To make the most of advertising to promote your business, you need to know the right tactics. And one of these ways is by creating engaging posts for Facebook.


Read More