It won't be an exaggeration if we label Facebook the social media behemoth. With a quarter of the whole world's population engaged on this social network, your company is guaranteed to discover a big portion of its audience ready to promote to.
All you have to do is start expanding your Facebook followers and providing content that pushes your audience to take action and become customers. A Facebook business page is a powerful tool to spread awareness about your products, services and brand. 
Hit The
Play

Button To Listen:
It enables your business with the opportunity to educate, entertain and engage with your customers online for a heavily reduced marketing cost. In this article, we will discuss all the reasons to use the Facebook business manager suite and how to create a Facebook business page. Let's get started!
Access Hyper-Targeted Advertising Options: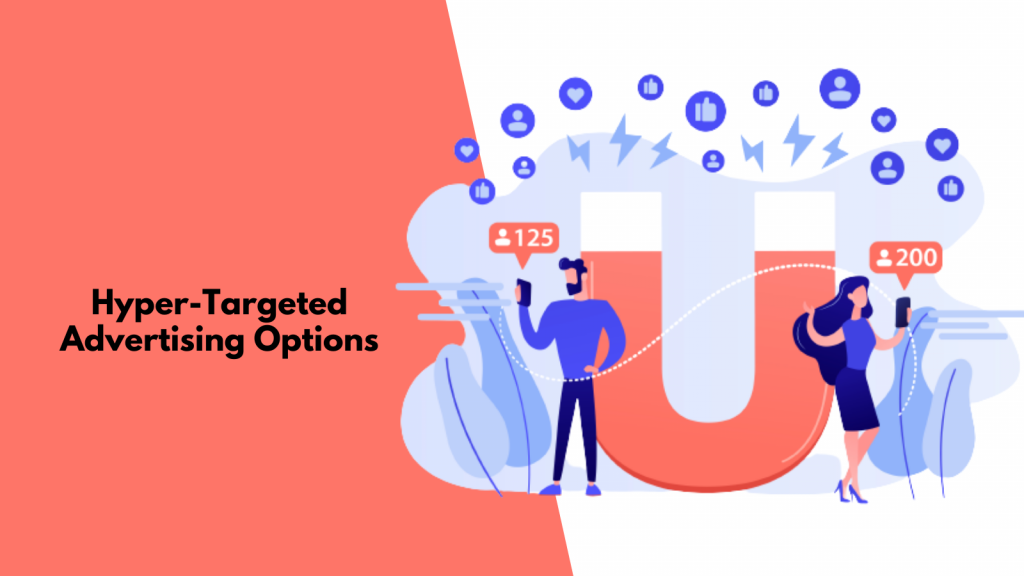 Facebook's advertising possibilities enable you to really home in on a very particular audience, all owing to the data and information its users are already supplying the platform and the activities they perform on it.
This means you may design advertising based on location, gender, hobbies, online activity and more, to create the right audience for your commercials.
Gather Insights on Your Audience: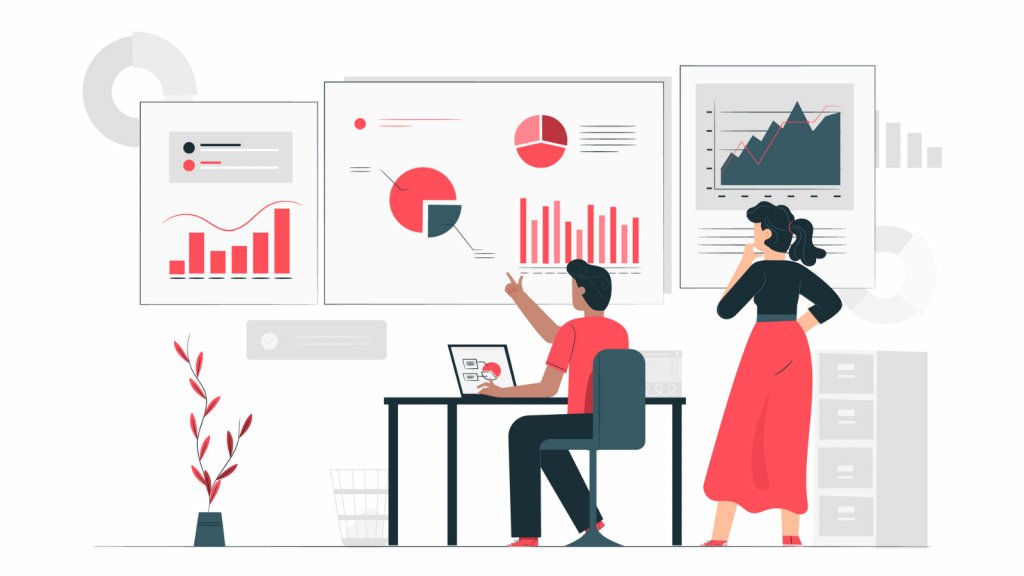 Facebook analytics helps you to get data on your audience demographics as well as assess which sorts of postings connect most with individuals who like your page.
You want to utilize this information intelligently and use it to assist drive your entire Facebook marketing strategy so that you generate the most engaging and valuable material for your audience. Check this article out to completely sure how to get the most out of Facebook insights.
Manage an Online Community Through a Facebook Group:
If you're wanting to develop an online brand community, starting a Facebook group for your audience to join is a terrific approach to get one started. You may then advertise your Facebook group on your page, on your website and across other social media channels.
And although you may still administer a Facebook group as a private user — Facebook just recently began allowing business pages to run groups — doing so as your Facebook business page helps to establish your brand.
Building a community around your company is a terrific method to establish and attract devoted consumers who can assist with user-generated content, customer reviews and more.
Generate More Traffic and Sales: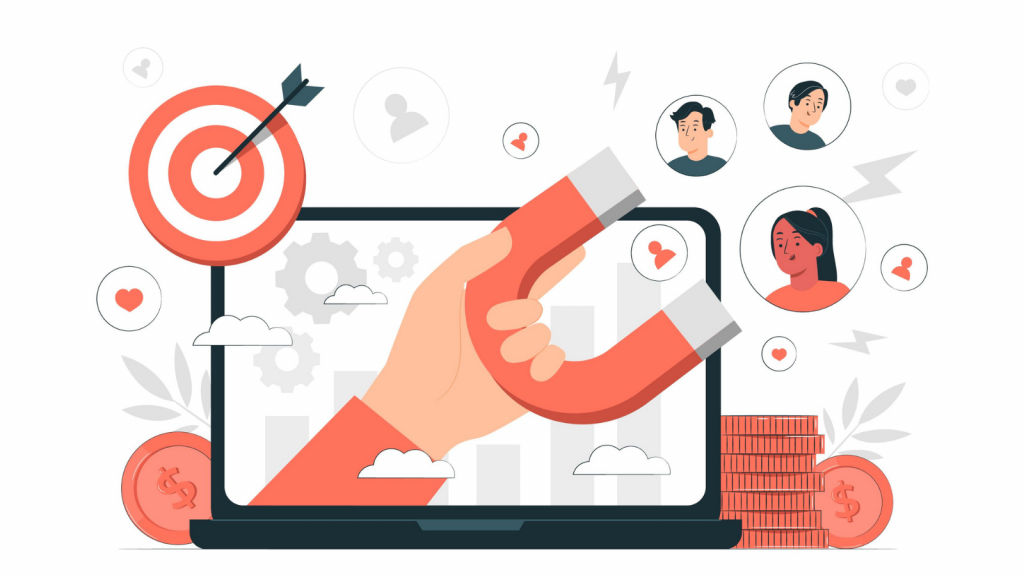 There are various different ways that you may create traffic and revenue via your Facebook business page, from the material you provide to the ways you employ the tools available to you.
First, make sure to routinely publish blog pieces, landing pages and sales pages to your Facebook business page as a part of your content strategy. While they don't tend to receive as much notice and interaction as other sorts of postings, they're still a crucial aspect of your plan.
Other approaches to drive more traffic and purchases focus around some of the services that Facebook gives its customers.
One of the easiest methods to persuade your Facebook page visitors to take action is by putting a link to your website to the button just below your cover picture.
How to Create a Facebook Business Page in 5 Steps?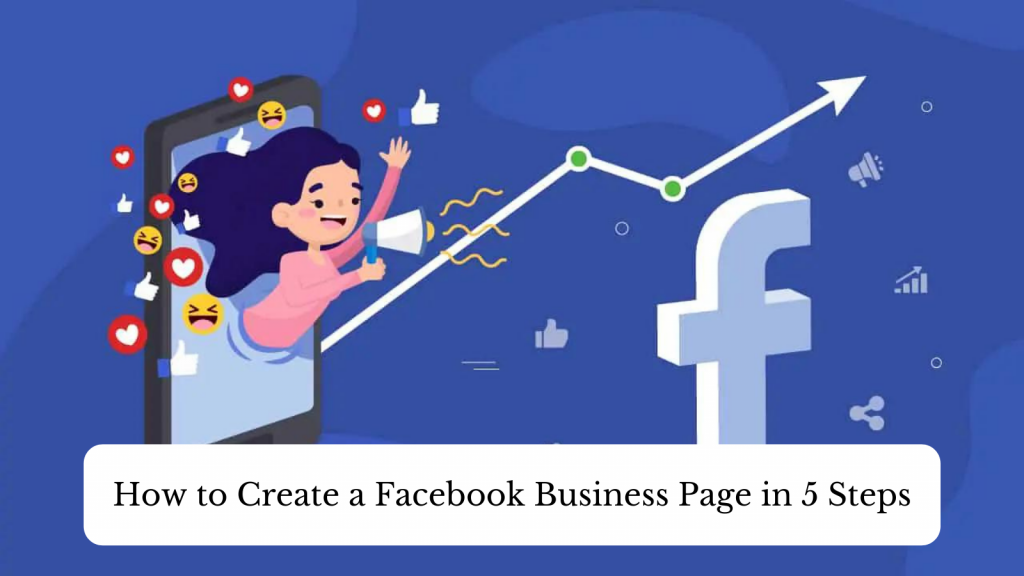 Every Facebook user understands how frequently this platform modifies their interface and how things operate. But we have no need to complain, since with every major platform upgrade Facebook makes, the simpler and easier it is to build and set up your Facebook business page.
Let's delve into how you may start your own Facebook business page in just 5 easy steps.
Step 1: Access the Facebook Business Page Creator: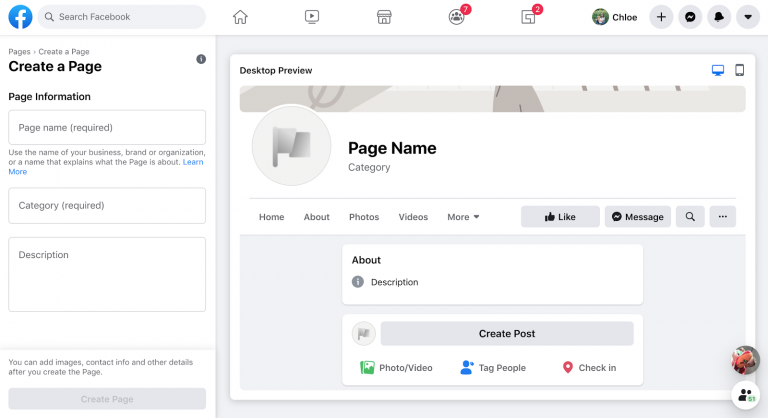 There are a variety of ways that you may get here. The simplest one would simply be to enter in or click on the URL https://www.facebook.com/pages/create and proceed directly to the page maker.
Or, if you decide you want to go through this procedure later, you may also access it straight from your Facebook page. Simply slide your cursor over to the plus symbol (+) in your Facebook navigation, then pick Page from the dropdown menu.
This step will lead you to the exact same creation page, and we can proceed straight on to step two.
Step 2: Input Your Business Information: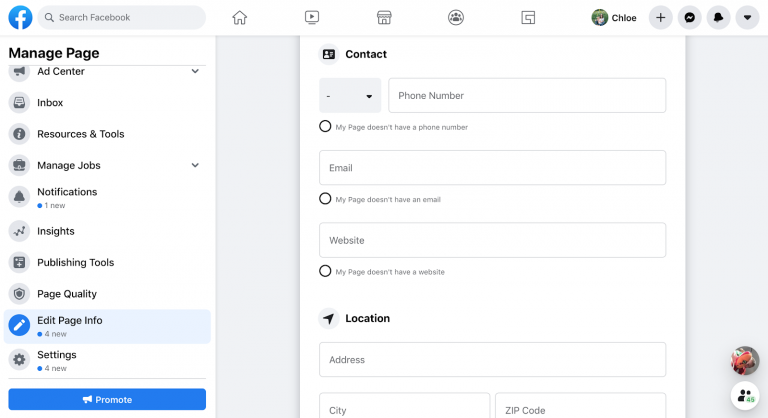 After you travel to the website indicated above or click to create a page from your Facebook feed, you'll be led to this screen.
In this phase, you need to input simply three items before you can continue further.
First, you need to provide your Page name. This will most likely simply be your company name. We're not at the point yet when you'll be setting your Facebook business page's URL, so don't worry about your name being taken.
The next step is to pick a Category for your Facebook page. This might vary from your industry to a more precise sort of company, so start entering something more specific to see if anything shows up.
If not you may always grow wider from there, and you can also enter numerous categories if you provide a range of items and services.
And lastly, you'll need to submit a Description about your firm. You have only 255 characters for your company description, so make sure to put together an extremely succinct statement of what your firm does and who it serves.
As you input this information, you'll see a preview of your page information on the right side. Once you're happy, click Create Page.
Step 3: Upload Profile and Cover Photos: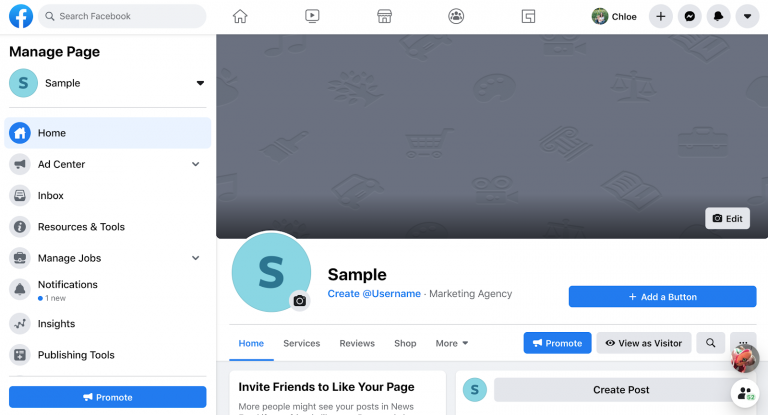 The following step will keep you on a similar screen, but adds in a few extra sections to assist design your Facebook company page — adding profile and cover photographs.
Your Facebook Profile Photo should be a square photo while still guaranteeing that nothing significant will be chopped off from the corners when it's cropped into a circle on your profile.
While your profile picture is shown at 170x170px, you want to submit a high-resolution image that's at least 400x400px to guarantee that it doesn't lose image quality.
For most firms, your profile picture should just be a high-resolution photograph of your logo. Public personalities and solopreneurs could elect, instead, to have the profile picture be a professional headshot of themselves, although this is for very particular cases.
Your Facebook Cover Photo optimum proportions are 820x360px, therefore you want to ensure you develop a graphic that is in accordance with that size.
Your profile displays somewhat differently on mobile phones, though, so you want to make sure that all critical design components fit inside the center 640px so they don't get chopped off.
Facebook cover photographs may be used in a number of different ways, from displaying goods or services to acting as a call-to-action and more.
Once you've submitted these two photographs, click Save at the bottom to be directed to your brand new Facebook business page.
Step 4: Finish Setting Up Your Facebook Business Page: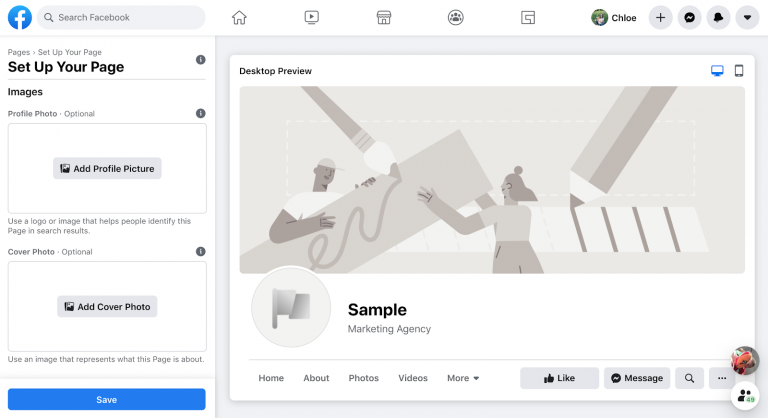 Now you get a taste of what your Facebook company page will look like in its ultimate form. However, there's still a decent deal of material you need to add before it's ready to start promoting.
Facebook business pages have the power to give plenty of information about your company and its products to prospective clients, so you want to make sure to put it up thoroughly and fill out all relevant information.
Since social networking for local companies might have a bit of a different approach, make sure to add any crucial geographical facts so your clients can quickly locate you.
Other than that, below are a few things you need to make sure you do before creating your Facebook company profile.
Create a Username: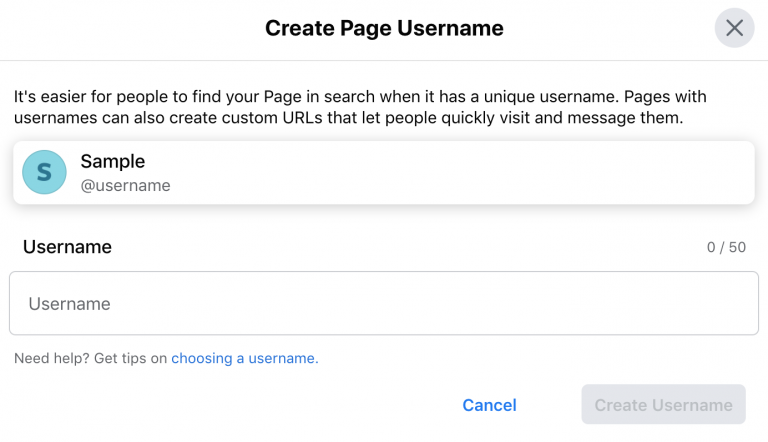 This is where you specify the URL that your Facebook business page will have. It's best to have this match your company name so that consumers can readily locate you, but if it's already taken, you may need to try with different versions.
Add a Button: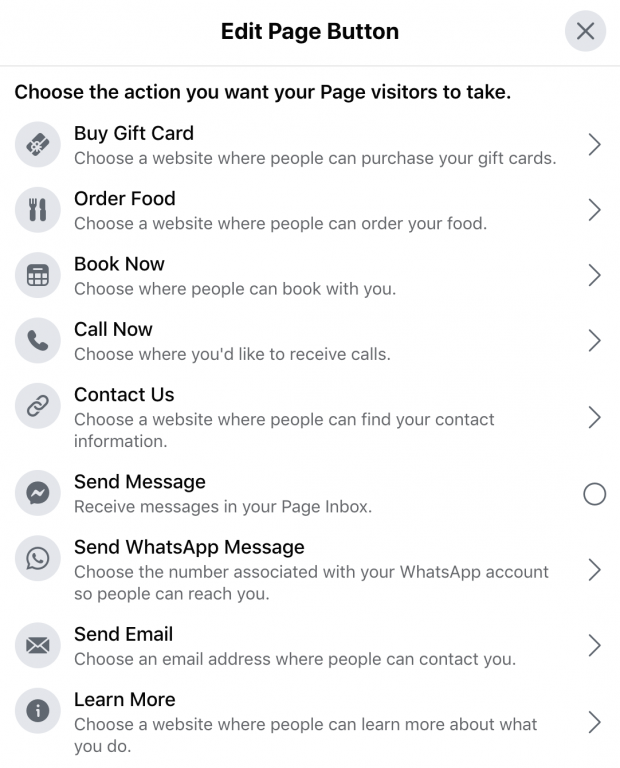 We addressed this a little earlier in one of the advantages of starting a Facebook business page, so you certainly want to make sure you put this up correctly.
There are 14 distinct actions that you can pick from that you want your audience to do, and you can change them up often depending on what your company is advertising.
Select the action that makes the most sense for your company and input the link/email address/phone number/etc. that you want this button to direct your page visitors to.
Insert Any Remaining Business Information:
In the left sidebar, go down to Edit Page Info to retrieve any remaining information you would need to offer your clients, such as contact information, location, hours, etc
If there's anything you want your prospective consumers to know, here is the spot to put it in, particularly before you start pushing and marketing your company page.
Add Products or Services:
If you have a service-based company, you may include content that outlines your service offerings directly on your Facebook business page, giving your audience a sneak glimpse of precisely what they can anticipate from you.
And if you sell things, you may link your web store to products listed on Facebook, highlighting precisely what you offer and even enabling consumers to make purchases straight from Facebook.
Post Events and Job Openings:
Your Facebook company page handles everything, and if there's anything you need to advertise, here is the spot to do it. Post any forthcoming events, either in person or virtual, or any job vacancies your organization may be recruiting for.
Step 5: Start Sharing Marketing Content:
It's now time to make your Facebook business page's very first post.
Be sure to set out a comprehensive Facebook marketing plan so you know what material your audience wants to view and what content is in your business's best interests to publish.
How to Create a Facebook Business Page: Mobile
Open your Facebook profile.
Then touch on the Pages icon. (If this tab isn't visible, you may hit the menu button and choose Pages.)
Tap + Create and then tap on getting Started.
Add a name and up to three categories to define your Page and hit Next.
You can add an address to your Page to make it simpler for people to discover your company or tap on I don't want to add an address. Tap on Next. To finish this step later, touch on Skip. You need to upload a profile and cover picture to your Page. Tap on Done.
Check Out Our Latest Posts:

Few Things To Know Before Start Using Instagram Vanish Mode
Social Media Tools – Giving You Brand The Right Exposure
How To Create A Facebook Business Manager Account: 5 Easy Steps
Wrapping It Up:
While the Facebook business page is not a new tool by any means. But, it can do wonders for your business  if used properly. We hope these tips were helpful. If you want to take your social media game to the next level, use Socioboard and automate social media marketing.