There is no doubt that Instagram is the most opted social media among youngsters. The Instagram engagement rate is higher as compared to other platforms due to various reasons. 
Instagram is known for its reach and audience. It makes Instagram a place for better engagement prospects. With its numerous updates and refined content quality, the engagement rate is helping the brands and creators to reach more eyeballs.
There are many reasons behind the success of Instagram. First, it has a high user frequency. And the second is its algorithm. The average user of Instagram opens the App 14 times each day. And we all have seen the engagement power of short video content in every social media platform. 
Instagram is basically a square image posting social media. But as per the current trend of video content, it seems like Instagram is waving hey to the audience first choice – video content, aka reels and igtv.
One of the reasons for the success of Instagram is its sudden adaptability to the choices of its users. However, there is no doubt that Instagram is a hard shell to crack. Even though it is the most popular platform among young individuals, Instagram engagement still suffers if you won't play ring-a-ring-a-roses with its algorithm. 
In this blog, we will thoroughly discuss how we can increase engagement on Instagram. But, for starters, let us introduce ourselves with its definition.
What Is Instagram Engagement Rate?
Instagram engagement rate is nothing more than the combined ratio of every activity your audience has performed for your Instagram posts. These posts can be anything ranging from stories to videos. 
The more your audience interacts with your profile, the better your engagement rate will be on Instagram. This platform has many outlets for interactions and activities. They can be-
Likes

Comments

Shares

Save

Direct Messaging

Story Replies

Profile visits

Follows

Mentions

Website clicks.

Tags
And many more from upcoming updates. 
The Instagram Engagement Rate is a good tool for assessing the quality of your audience. You get to know the taste of your audience. It can be funny, witty, sentimental, knowledgeable, talented, or entertaining. 
These engagement rates are never the same. One minute they are really good, and the other minute they are not. It actually depends on various factors. 
You need to follow some basic rules to improve engagement rates on Instagram. And they are – get active, start posting, and keep doing it!
How To Increase Engagement On Instagram?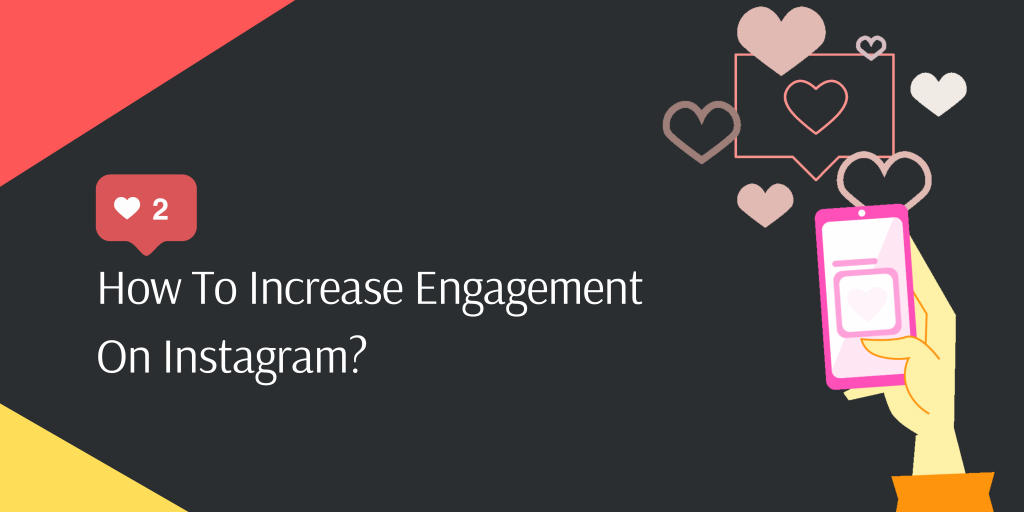 The struggle is real!
I myself had an Instagram page that I opened to share my work, but sadly, it could not grow because of my lack of knowledge. 
You might be thinking about why it is so crucial to increase Instagram engagement rates. Well, the answer is simple.
Whether you are a business owner or an individual, you would want to have several followers. The more followers you get, the more popular your products and services become and the massive the social impact you can create. 
Increasing the engagement rates on Instagram is not an easy task without the right tactics and strategies. 
So, in this article, we will discuss 22 ways to increase followers on Instagram, aka increase Instagram engagement rate.
Consistent posting at the right time
You know, timing and consistency matter. With consistent posings, you can ensure to become familiar with the Instagram algorithm. And, posting at the right time will help you reach a higher range of eyeballs within a short period of time.
In India, Instagram engagement rate is at peak during 8:00 pm to 10:00 pm irregular weekdays, while on Saturdays and Sundays, the duration can be from 8:00 pm to 11:30 pm.
However, if it is hard for you to remain consistent,  you can also schedule your posts and sit back to do your thing. Meanwhile, your Instagram profile is getting higher reach and followers.
Keep creative copy short to boost the reach
It has been observed that only those posts have higher reach prospects who have a short copy inside the creative. Even paid promotions fail to give good results when a creative copy is more than two lines. 
It could be a massive setback if your ads did not perform on social media. So, why not keep the creative copy short and include details in the comments themselves.
Leverage Reels
It is no secret that reels are the king of content in social media. Nowadays, every social media platform is introducing reels on its platform. It is because of the fact that reel content is a push media. 
You are well aware that reels are short videos with not more than 15 seconds frame. They easily hook people in those few seconds and end before anyone loses interest.
In the previous year, 2020 reels have introduced many new faces in the influencer industry. It shows the power of the reel content! And how you can attract masses to your profile only by posting reels. 
Now, with the new Instagram update, you can add long captions in your reels. This feature really provides you an opportunity to have your audience engage with your reel content for a little more while.
Post 5+ stories every day
Regular Instagram users know that posting more than five Instagram stories can work wonders for your profile engagement metrics. Stories are a really cool feature that indirectly promotes your profile to those who have not followed you yet. 
Posting stories is a simple yet effective move to trick the algorithm into promoting your profile. You only have to curate story content, or you can simply share someone else's content in your story. It works just fine in either way.
Put out swipe-up stories
Swipe-ups are a paid feature if you have less than ten thousand followers.
 Well, story swipe-ups are one of the most reliable features that can help you promote any landing page and your profile. Remember how Instagram stories work with algorithms to boost your profile. 
With this swipe-up feature, you can promote two things at the same time – the landing page and your Instagram profile.
Make savable posts
Many Instagram marketers and influencers believe that the save feature has more impact on the Instagram algorithm than likes, comments, and shares altogether. 
So it is more the merrier if you make your content savable.
Instantly repost stories
Your activity within the platform counts! The more active you are, the easier it would be in the top charts of Instagram algorithms. Also, instantly reposting stories will help you make a loyal fanbase, as they will feel more welcomed in your profile if you instantly repost their story.
A good report of Instagram engagement rates requires you to have a loyal fan base and optimal activity levels. 
Manage your DMs with the bot
As I said earlier, a loyal fanbase is crucial to growing on the Instagram platform. And to create so, you need to respond to your audience in an early manner. Well, big pages cannot reply to everyone and connect with them personally.
So, it is better to install bots or software that can help you keep up with every dm you get. This trick is most helpful when you run merchandise through Instagram.
Use Hashtags and optimize your posts
We all know how hashtags derive good organic reach within the platform. These Instagram hashtags can be a considerable alternative to paid promotions if you have the right set of hashtags in your hand. 
Also, they help you participate in the trends and communicate with the farthest of people on the platform.
Use polls in stories
There are times when you just run out of ideas to post something engaging on your wall. Well, if that is the case with you, then no worries. We have got you covered. 
Use poll features in your stories and connect with your audience about random things. It is the easiest yet very personal way of establishing a connection with your audience.
Pin the best comment
Pinning comments is a new feature on Instagram. It helps you to appreciate your audience for commenting on your post and also keep the vibe going.
Partner with brands and influencers
Collaborating with other legitimate businesses and influencers gives you a boost to reach more people. It helps you to channel their audience to your posts and increase your Instagram engagement. 
Sure they might charge you a few bucks, but such a promotion is worth every penny.
Timely response to comment mentions
Responding to comment mentions is another way of connecting with your audience in a personal manner. Your audience appreciates your attention and abides by it. 
If you manage to respond to every comment mentioned, you sure as hell built a loyal community and grow on Instagram.
Make your profile visually strong
Every profile has an aura. And this aura defines the type of audience you will attract. So, it is highly recommended to make your profile's visual representation strong by adding relevant colors and posting patterns. 
Many brands leverage this trick and increase their Instagram engagement rates only by maintaining their profile appearance.
Post video content more
We all know that video content is ruling social media. And now Instagram has already announced that the platform will no longer be a photo-sharing app. It means the algorithm of Instagram is boosting video content more compared to imagery content. So, it is best to post video content more to increase engagement on your Instagram post.
Ask questions in stories
It is also the easiest way to increase Instagram engagement when you have nothing to post. It can easily reach all of your audience and can gather a minimum of five percent replies. And to answer all of those questions from your audience, you will need to post reply stories by tagging the respective follower. It is such a cool way to generate engagement without putting in any extra effort. What you need is to take out some time to answer their questions, that is it!
Know your audience
The most crucial aspect of getting more engagement is knowing your audience. They are the key to unlocking your engagement potential. You have to know them and post according to their demands and interests. 
There are many ways you can opt to know your audience. Let us discuss some of them.
Put out "Ask Me Anything" stories.

Put out "Polls" Stories.

Publish feed posts that help you know your audience in the comment section.

Post quiz in the stories.
Design your stories with music stickers and other tools
Instagram is fun for a reason. It allows us to express our sentiments exactly as we should. With Instagram stories, you can post anything using giphy, music, stickers, images, filters, locations, and more. You can also add texts, block colors, and links if you are designing branded story content.
With so many tools in the story section, you can make your stories more appealing and reachable.
Post carousels
What can you say? The Instagram generation loves to swipe.
Carousel posts are another most opted way to increase engagement on your Insta profile. Most marketers and creators use them to engage their audience with the content for a longer duration.  Plus, it allows you to post more content altogether – without jamming the reach of one particular post. 
You can post carousels when you are promoting your services and products. Also, you can post carousels of similar content. 
For example, if you are a music artist, you can post carousels of music of similar genres or singers. Carousels can hook your audience with the post and give you extra time to convince them to follow your profile.
Go Live
Live is another feature that helps us to connect with our followers in a more personal way. Many influencers use this feature to share insights into their lifestyle with their followers.
Promote your posts
Boosting posts by paid promotion is the ultimate technique to increase your engagement rate in no time. The minimum cost of paid promotion on Instagram is $1 and 80 rupees in Indian currency. 
If you are new to Instagram and wish to gain maximum impressions, go for paid promotions. 
Run social media campaigns
Social media campaigns are strategically planned marketing attempts to inform the audience regarding the brand and convert them into loyal customers. These campaigns last for a week or so. You can leverage – Instagram trends, festivals, seasons, global events, national events, and more to run a campaign. 
You can increase your Instagram engagement rates by only indulging your audience in a series of ideas and services. It also helps you streamline the topics. And build a decent profile that is interactive and appealing to its audience.
Socioboard: Ultimate Instagram Engagement Calculator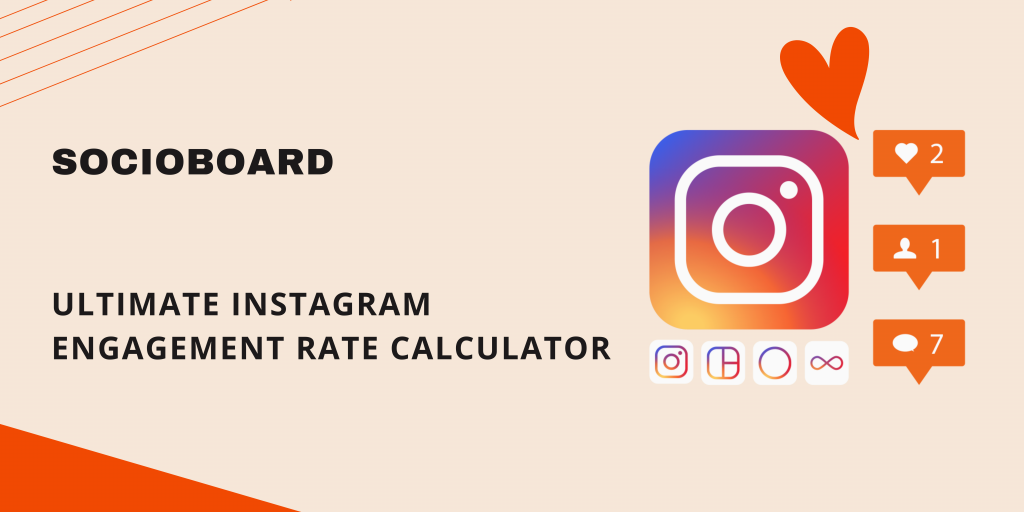 Instagram engagement calculator is a tool that evaluates the combined ratio of followers and latest audience activity on the profile. Many tools go for the proportion of followers to the likes and comments of the newest nine posts. It may give you a rough idea regarding the engagement rates.
However, some tools can provide you with a thorough engagement rate reports. Who calculates the engagement matrices with almost every audience interaction possible.
For example, Socioboard!
Socioboard calculates the account activity, posts engagements along profile visits to create robust analytic reports on your engagement metrics. You can smoothly get these reports by following a few steps.
Just log in or sign up in your Socioboard account and go to Reports given in the upper part of the window. Well, the Instagram engagement report feature is not live yet, but it will be for the time being. Until then, give a hand to other stunning services of Socioboard.
Socioboard is more than what it seems. It is an all-in-one social media management software. That allows you to schedule posts & messages, curate content, share content in groups, RSS feed reader, multi-management of more than one social profile, and robust social media reports. It has integrations with six platforms, including Instagram, Facebook, Twitter, Linkedin, Youtube, and Pinterest.  
Socioboard aims to organize your content marketing approach with ease and poise. So, hop in and join the community of happy users with a single click!
Read More