In today's digital marketing world, your fan base or following uncovers your ability to rule your niche or market.
With big companies and even start-ups having sufficient funding can easily hire the best of the best in the industry to make their social media following grow in a shorter span of time.
No matter whether you are a service provider of software, hardware or anything else you have to build a strong online presence. Moreover, today even the brick-and-mortar businesses are establishing their foot online so as to reach more target audience dwelling in different corners of the world. Robust online presence will help in driving good growth and results.
But how?
Here are 4 phased approach which should be followed to find your way on the top of the search engine when anyone searches for you or products/services as offered by you.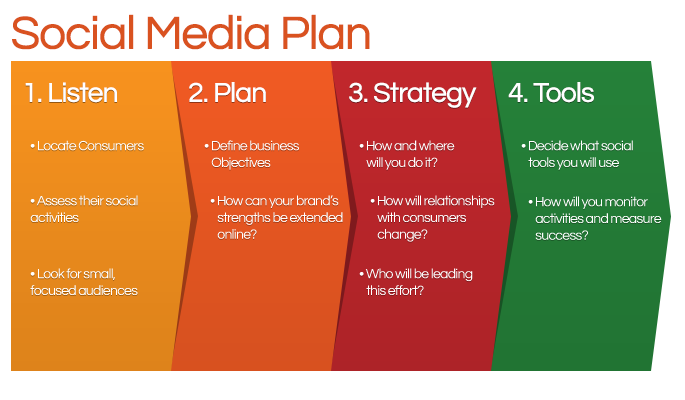 Listen – Lets you identify and modify your goals according to the latest trends.
Plan – Makes you follow a well-structured method and effectively handle your marketing campaigns.
Strategy – Lets you to precisely target audiences & markets and boost their engagement with the brands.
Tools – Simply makes everything easier and convenient.
Recognize Goals and Objectives
However, social listening is a rolling process which has to be followed throughout your social marketing campaign. When you listen to your customers and audiences, it'll give you a clear idea about your next move.
Don't make the mistake of sharing, advertising and following people as soon as you setup your social accounts. The first and foremost step of successful social media strategy is to listen what's going around your niche market and who're your competitors.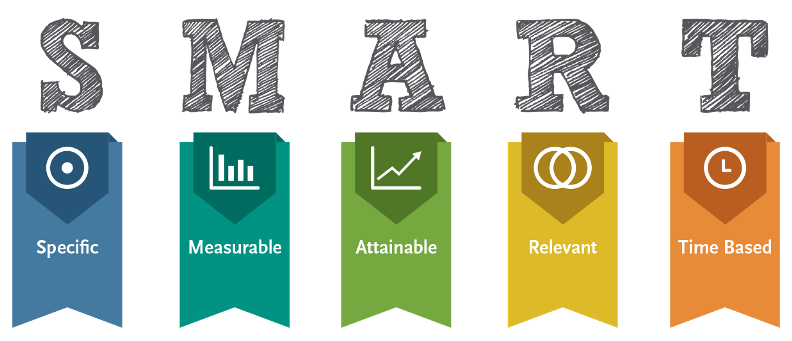 Using #hashtags, you can easily know about the trending topics and leading sharers. It'll lead you to have an idea to know what type of stuff is being shared more by people of your niche. Through the listening process, you will also come across the different topics that are being discussed and the people who are getting engaged.
Based on all this information that you gather, you can put together a simple set of goals and objectives.
Your goals can be to grow a following, or engagement or even simply getting RT's for your posts. With this information on hand, you can move on to the second phase of this approach. Planning.
Create a Plan and Stick to it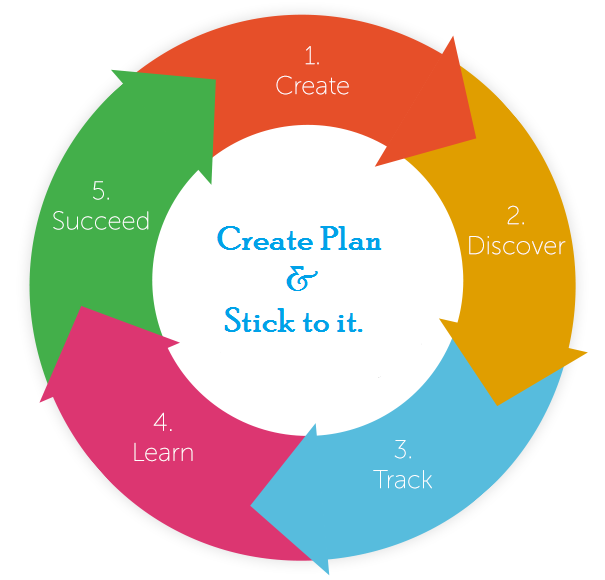 As the title of this article suggests we are focusing on growing your social following on the Internet. We need to set our goals to serve this purpose.
Step 1 – Follow all those people whom you found to be influential, engaging and the top RT'ers.
Step 2 – Share their material with your following as you go.
Step 3 – Strike up a conversation as part of something that the influencers shared and engage.
Step 4 – Share quality content
Step 5 – Repeat
This 5 step simple plan will get the job done. Within no time, you will be able to generate a healthy following on social media sites.
Identify Your Audience
Digging a little deeper into actions on social platforms, you will try and identify your audience. They can be your following or just people on the social platform who have an interest in what you do or what you are selling.
Finding the right people to communicate is easy, conduct a social media audit for your niche, and identify relevant posts and engage.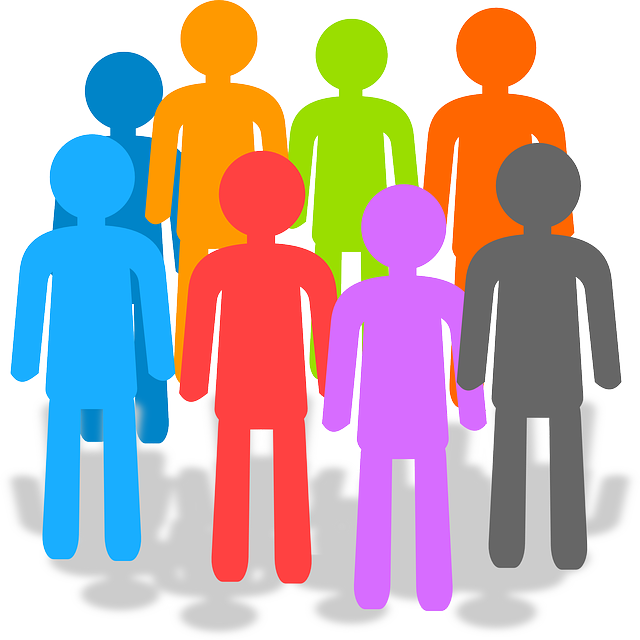 Almost all social networks have search built in, it's the easiest way you can search for people with the same interest. For example. Searching for the keyword "SEO" in the search box will show all posts or people who have used or shared something to do with SEO.
With a little further analysis of each account, you can be sure that they are genuine and most likely interested in what you might have to offer.
With a clear focus on your audience, you will achieve better results.
Create Valuable, Quality Content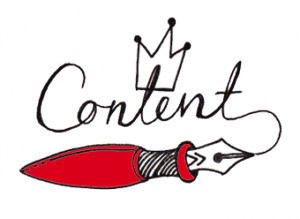 When you are looking to grow a following on social platforms it's important that you establish yourself as an authority. In order to do this, you need to share valuable content as well as create valuable content.
Ensuring that your blog has valuable posts that your readers and followers can benefit from is a plus. Quantity is not important, but the quality is.
Share Consistently
Maintain a sharing schedule you will be able to reach your target audience better. For example, if you are based out of U.S. and trying to target customers in India, then you should schedule your posts and shares to go out at two timings.
One schedule should go out for the US customers and the other schedule should go out for the Indian customers which are mostly your night time because of the time difference.
Consistency is the key when it comes to social networks. Followers and fans will soon forget you because of the volume of sites and blogs they follow. Consistency will ensure that they know that you are around and what you do.
Focus on Leading Platforms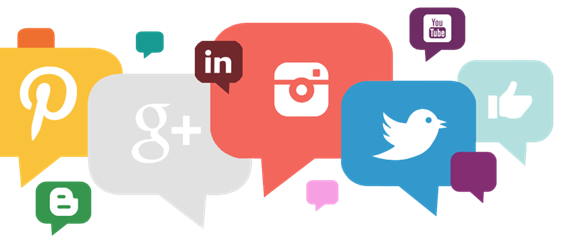 Don't focus on all social platforms. This will dilute your efforts across Social Media. Rather focus your efforts on creating a brand presence on the top three relevant platforms.
This helps you concentrate on your conversations with your target audience. Your followers also know where you are most accessible if they need anything.
Identify Influencers
Creating content and publishing blog posts aren't enough. To gain credibility and visibility you need to develop a strategy to identify and reach out to key influencers in your niche.
Leveraging tools like SocioBoard and other social analytics tools that will help you target influencers in your industry. You can use these influencers to grow your influence and your brand's influence on the social web.
Measure Engagement
You have followed every step of this strategy to grow and boost social following. But how do you really know that these strategies have helped you?
It's called social media analytics or simply put social performance measurement.
Setting up guidelines to manage content development, social monitoring and measurement will help you stay focused.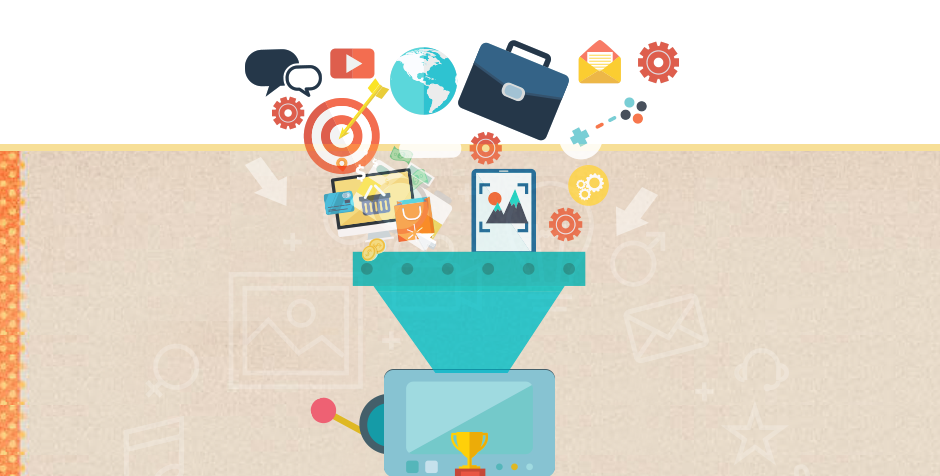 Creating a measurement strategy and an ROI system will help you measure progress.
For example, your goal might have been – Reach 1000 followers in 30 days. With this as a measurement criteria you can say that your following has grown or has not.
This also gives you enough room to see what worked and what did not. You can tweak your strategy to improve performance and grow a steady and healthy following on social platforms.
With the right amount of preparation, outreach and action, you will be able to go from having an average social media presence to a social media expert.

Check out our latest blogs
5 Upcoming Trends That Will Change Your Approach to Social Media Marketing in 2021

5 Best-proven Approaches to Instantly Pick up your Social Media Marketing in 2021