We live in a world where separating noise from information is increasingly challenging. Brands are creating more content than in the past, and consumers can absorb information through various devices and channels. As marketers, it is our responsibility to ensure that content adds value to both the brand and the consumer. Consider content marketing to be the baton in a marketing relay race.
All marketing operations that focus on generating and disseminating information are included in content marketing. Although content marketing has existed before the internet, the internet has allowed it to shine and take control of most other marketing tactics.
Before the internet, content marketing might have been seen in commercials or newspaper advertisements. It also uses our leisure time, such as product placement in movies, which can be viewed as a sort of content marketing.
However, thanks to the internet and focused SEO methods, we are now bombarded with content marketing from practically every direction, sometimes literally, as both sidebars of your browser may be crammed with advertisements.
Hit The
Play

Butto To Listen:
If you're serious about Search Engine Optimization (SEO), Content Marketing Strategy  is crucial. It should be included in your plan. However, it is now also required for branding. Sharing relevant and engaging content is a terrific approach to draw in new customers and demonstrate that you are the best at what you do.
What Is Content Marketing Strategy and How Does It Work?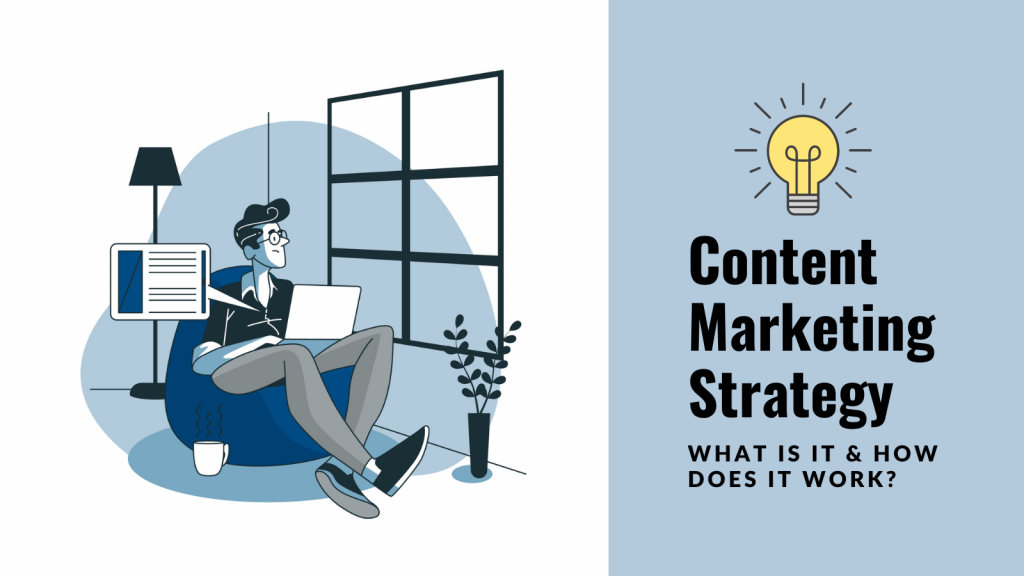 Content marketing aims to increase brand exposure, improve search engine rankings, and generate audience interest by creating and distributing digital marketing collateral. Businesses employ site analytics, keyword research, and tailored strategy recommendations to nurture leads and enable sales through content marketing.
Primary purpose of a Content marketing strategy is to deliver value to your clients/customers. It's an example of inbound marketing. People can simply find your SEO content and learn about your brand and products/services instead of outbound marketing, where you actively pitch your products/services to others.
This SEO content marketing strategy is intended to entice your target audience to take action. Making a transaction may not always be the best option. Content marketing is not always about selling. Sometimes you want to educate your audience, and you just want to entertain them.
Also, many content marketing strategy example are available for solving difficulties or learning more about a topic of interest. The information will help your audience, and they will regard you and your firm as experts in that sector. As a result, people will buy your items or services because of your competence. Furthermore, people will return to your website as a result of this.
Content Marketing Types:
The first type of content marketing is a blog where you publish fresh articles regularly on topics relating to your field of expertise. Blogging can also be the simplest way to get started. Assume you have a new firm and want to tell people about your products or services, but you don't know where all of your consumers are. You must first conduct research by devoting time to determining your target audience. And you may share posts on various networks, which will help you generate more sales leads. Content marketing also includes the following sorts of content:
Videos.
Blog posts.
Photos.
Email newsletters.
Infographics.
Podcasts
Social media posts
Animations.
Social media posts and more.
Content marketing and search engine optimization (SEO) help your target audience find you.
How To Create A Solid  Content Marketing Strategy?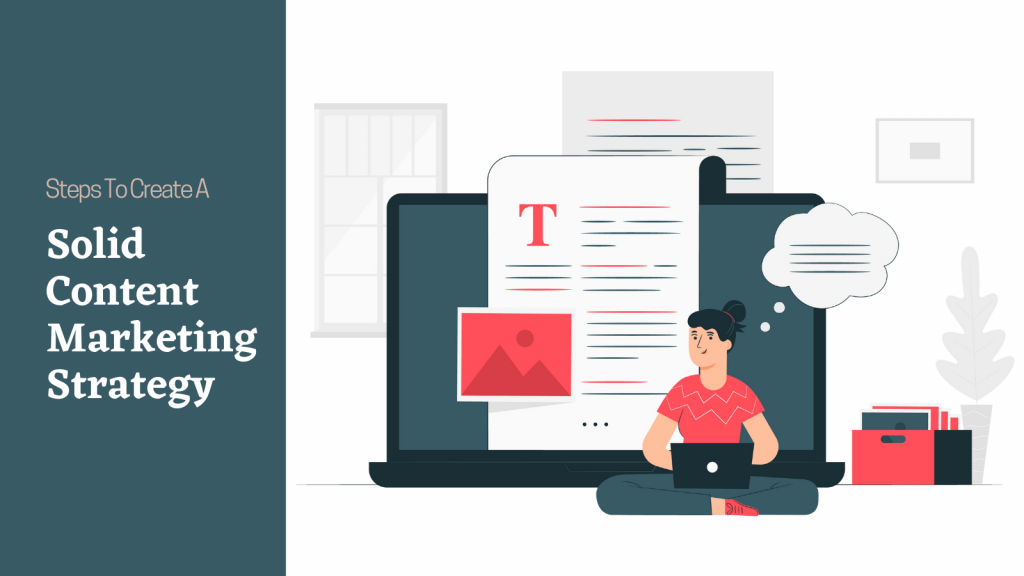 It is critical to make a plan before you begin publishing material. Let's look at how to make a content marketing plan step by step.
Determine Your Objectives:
We must first outline our objectives before we begin developing content. Why are we producing content on a specific subject? Do we want to increase our lead generation? Is it our goal to raise brand awareness?
Will developing content assist in increasing website traffic? Respond to these questions, create an objective(s), and set goals. You can then quantify these goals to determine whether or not your content marketing efforts are worthwhile.
Know Your Audience:
It's critical to know who you want to reach with your content strategy. Let's imagine you're trying to get a specific demographic. Before you advertise your brand to them, you need to know what they enjoy and dislike.
Knowing what types of content your target audience wants will help you create a persona for them. Select your content correctly; this will help you establish your target group's demographics, such as age, geography, income level, and gender.
Keep An Eye On The Competition:
With so much content being created daily, there's a strong possibility you'll be up against some stiff competition. Investigating the type of content they produce, the keywords they target, and the elements that contribute to their success might help you figure out what you can do better or how you can give value to your target audience. 
Aside from direct competitors, various other sources of information, such as newspapers and entertainment websites, may cover similar issues. Researching these rivals thoroughly can assist you in determining what you should and should not do. You can easily get a content marketing strategy template to get started.
Focus on Keyword Research:
After you've identified your target audience and established some goals or objectives to meet, you'll need to learn about the keywords they're looking for. What exactly are they looking for? And how we can best give them the information they require.
Selecting relevant keywords with a high search volume will help you achieve unexpected results. You may use tools like SEMrush, Google Search Console, and Ahrefs to undertake extensive keyword analysis and structure your content accordingly.
Make An Action Strategy:
You're ready to establish a content marketing plan now that you've defined your goals, identified your target audience, and determined what content works best for you. Use your previous research to choose which strategies you'll use to promote your material, which platform you'll publish it on, and what will appeal to your target audience the most. 
If your audience responds better to social media postings than to white papers, you can focus on developing more social media material. Do they prefer to watch movies or read long articles? Prioritize video content marketing if they favour video. In some circumstances, a blend of several types of content may be the most effective. Choose what works best for your objectives and begin developing a strategy.
Make a Content Resource Plan:
After you've devised a strategy, you must determine how to put it into action. Do you have in-house writers to help with content production and generation?
Do you have any elements of the content that you'd instead outsource?
More people will need to manage your social media and content marketing campaigns?
Is there a specific budget that you have to stick to?
Will someone be assigned to respond to user questions and comments?
Planning for all of these different resources is critical to success. Content marketing may be time-consuming and resource-intensive. It is, however, well worth the effort.
Make a Content Calendar or Plan Your Timetable.
Planning and organizing your strategy and being consistent with publishing will benefit from developing a calendar to assist you in understanding when the deadlines are, the publishing dates, the allocated resources who will be working on creating a particular content piece, and so on. You can also get help from Socioboard to streamline the process of content marketing on various social media platforms.
Content Creation, Publication, and Distribution: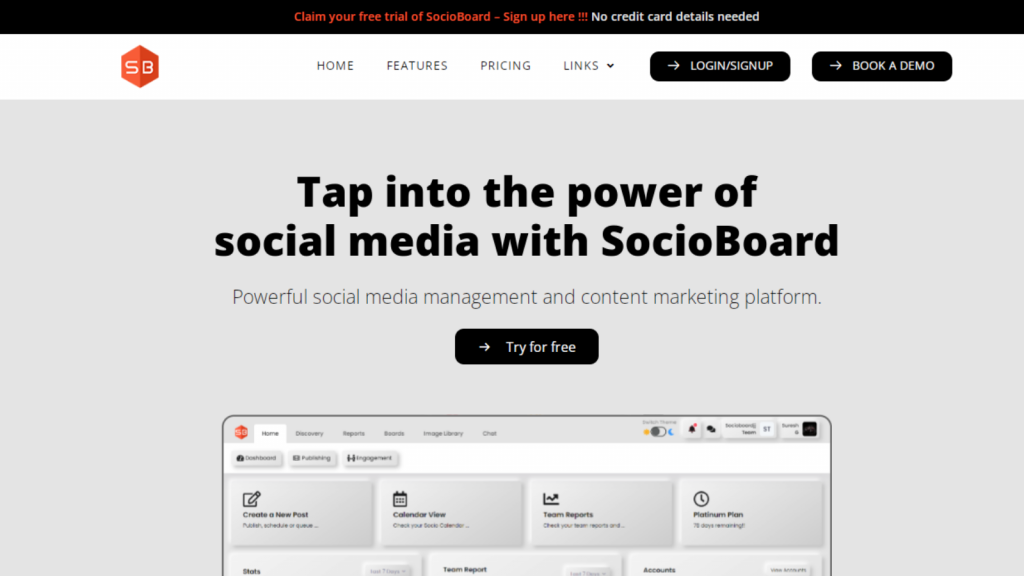 The importance of producing high-quality content cannot be overstated. We need to be able to provide value to the readers or persons who consume the content. Don't rush content creation, and make sure it's well-researched and factually accurate. You can easily Improve your content curation game with Socioboard. Get built-in stock picture libraries, sophisticated search features, and powerful editing tools, you can find, organise, and modify all of your social media content in one-place now. 
Continue to Revise and Improve the Content Strategy:
Monitor the performance of the content across numerous platforms. If necessary, refine your strategy. Keep up with the latest trends and be adaptable in your approach. Maintain focus on your objectives, seize new possibilities as they arise, and boost productivity. When you notice a company continuously producing relevant material, you can attribute it to the strength of its content marketing strategy.
Check Out Our Latest Posts:

Best Uses Of Facebook Analytics For Your Business
Instagram Search: Everything You Need To Know
Top 10 Tips To Boom Your Business Through Instagram Reels
To sum it up:
A brand's ability to create captivating content is critical. A well-structured content strategy can undoubtedly aid firms in attracting more clients to their websites and raising brand awareness. Creating a content strategy that works for your brand requires time and effort.
Trying out different tactics can help you determine what works best for you and what doesn't. A solid foundation will allow you to stand out from the pack. Use Socioboard to keep up with the latest trends if you want to follow in their footsteps.