The competition in digital marketing is increasing everyday. Marketers are making many strategies to go forth in the race. Among all the strategies, leveraging social media given more priority. For the better implementation of this social media marketing, using a social media management tool is getting more importance. In this process, marketers are utilizing the services of SocioBoard. And we are working tirelessly to give better services to our customers.
In this continuous developing process, we are introducing some new advanced features for our users. Here in this article, we are giving you clear idea on the features. Take a look…
Smart Chat:
Social media marketers should be responsive. That means, they should be quick in their response. They may get a follower or a mention or retweet at any time. Or some users may ask queries about their product. These are the opportunities to build a relation with the users and expand the market.
But, you cannot be online on all the social networks at a time and all the time. Though you get an email alert in such cases you cannot browse your mail, it is not that convenient to check mails every minute.
SocioBoard worked on this problem and as a result, we are introducing the new Smart chat feature. This feature gives you a notification alert whenever you get a new follower or a mention or a direct message. The beauty of this feature lies here that it not only intimates you about the action, but also gives you the complete details of the action and.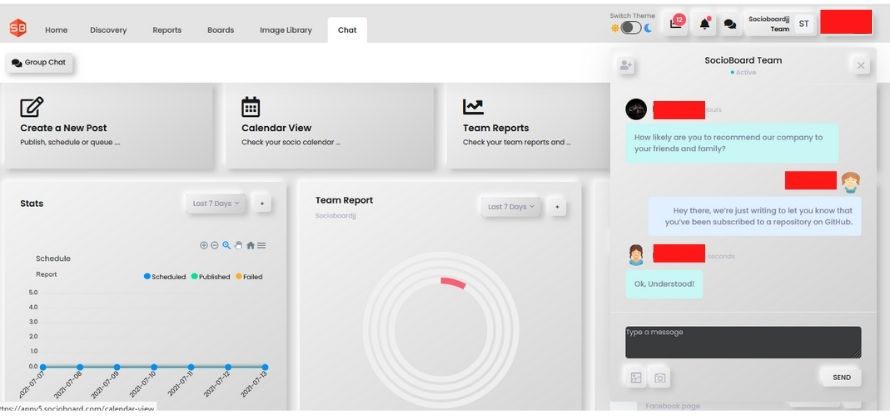 If you see the above pic, you can get a clear idea on this feature. On the right side of the dashboard, you have a filter where you can select the profiles and the types of message you want to get. In the above pic, we are getting the follower alert on Twitter in which the Bio and the follower and following count details of the follower are included. So, you may not need to search on Twitter again.
Shareathon:
Posting is the important element that drives traffic to your website. Especially for the sites that run for advertisements, traffic is very crucial. And there is no doubt, social media is the best traffic driving force. So, marketers need to create their business pages on each and every social platform. And whenever they make a post on their website, they need to post the links on the respective social pages. Posting on the website, and again posting the links on each social account….all this seems somewhat hectic, no?
Now, SocioBoard's new Shareathon is here for you to make this task easier. You can make this process automated. You can pos on your groups and pages automatically with the Group Shareathon and Page Shareathon features.
You know that you can add multiple accounts to your dashboard. On social media, you can maintain multiple pages on a single account. You can select the profiles, groups and pages you want from any social media network. And the link to any which website or blog you want to fetch the content from.
Automate RSS Feed:
Besides posting your own content, you have to post some other content as well. And yes, this is all in the process of producing a quality content. There would be some websites or blogs that are posting content relevant to your business. So, better considering posting their content on your social accounts. And again, you need to search for the content and post it manually..? Not at all.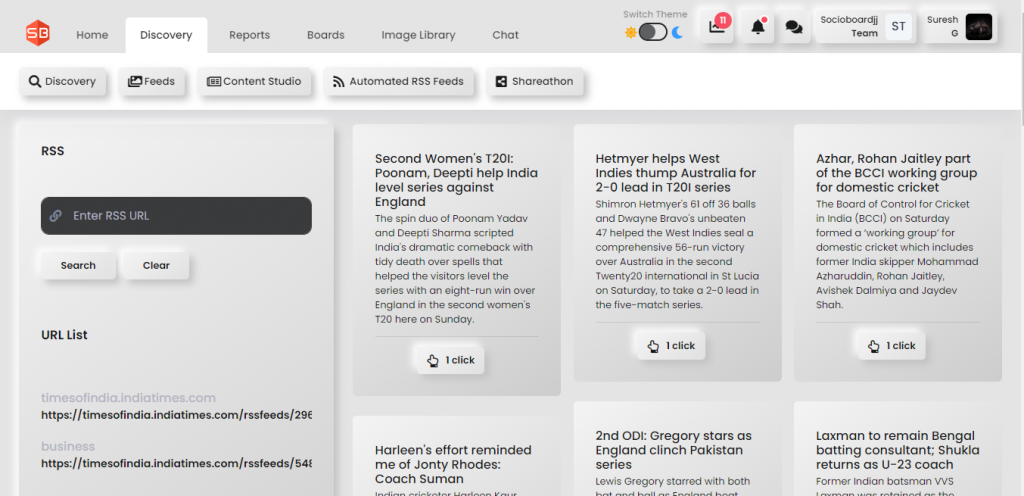 SocioBoard is introducing Automated RSS Feed feature. This feature allows you to fetch content from the RSS sources and post it on your social profiles automatically. So, you are making a smart work in generating quality content, aren't you?
Sentiment Analysis:
It is important to know what people feel about your brand or business. When you post on your social account, your friends and followers will read those posts and obviously you will be getting good results. But how could you know the people's reactions when someone mentions you or retweets your posts. But, how could you know this?
Here we are introducing the new Sentiment Analysis feature on SocioBoard. With this, you can get to know the response of social media users when someone mentions or retweets your posts on their social accounts. So, you can get to know what people are thinking about your brand and what is the next step you should take to go forth.
E-Wallet:
Now, E-wallet is a crazy trend in the online marketing especially in the e-commerce. And yes, this makes your shopping easier. Besides, using an e-wallet gives you some extra benefits like coupons and cashback offers. You like such things, i guess.
In SocioBoard, we are giving you the same for you. You can make your transactions smoother now, using SocioBoard's E-wallet. Obviously, You will be getting some extra benefits for your business as well. You can also request money to your friends and send money to them.
Conclusion:
As we said earlier, time is very precious for any marketer. When it comes to social media, every minute counts for marketers. We all know that the main theme of technology to save time and improve productivity. And exactly, this is what you can do with SocioBoard. With the new advanced features, marketers are going to be benefited a lot with their social media marketing.
Some More Quick Links: