Learn how to schedule a post on Facebook so your posts reach your audience and you see a boost in your sales thanks to Facebook's algorithm! Read ahead to learn more!
Facebook is one of the leading social media platforms in the industry right now. It has an active user base of 4.3B people, and it's constantly growing. Knowing how to schedule a post on Facebook is key to staying on your tiptoes and conquering the social media giant. Let us look into how to achieve that!
One of the most important aspects of being a social media manager is to keep up the consistency of posting and staying relevant on our favorite social platforms. But it is not just relevance and consistency they work hard on. Marketing on social media platforms such as Facebook can be a big task. There are a lot of factors that contribute to getting optimum reach on such marketplaces, such as:
Overall engagement of posts
The time duration the audience spends reading your post
Hashtag usage
Posting time
Posting trending/relevant information
And so much more!
These factors could be the dealbreaker between your posts and them reaching millions of potential customers through Facebook. However, each organization has numerous social media accounts on different platforms. It can be cumbersome to give these factors a thought for every post on the organization's pages.
We all know how important it is for brands and organizations to be active on social media platforms. Especially on Facebook, with its massive user base, brands are opening up pages for themselves on the platform left and right, all to stay relevant amongst their customers and acts as a bridge for direct communication between these customers and their favorite brands!
However, it goes much deeper than that. It is crucial to the longevity of any brand/organization to stay active on social media platforms. Some of those reasons are:
Brand Awareness: Brands need to cultivate and maintain awareness about their brands posting regularly and always staying on top of the social media feeds. It is a very cost-effective method of staying relevant, according to business experts. Knowing how to schedule a post on Facebook is one thing, but when you time those posts is a different story. If you set your updates for the times your post will get attention from an alternative audience: you are making newer audiences aware of your brand.
Chances of better conversion: Any post that you make on social media on behalf of your brand is a potential sale. It presents the customers with a call to action: to ignore it, share it with people who might like it or purchase it. Putting your products out there on social media costs next to nothing but can lead to revenue generation if done consistently!
When you know how to schedule a post on Facebook, you know that those posts feel like a godsend – waking up to new orders and inquiries certainly feels good! A vast portion of the population likes to place their orders late at night when they are in bed, and when you schedule Facebook posts for that time, your posts come at the top, much higher than people who have posted in the daytime.
Building Brand Loyalty and Credibility: Having a social media page for your brand means that it gives your customers a chance to scrutinize the brand's page and see if they can connect with it on just a customer-brand level. It provides the customer with a motive to connect with the brand. They make a purchase and leave an ever-lasting impression on the customer, guaranteeing that they will be back to purchase products from your brand again!
Brand loyalty and credibility build up over time. When customers see how frequent your updates are and how approachable you are on social media, it bridges the gap between you and the customer, thus building up a relationship with each other. To do that consistently, you need to schedule Facebook posts for some days in advance. It helps with putting out content ever so often and lessens the workload of your social media manager.
Helps in Research: Posting regularly on social media will help you gain insights into what your consumers might desire and gives you a chance to look into what your competitors are putting out on their pages. Brand's social media pages are usually open, as they have to be visible to anyone interested in their products. It is easy to go through your competitor's pages and learn what they are doing and how they are doing it.
You may conduct tests for different times to post, and you may see if your audience responds well to your posts apart from the routine times. When you know how to schedule a post on Facebook, you can set these posts to post at your desired time and analyze the statistics from those posts to gauge their performance with your audience. It helps in social media research and aids you in making strategies and to better encapture your audience with your products!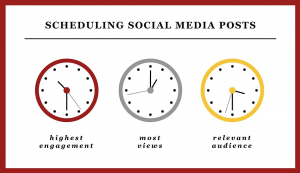 Posting on social media is vital for any organization: building relevance and goodwill amongst a brand's customer base has never been easier with how much technology has grown in the past decade. An organization, provided they have data and analytics over the demographics of their customer base, may post their content for their consumers and tailor it according to the location of the majority of their customers, the timezones that they are in, their preferences, trends, etc.
The differentiating factor between a professional social media manager and a mediocre one is knowing when to use what tool to lessen your workload. That and consistency – these two things are vital skills to possess in the industry. To schedule Facebook posts is like accomplishing both of these simultaneously. When you schedule a post on FB, you are playing smart and being consistent for the future of your brand page. It is a great thing to be!
To schedule a post on FB is an integral part of social media marketing as it has made life a lot easier for managers to post on their brand's page as and when they want it with a lot less hassle than creating a post as and when required.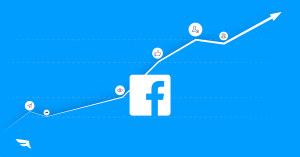 Several times brands have a vast customer base which often breaks boundaries such as geographical locations, time zones, etc. These brands have to be active around the clock on social media as their customer base is everywhere. At any given point in time, one area of their customer base might be checking their social media, and these brands have to be on the top of their customers' news feed at all times.
But it can be stressful to manage a brand's social media account around the clock, replying to comments on posts and messages from consumers, drafting a new post every time a post needs to go live.
These posts are for customers sitting across the world. So even when social media managers are asleep, posts need to be made and put up on their brand's social media page to stay relevant.
It is due to these social media platforms have post scheduling options, which lets brands sit in peace and draft all their posts for the day at once. They assign times and location tags for their posts to be live on top of the feed of their desired audience base. Sounds easy, right?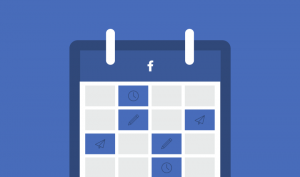 How to use the Facebook Scheduler?
Now you can schedule Facebook posts from their Business Suite for your brand's Facebook page that lets you choose to upload different kinds of media to whichever location you desire with all the required tags on it. And the best part, if you may post it then and there, or schedule it for later and sleep peacefully.
The scheduler on the platform will publish the post for you when you need it and only then, so a good night's sleep doesn't come in the way of organic, hard-earned reach. On your brand's page, look for "Publishing Tools" in the left-hand column. It should look like this: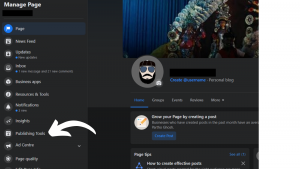 Once the page is open, a "Create Post" button should be visible. Upon clicking it, your window should look something like this: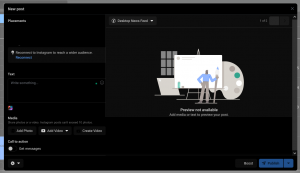 Facebook has recently updated this area as they have different attributes to account for your reach, all of them like location tags, call to action buttons are available. It is what your create post window should look like once it has content in it: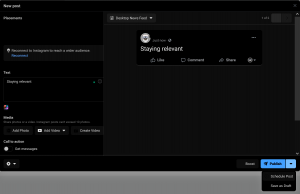 After putting in all of your content, setting your call-to-action buttons, and adding in your tags, the last thing to do is press Publish. If you want to post it later, clicking the arrow next to the Publish button will show the "Schedule Post" button that, upon clicking, will ask you for the date and time for the post to be live for your audience.
Also Read:
Facebook For Business: The Ultimate Guide | 10 Best Tips
How to Boost Followers, Likes & More Engagement on Facebook
Social Media Management Software: Helpful Or Just A Gimmick?
It helps when your audience resides on the other side of the world. It helps us stay relevant and be the first thing to see in the morning, thus boosting brand relevance and staying out there even when you are not active.
Useful, but not complete?
The short answer to that is yes. Facebook has tools to make the lives of all the social media managers out there very easy. Thanks to the scheduling of the posts, but that might seem very underwhelming to the professionals out there. It could be because as much as Facebook is providing, it still isn't providing all the information that people need, such as insights, analytics, reports on customer trends, etc.
It is where SocioBoard comes in!

Socioboard: The solution you need for everything social media!
Socioboard has served as a blessing to most managers out there. It has valuable features that make life as a social media manager easy, like official support for all the major social media platforms out there.
With open-source core support for Socioboard core, Socioboard is available on Android and iOS. It lets its users manage their numerous social media feeds. Not only that, it comes with features to draft messages and posts, queue them to be sent at a later time, and also assign personal and team tasks for follow-ups from anywhere in the world.
Along with that, it makes it easier to do all other Facebook marketing activities, such as automatically replying to comments and giving you insights on your daily posts, and telling you how your competitors are doing.
Socioboard, for all its platforms, offers the following features for you to be at the top of your social media marketing game!
Managing multiple social media accounts across all major platforms
Collaborate with your team and give them access to your information and accounts from anywhere, in just a few clicks!
Automatic analytical reports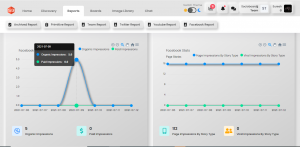 A Content Studio where you have the space to let that creativity flow as you curate your post, each one of them equally important.
As the day goes by and night comes, so will your dashboard! Witness the dual theme presentation in full force as your intuitive dashboard gives you all the insights you need, no matter when you need it!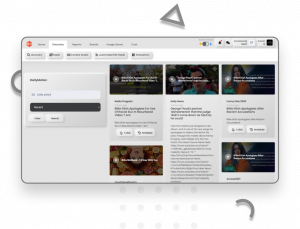 Manage your campaign and brand as you have never before with the help of the analytics provided.
Schedule your posts and secure your brand's relevance for the future!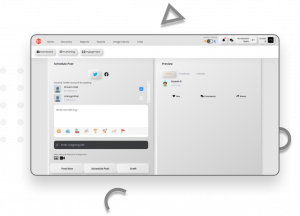 24×7 Customer Support for whenever you are in a pickle, give us a call on our customer care, and we will put everything on the line to help you out, no matter when or where you are!
Social Media Marketing has come a long way, and as we turn towards technology for so much, the scheduling of posts was a necessary achievement. Fortunately, Socioboard has made it easier to handle the stress and pressure of a social media manager job. Make sure to check out our application and our pricing so you can up your social media game for your brand and get relevant to your followers. Check out Socioboard now!