Over 7.9 billion humans are there on planet earth. Isn't it an enthralling count? However, also known as the world population and the reason behind unpredictable climate crises and disturbing global warming. Ok! Not the environmental spokesperson. But a matter of concern! 
About this fascinating count, shoot a guess for how many of this (7.9 billion) number are on social media networking sites?
Folks! Brace yourselves! According to current reports, approx. 4.2 million active users on social media.
Nearly more than half of the earth's human population is on Facebook, Twitter, Instagram, Snapchat, Pinterest, Quora, etc. Besides communicating and staying connected, what are they using these platforms? 
To get this answer, switch the inventive business minds for a bit. Now go through the above column again. We assure the principal assessment process will be that 4.2 billion can be your target audience. Exclamation, a vast spread battleground for both your marketing strategies and plans!
What is Social Media Marketing?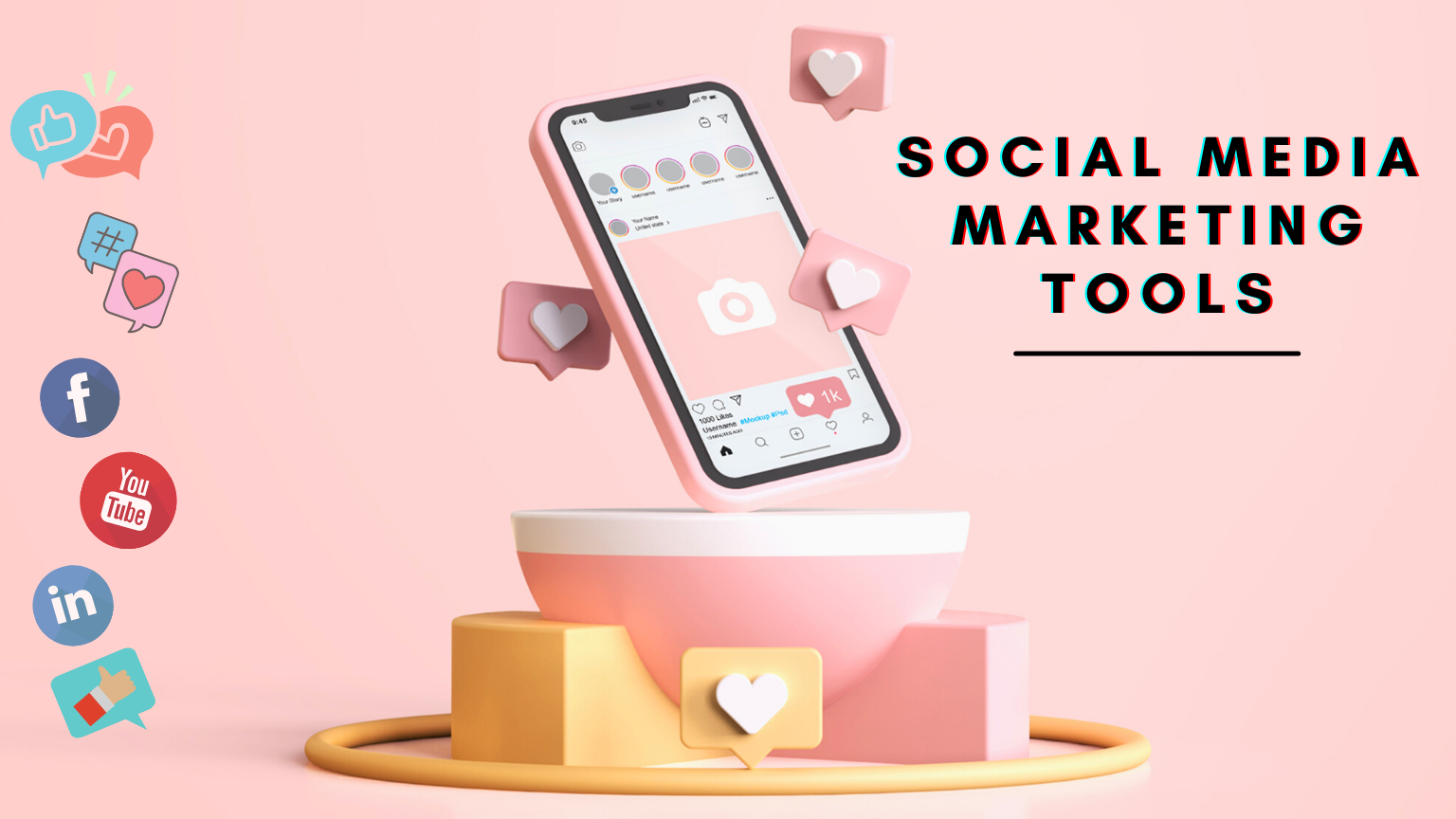 Social media marketing is the dedicated term for the tradition of marketing strategies or approaches on social media platforms. Technically the use of social media platforms to showcase particular products or services. 
Although, digital marketing is similarly the same in terms consisting of other strategies also. Social media marketing is gaining popularity every instant because of the active audience, and numerous marketer originated updates of the platforms.
The spark came into existence in the continuation of years. All these platforms develop many updates and features, epicentral the marketing and advertising strategies.
Numerous social media marketing tools overwhelmed the market with attractive features to manage all the social media plans designed to ease the marketing and regulating social media-related tasks.
But when the time comes for investing in the specific tools creates confusion and irresoluteness, which social media marketing tool provides the best features and is also capable of performing the task well. One of the preferred tools that execute the multiple tasks and analytics for the social media strategy.
SocioBoard – Robust Social Media Management and Content Performing Tool
SocioBoard is an open-source social media management software that harnesses to generate more leads for sales and drive more traffic towards the business. Trusted by 20,000+ users and businesses, it retains an easy-grip over the social media platforms and analyzes the performance through its well-performing analytics processor.
Gain more exclusive features provided by SocioBoard that gleam marketing strategies are ;
Flexible Scheduling Process 
Create, plan and schedule the content when the users are active and high time of the traffic. Analyze the right time when the platform hits the skyscraping traffic, engagement, and schedule, the post subsequently.
Uncomplicated RSS Feeds
Replenish the feeds with raw and recent quality data and organize them in one place with the RSS content manager. Separate and sort the search phrase, feed name, and category without any hassle.
Administer Multiple Accounts With Ease 
Add multiple social accounts of various platforms and remove the accounts of no use in a matter of seconds. 
SocioBoard is undoubtedly a multiple task-packed social media management tool with easy-breezy pricing plans and a 24X7 customer support team. Whether you are operating a small business, reputed marketing agency, and enterprise, SocioBoard ensures the social media presence remains intact and keeps the growth of the business at its peak.
Social media marketing sounds to be an easy task yet necessitates a lot of ongoing marketing research, trends, and analyzing the performance of the content, timing, and a detailed and social media calendar to cut the cords of missing trending events or days. 
05 Best Social Media Marketing Tools for Improved ROI
SocioBoard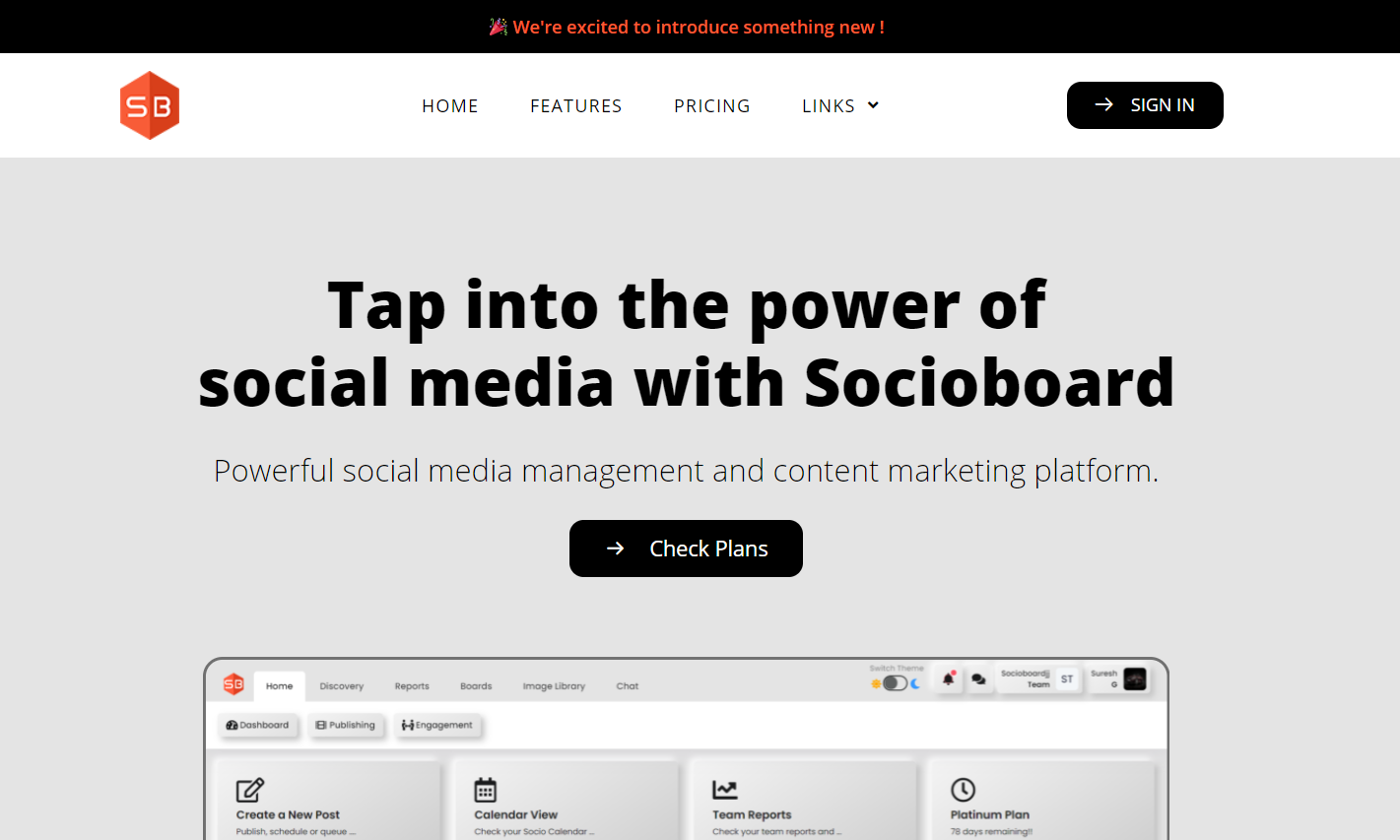 An efficient and multi-performing single dashboard social media marketing tool SocioBoard allows you to centralize and streamline the content marketing and social media operations for the perfect inbound traffic for your business.
Characteristics- 
👉Stay ahead with top-class analytics 
👉Gives the access to content curation 
👉Collaborate with others without any hassle 
👉Autogenerated email reports 
👉Easily created PDF chart in downloading format
Pricing Plans-
️
️✔️
Free- $0.00 for 14 days 
Add 01 team members with the browser extension, scheduling & posting, 03 referral count, and up to 5 schedule counts.
️✔️
Standard- $4.99 per month,
Add 05 team members, browser extensions, scheduling & posting, 24×7 Training & Support, Social Media based CRM, Calendar, RSS Feed, Social Report, Discovery, max referral count up to 3, while max schedule counts up to 10.
️✔️
Topaz – $29.99 per month
Add up to 30 team members with Browser extension, Scheduling & Posting, 24×7 Training & Support, Social Media based CRM, Calendar, RSS Feed, Social Report, Discovery, and max referral count up to 3, max schedule counts up to 80. 
️✔️
Gold – $79.99 per month
Add team members up to 80 with the Browser extension, Scheduling & Posting, 24×7 training & support, CRM, calendar, RSS Feed, social report, discovery, content studio, board, with max referral count is up to 3 max schedule counts up to 300.
️✔️
Platinum- $99.99
Add up to 100 team members with Browser extension with Scheduling & Posting, 24×7 Training & Support, CRM, calendar, RSS Feed, social report, Discovery, Content Studio board, Custom Report, max referral count up to 100 while max scheduling count is up to 100.
Agorapulse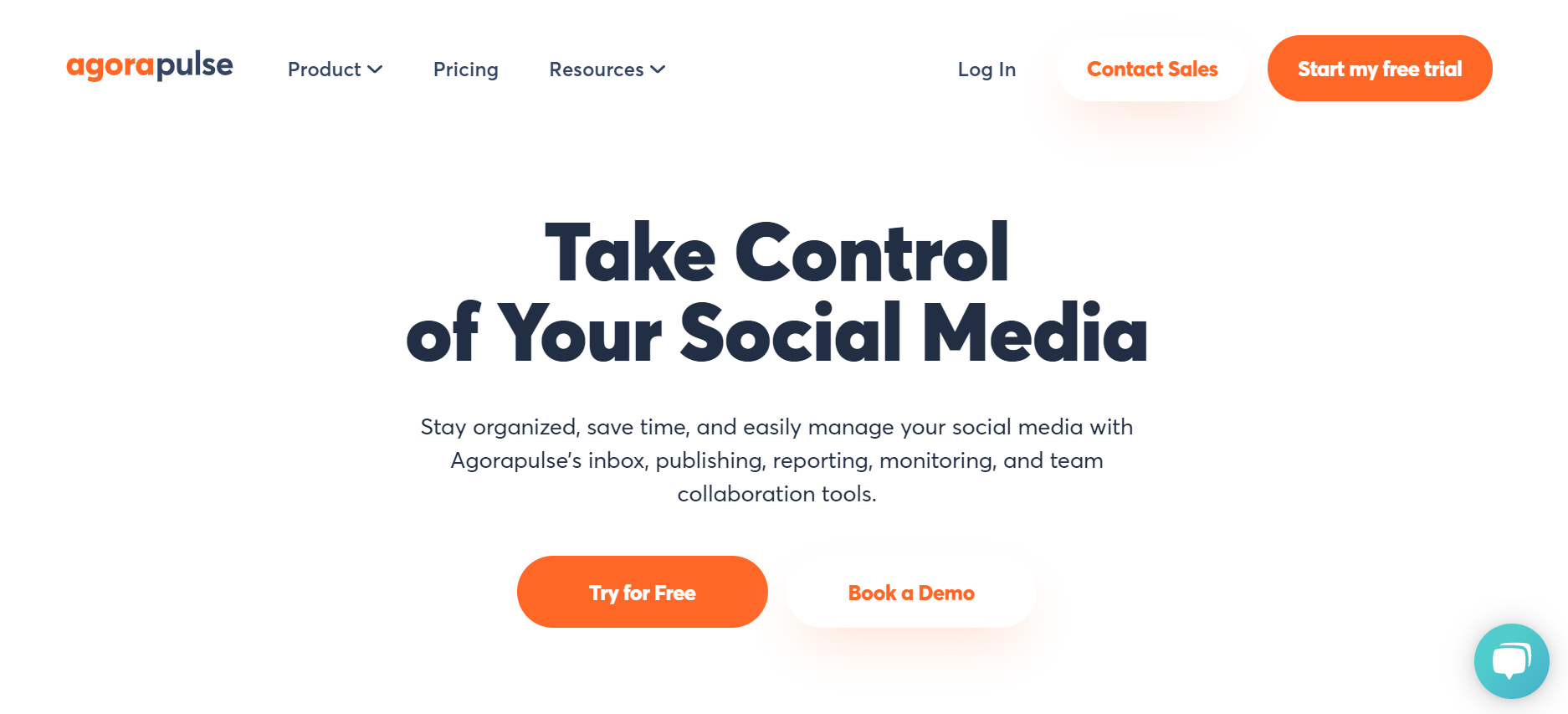 An efficient tool used to accomplish all the social media-related tasks supervising conversations, scheduling, and publishing. One easy-to-use solution, loaded with powerful features.
Characteristics – 
 👉
Social listening –
Determine the trend and insights about your brands- and your competitors for better performance and analysis.
👉
Automatic Publishing-
Plan, collaborate and schedule content for all the social media channels and platforms.
👉Insightful analytics-
Create attractive and actionable reports that exhibit what is working and what is not.
Pricing Plans 
️✔️ Free – For individuals just acquiring, starting at $0 with the access of supported networks of 3 social profiles and one user.
️✔️ Pro – Social media management for small businesses and teams, with access to 10 social profiles and two users. Just at $79 per month billed annually.
️✔️Premium – Efficient tools for agencies and growing teams, with access to 20 social profiles and up to 4 users. The pricing plan for annual billing is $159 per month.
️✔️Enterprise – Custom plans – ultimate social media control and flexibility for growth with access to 40+ social profiles and 8+ users.
HubSpot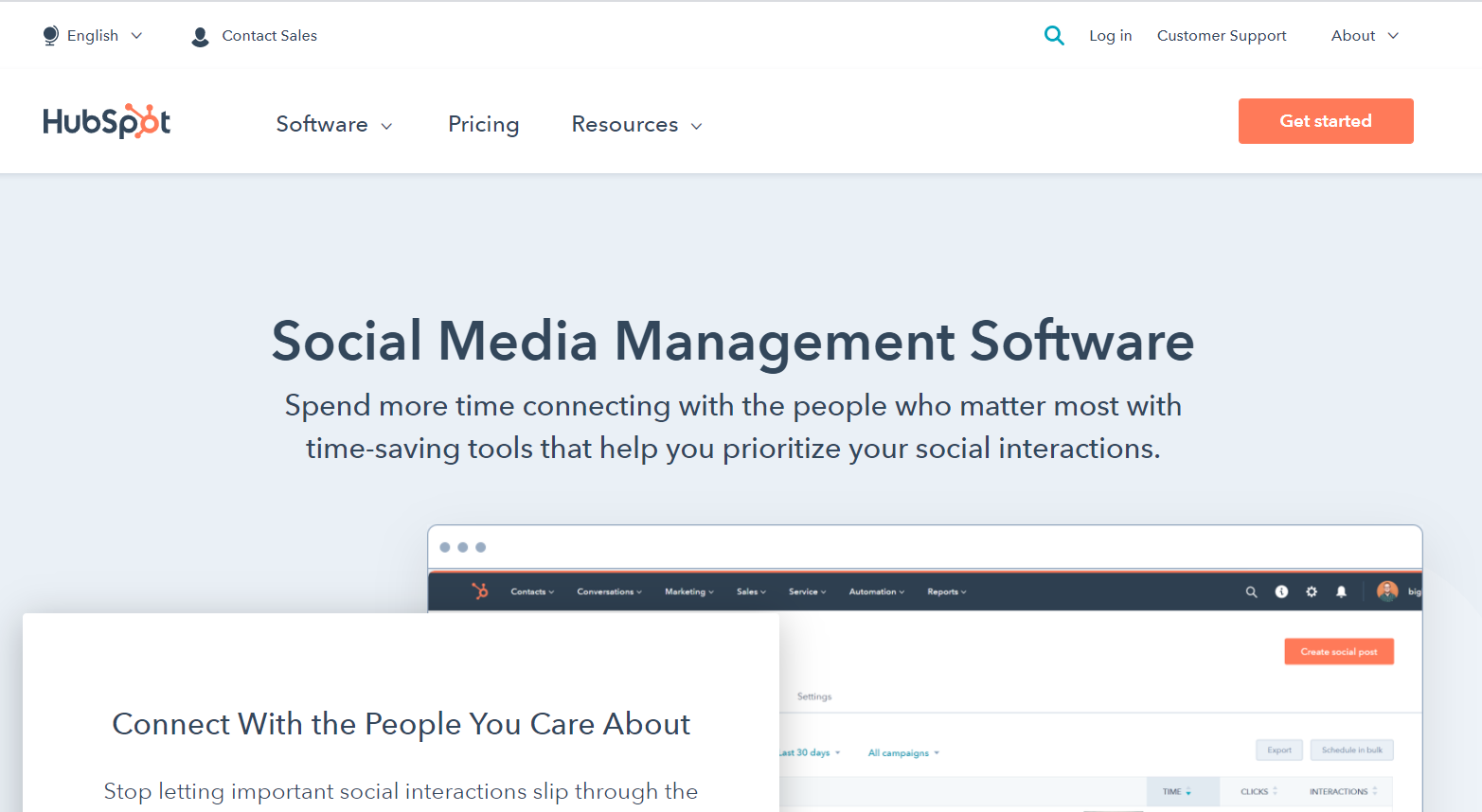 Hootsuite is famed as one of the best social media marketing tools with a simple user interface and efficient in managing multiple platforms from a single dashboard.
Characteristic
👉
Professional
–
Ideal for social media marketing professionals managing multiple social media accounts and grading results. 
Control up to 10 social media profiles 

Auto content scheduling  

Real-time analytics 

Bulk scheduling 
👉
Team –
Ideal for Individual marketers of a small team of 3 to 4 people
Customized analytics views

Team assignments

1-on-1 training (15 mins)

More social campaign templates
👉
Business
–
Used to manage and measure social media presence across multiple networks. Ideal for agencies and to demonstrate the social media ROI.
Analytic data exports

Publishing approvals

Extended training session

24/7 priority support
👉
Enterprise –
Integrating social into your organization and transforming your business into a truly digital one. Ideal for large organizations with complex requirements and teams handling social media profiles.
Best-in-class security, workflows, and compliance

Customized training for your entire organization

Dedicated account management

Scalable across all departments, regions, and teams
Pricing Plans- 
️✔️Aud 25 per month – 10 social profiles and one user
✔️Team – AUD 129 per month – 20 social profiles and three users. 
✔️Business- AUD 675 per month – 50 social profiles, five users, and expandable to 10 
✔️Enterprise- Customer solutions
Buffer

One of the best social media marketing tools allows to build posts, adding and then scheduling, and a specialist analysis tool to measure social media performance and create reports for Instagram, Facebook, and Twitter
Characteristics 
👉Plan and prepare Instagram stories on the web or mobile, and receive the notifications when it is time to share.
👉Collaborate on content with your team to create high-quality, on-brand content. That is what your audience will love.
👉Tailored posts and calendar 
👉Custom tailor the posts and have a glance view of all the content you have lined up.
Pricing plans 
✔️Free- $0 per social channel
Up to 03 social media channels with 01 members added with 10 scheduled posts per social channel.
✔️Essential – $5 per month
Unlimited social channel with $ 5 per social channel with countless scheduled posts and one user allowed.
HubSpot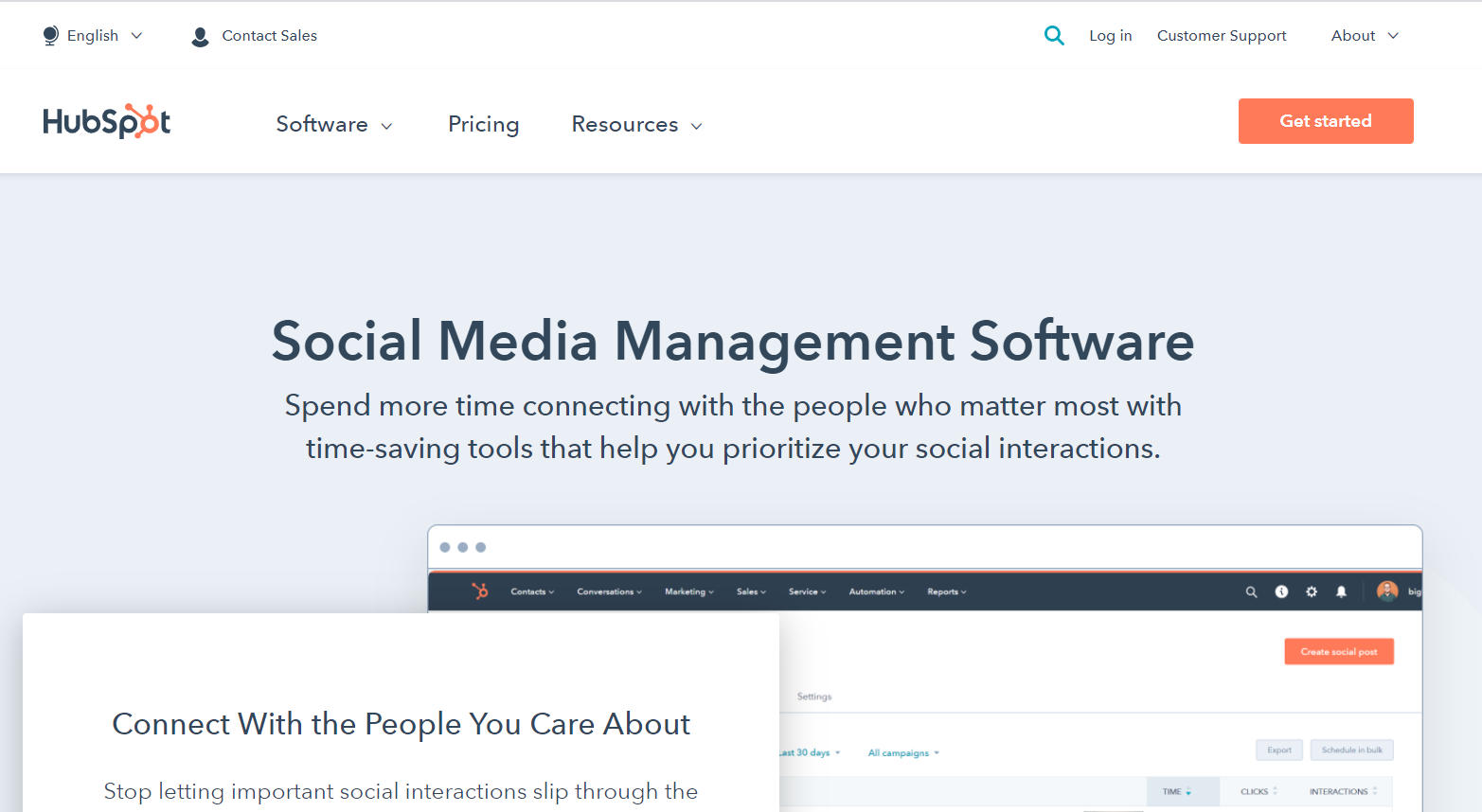 HubSpot is an efficient and social management tool for businesses and agencies with its encompassing functionality.  Monitor brands mentions and relevant conversations, track engagement automatically, and set a post calendar to publish it on time.
Characteristics-
👉Monitor social mentions and connect with the audience 
👉Publish to social networks in the same place build campaigns 
👉All-in-one inbound marketing software for the entire team.
Pricing Plans-
️✔️ Starter pricing plans start at $45 per month, with annual billing being $540 per year.
✔️Professional pricing plans start at $800 per month and annual billing at $9,600 per year.
✔️Enterprise pricing plans start at $3,200 per month and annual billing at $38,400 per year.
What Are The Best Practices of Social Media Marketing Tools ?
Initiating with the best practices of social media management tools are some efficient and imperative functionalities you should know, they are :
Monitor varied social media platforms to investigate the brand. Users should apprehend the preferences and insights of the audience entirely.

Automate and scheduling posting to share the content across social media platforms.

Build commissioning connections with the followers and potential consumers by investigating the opportunities and discussing.

Track and analyze the metrics necessary for the business strategies and the market reports and trending topics. 
SocioBoard manages social media tasks for Facebook, Instagram, Linked In, Twitter, Pinterest, and YouTube. Let us have a glimpse of the SocioBoard features and dashboard.
Foremost, with the respective credentials, log in to the SocioBoard dashboard. There you will be welcome with the screen shown below. On the navigation bar, there are 06 options which are Home, Discovery, Reports, Boards, Image Library, and chat. On the right upper side, there are settings; Theme change, analytics bar, notification, conversations, and the profile icon

. 
Suppose to create a post tap, on the, "create a new post", you will be redirected to the next page. 
There is the option to create a post and space to write the content with the option; post now, schedule post, and draft, while on the right-hand side preview of the post is displayed.


The profile icon includes information; name, email address, profile,  messages, activities, tasks, auto-email reports, and report settings.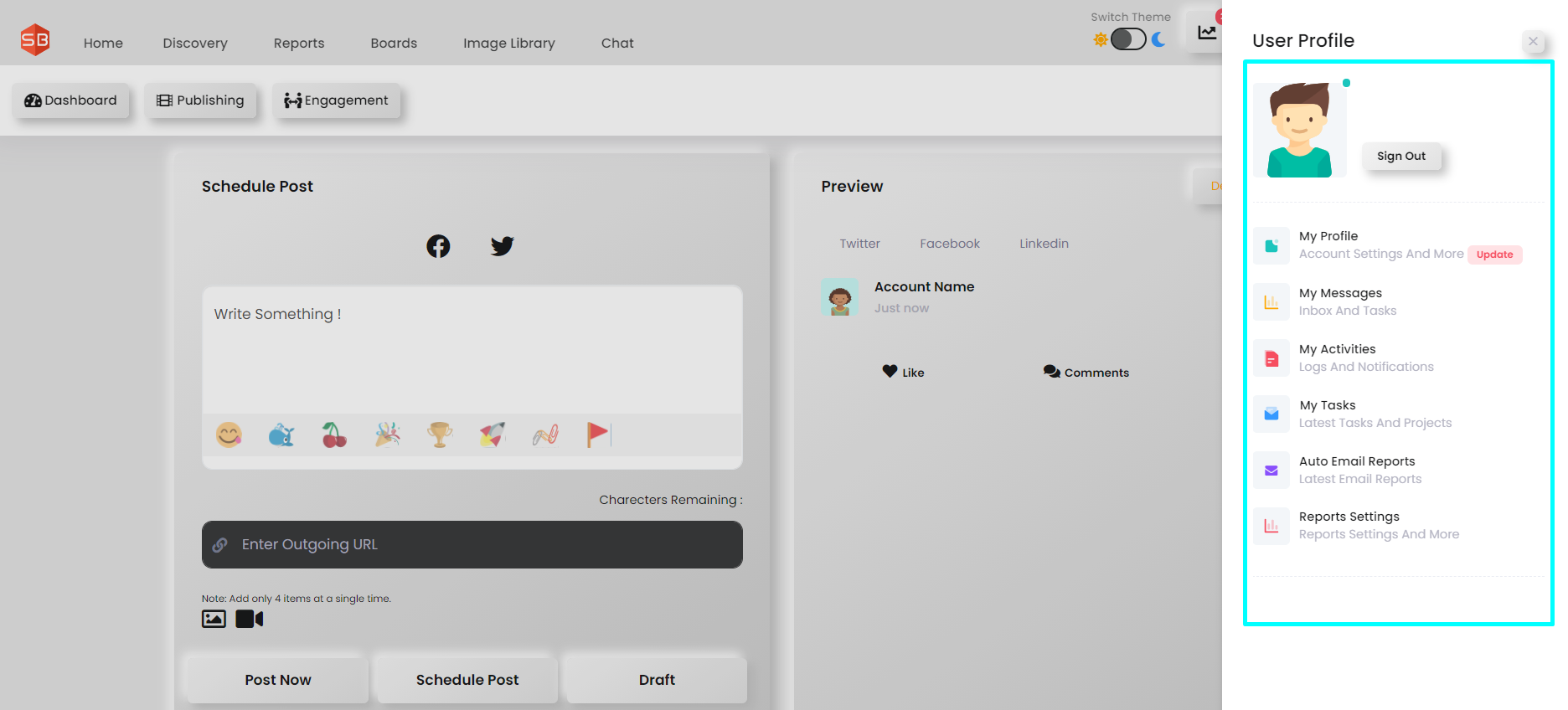 Read Our Latest Blogs;
RSS Feeds: Still Relevant in 2021? | 07 Ways To Use It For Marketing
Step-by-step process to delete a Facebook story effectively

Bottom Lines !
Social media marketing tools' names are diverse around the new ones popping around the market now and then, but relying and investing on the one is non-negotiable. Although, it is mandatory to alter the social media strategies every second. 
Best practices for the marketing tools are the cherry on the top of the cake, delivering every medium efficiently and working. 
So which social media marketing tools sound reliable to you? Do let us know in the comment section.