Nowadays, social media has turned out to be one of the key focus of marketing and advertising for businesses. Social media is a brilliant, powerful tool to build a community for your offered product or services, reach out to more target audience and market, know the need of your customers and market and listen what people are talking about your brand. It's quite clear that social media is effective, but measuring ROI can be quite challenging.
Here at SocioBoard, we often listen from many businesses that the reason behind their absence on social media is because of the fact that it costs too much money and time to constantly share posts across different social media platforms. Though we know that the pressure of being present on different platforms is very crucial in this competitive marketplace and they can really eat away all your valuable time, but the introduction of social media management tools now makes it simpler and more possible than ever before for all the business owners to build their strong presence across leading social media platforms like Facebook, Twitter, LinkedIn, Instagram and all other social networking platforms.
Here are a few of the options business owners can consider assisting in managing multiple social media platforms in a single hit and that too successfully.
SocioBoard
Probably one of the budding open-source social media management tools, SocioBoard has a relatively simple to use dashboard rich with lots of support to help your business grow and flourish.

SocioBoard offers a free trial version that works well for small business owners for 30 days and are capable of managing up to 5 profiles; 1 profile per network. The free version is basically suitable for individuals. If you want social media management tool for a small team, then Standard Plan costing around $4.99 Per User/Month is suitable, and allows to manage up to 10 profiles. Premium plan of $9.99 Per User /Month and Deluxe Plan $19.99 Per User/ Month are best options if you want to efficiently manage an expanding social media network for several complex objectives, and allows to manage 20 and 50 profiles respectively.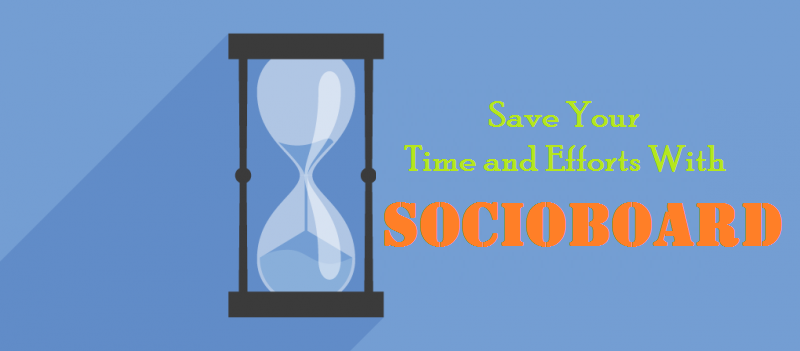 Another great perk of using social media management tools, such as SocioBoard, is scheduling. Having the scheduling potentials, you can make the content ready in advance and set them to post whenever you want to. You can also access the analytics and reports offering easy to export/print templates letting for streamlined reporting processes. However, reports are limited and are usually available only for higher level users.
While SocioBoard can save you lots of hard-earned bucks and time when it comes to handling your multiple social media accounts, there are some problems when posting. For instance, sometimes a picture won't show up appropriately in a link which is shared on LinkedIn. Also, you don't have the flexibility to tag anyone the same as if you can do when posting directly in Facebook or LinkedIn.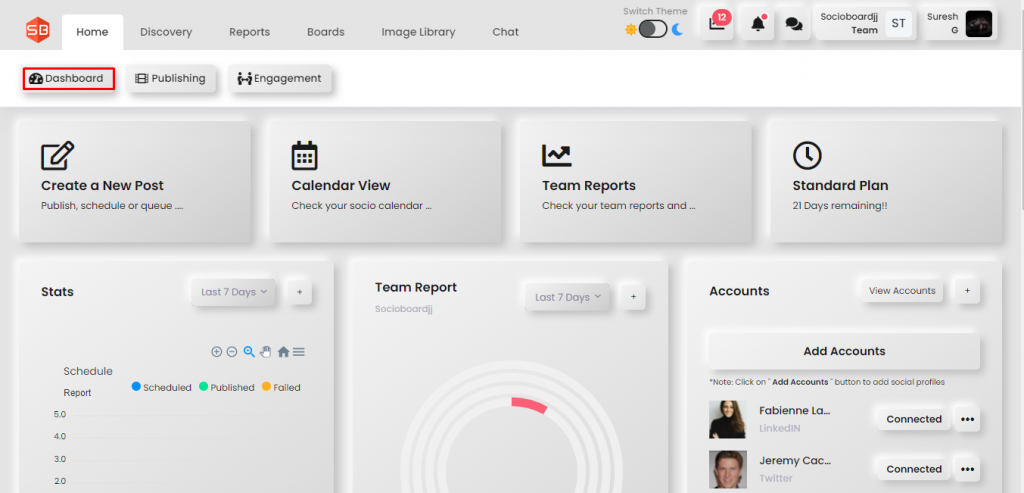 On the whole, if you're looking for something for assisting you in managing multiple social networking platforms SocioBoard is definitely something that should be considered. There are ample of other options also available, but SocioBoard has been recognized as the more broadly used tool for managing social media platforms. Other platforms include Buffer, Hootsuite, and others, which all run off the same principles and are especially designed to assist you in becoming more efficient in the everyday management of your brand or company's social networking platforms.
Inter-Platform Sharing
The other option to simplify the management of your multiple social accounts is indeed inter-platform sharing. Within this, you can initially establish your Facebook account to post to twitter automatically. However, remember this works properly only for very short posts. As Twitter have the limitation to 140 characters, in case your Facebook post goes beyond the twitter's word count, it'll automatically cut off the length of your post to meet their limitations. To stay away from this issue, it's advisable to cut back on your message, add a short link and some relevant hashtags and away you go.
However, inter-platform sharing also lets you sharing posts to Facebook, Tumblr, Twitter, and Flickr from Instagram. Instagram is solely a mobile platform that means you can access your Instagram account from a desktop and also do some minor tasks, but actual posting can be done only through a mobile device.
If you are willing to pay a little for a premium service, then you can easily schedule posts and interact with your customers and target audience on your account using sites like GramBoardPro starting just at $4.99 per month.

SocioBoard Core lets you monitor and analyze the statistics on your different account, run campaigns and promote your numerous account across different platforms. These tools can really help you in promoting your brand in Instagram.
Always keep in mind, not every social networking platform account will be right for your business. Never feel like you have to register for everything right away. Based on your company abilities, services, resources, target market and audience, it is best only to pick 2 or 3 social media platforms and make them really well.
Also Read: