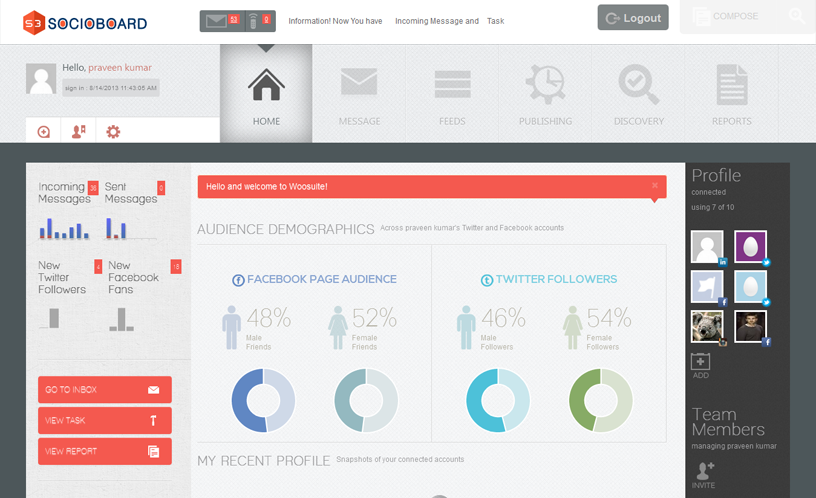 SocioBoard is one of the latest on board of open source social media management tool that has quickly risen up the ranks to the top of the list of SMM tools. If this is your first time blogging, you may not aware about social media management tools. "Social media- a group of technologies, including blogs, online collaboration and online network tools". However, if you have been in the blogging scene for a while, you have probably heard about social media management tools.
Social media management can be overwhelming work if you don't have any social media management dashboards. Because after creating those killer posts, you have to take off the writer's hat, and put on the marketing hat. You have to market the content you create for the various social media platforms. SocioBoard is the one that can make this task easier for you. Rather than navigate your marketing content to individual social platforms, you can use SocioBoard to distribute your content to the various social media platforms at the click of a button. Using the SocioBoard social media management software can be a bit baffling if you don't know where to start hence the purpose of this post. These are the step by step process that can guide you to manage your social media posting using SocioBoard. 
Step 1: Sign Up For Free
To begin your amazing social media management journey with SocioBoard you need to sign up which is absolutely free. Head here and register a new account. One can also sign in to the SocioBoard platform using their Facebook, Twitter, or Google account. For that one will need an active Google email address, username and password create a new account in SocioBoard. One can also manage their multiple social media channels by utilizing the single social media platform of SocioBoard that one can pick as the basic account for free.
Step 2: Add Your All Social Channels
When the user step-up from the initial step to create an account, the platform will lead the user to the social channels addition page. SocioBoard offers various options, but all depends on the number of social media accounts user want to add. User can also link up their Twitter, Facebook, Foursquare, LinkedIn, and Google plus accounts with their SocioBoard accounts. When they click on the social platform, such as Facebook or Twitter, they will have to verify and allow the platform to your social media accounts. When user done with the process of account addition, click next and navigate to your SoicoBoard dashboard to start using social media management tools of SocioBoard.
Step 3: Follow These Steps as a First Time User
SocioBoard will give a string of 'tasks' to the all first time users to do. These tasks include 3 tiles- creating a tab, adding streams, and the last one is scheduled messages. Add a stream will allow you to follow all your social activities right inside SocioBoard. It is relatively very easy. The user simply needs to do is click on the add stream option at the top left corner of the dashboard and then press the plus button on the streams that the user want to add.
Step 4: Schedule posts with SocioBoard
SocioBoard is more than just a social media post-scheduling tool. Nonetheless, the tool does come in handy and customizable any time according to the needs. For schedule post, look over the SocioBoard dashboard. At the top of the dashboard page, you can see a 'compose message' tab over there. You can type your post at compose message tab, add photos, and then fixed the time when you want to post that message to your social platform. The social media scheduling tool is the 'calendar' icon on the tab of compose message. After scheduling your post, you can also choose to post either automatically or manually.
Step 5: Adding your blog RSS
If you are utilizing SocioBoard to deal with a customer's social accounts, blogs and web journal, you have to add the website RSS to the SocioBoard platform. Doing this it will empower you to auto-post blogs the minute you publish them.
SocioBoard offers you things beyond than what you have seen here. For example, one can schedule postings to Facebook, Twitter and Instagram fans community groups. To do this, one just needs to select "add social network" and select your social media channel. From there, one can choose the groups that SocioBoard imports to their social media management dashboard.
Now that you have read all the steps necessary to manage your
Social media campaigns effectively, start using Socioboard
to manage your Social media 
campaigns.
Manage my Social Media campaigns!