Social media marketing is a magnificent way for branding. By using it as one of the brand tools social media marketing services can place your brand effectively among targeted clients and audience. You can achieve your business goals easily by using the social media statistics. These statistics help you to paradigm how well you are performing when to compare to other online marketers and also these stats can guide you in proper time management.
How does the social web look like in 2015?
As per the recent survey, there are –
More than 3.5 billion active internet users.
More than 2.5 billion people have social media accounts.
Nearly 1.8 billion people as active social media accounts.
Social media is now the top internet activity:
As per the present trend, most of the people all over the world are spend more time on social media to compare other internet activity which includes email. A total number of messages sent to particular brand increases gradually on social media. On average messages in Q3 of 2013 to 2,748 in Q4 of 2015
Along with an increase in a number of sent messages to brands, you should also meet the number of messages that requires the actual response. As per the 2013 statistics, 15% of social messages are sent to the brands which require response.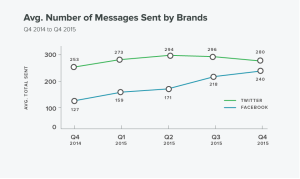 Though the number of messages sent to the particular brands requires response has increased gradually, there is a drop in at the rate which brands respond.
As per the recent survey, there is gradual decrease at the rate which the brands respond to particular inbound messages. In past days, you have to wait for 14 hours in order to receive the response from the brand on social but in the present days the number is reduced to 10 hours.
Social-mobile rules:
More than 65% of social media spent on tablets and smartphones besides desktop computers.
Facebook attracts nearly six times than the engagement that done by twitter, in both PC and smartphone usage.
Instagram, LinkedIn, are the major successful pushes in last year in order to increase their engagement on the apps and also in mobile sites.
Instagram facts and statistics:
This is one the largest network owned by Facebook. Because in the present days social and mobile is one of the powerful interaction.
Instagram has more than 410 million users.
And people are sending nearly 85 million videos and photos every day.
Around 53% of internet users are aged in-between 18 to 29
More than 76% are outside of the United States which has the huge opportunity to grow in and around the world.
Facebook facts and statistics:
Facebook is one of the largest social media networks that cracked the social media network. Many of the people scream at Facebook for its arrogance and dominance.
There are more than 1.2 billion Facebook users in the present world.
50% are internet users.
Nearly 4.6 billion likes are generated every day.
And more over 75% of Facebook revenue is generated from the mobile advertising.
Now direct video uploads to Facebook are exceeded top Facebook.
83.7% of Daily Active Users belongs to Outside of the Canada and US.
Twitter facts and statistics:
Twitter is one of the platform which is a great facilitator of brand awareness.
Twitter has 300 million active users
More than 89% twitter users are on mobile phones.
Nearly 550 million tweets are generated per day.
80 % of users are outside the US
LinkedIn facts and statistics:
LinkedIn is one the dominant social networking platform.
LinkedIn has 400 million users those are registered.
More than 3 people signup every second for LinkedIn.
There are 40 million students and college graduates who are using LinkedIn.
Social media started with only a few players which empower by another new form of technology.
Back to you:
So it is better to spend your time in order to strengthen your engagement with social media so that you will get a clear idea to choose network in order to establish your social presence. The information can be widely used in order to stay top among the competition.
Related Posts: