In the past few years, the world of social media marketing has witnessed innumerable changes. And due to all these, the usage of social media for brand promotions has certainly been revolutionized. Almost every marketer leveraging social media are very much aware of their brand visibility to increase on sharing relevant posts. Thus it's essential for popular organizations as well as startups to post on a regular basis. On doing so their brands will continue to be on the customer's radar as they scroll through their daily news feeds.
However, it's not at all fair for any social marketing individual to simply stick with a single automation tool for their lifetime. In that manner, they might be overlooking countless opportunities that various other tools can bring forth. Nowadays, many advanced tools are available which not only automates your content posting activities. But also supports your business by letting you analyze the amount of influence your brand was able to exert. There is a wide variety of options to choose from yet, today's post will focus mainly on the popular ones- Socioboard Vs Hootsuite. So don't get distracted because the showdown is about to begin.
Social Media Channels: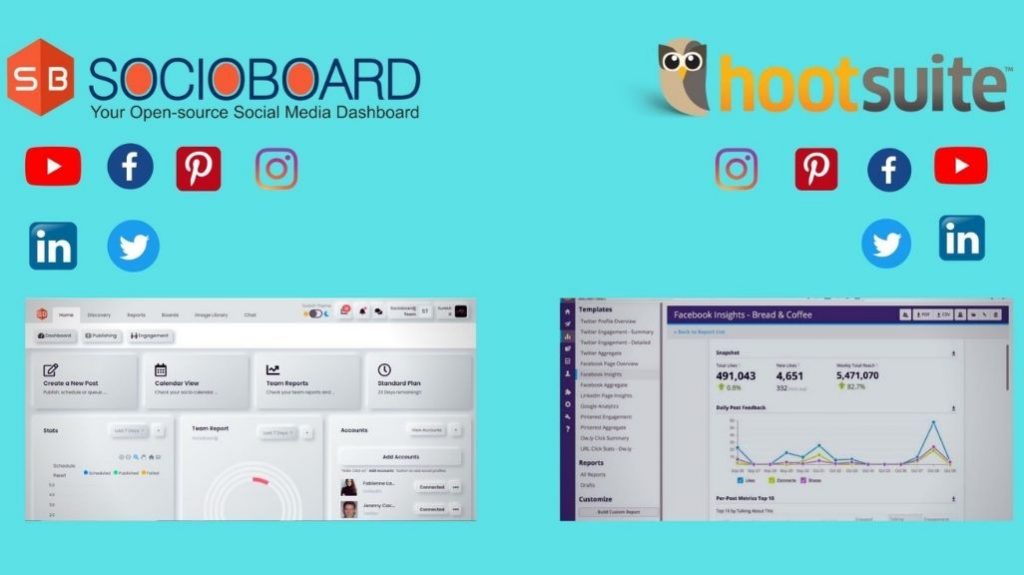 Twitter.
Facebook.
LinkedIn.
Coming soon
Instagram.
Pinterest.
YouTube.
Tumblr.
Hootsuite:
Twitter.
LinkedIn.
Facebook.
Instagram.
YouTube.
Pinterest.
As it is clearly observed that both the social media automation platforms are able enough to autopilot contents for all standardized social sites. In terms of platforms both with Socioboard and Hootsuite, you get access to manage 6 best social media giants. Depending on the Reports one can easily judge their brand's performance. Alongside can measure social media potential of generating more website traffic for their business website. Thus making it easier for you to determine the best suiting social media platform.
Browser Preference:
For Socioboard – Google Chrome, Mozilla Firefox, Safari, Opera.
For Hootsuite –  Google Chrome, Mozilla Firefox.
Both the social media dashboard's are compatible with the commonly preferred web browsers. However, Socioboard seems to be well refined for usage in browsers like Safari, Opera. Besides, all these Socioboard & Hootsuite have mobile applications to facilitate your socio-marketing prowess on the go.
Features:
Both Hootsuite and Socioboard offers a wide variety of commendable features. Yet to give you a better overview of all the features, I have categorized them accordingly.
Content Discovery & Publishing:
Socioboard:

It allows users to select and schedule messages to be sent for respective social platforms. Messages and contents can also be saved to drafts for later usage.
It offers a socio-queue option that provides with a list of all the scheduled and posted messages for multiple social platforms. This comes in handy while making any alterations in the scheduled contents.
It also allows you to discover contents relevant to your business niche by simply entering some focus keywords.
Along with all these Socioboard procedures like leaving a reply, commenting back or re-tweeting favorites can also be done swiftly.
Hootsuite:


The user can schedule contents timely or allow Hootsuite to choose the best time to post respective contents.
In addition to this interaction processes like replying back and post re-tweet etc. are also a part of this automation tool.
Is able to detect fresh contents relevant to your business niche.
After going through this section most of us have an idea that both these social media autopilots are at par with each other. However, the showdown is just getting started so keep a close eye as it proceeds.
Social Report & Analytics: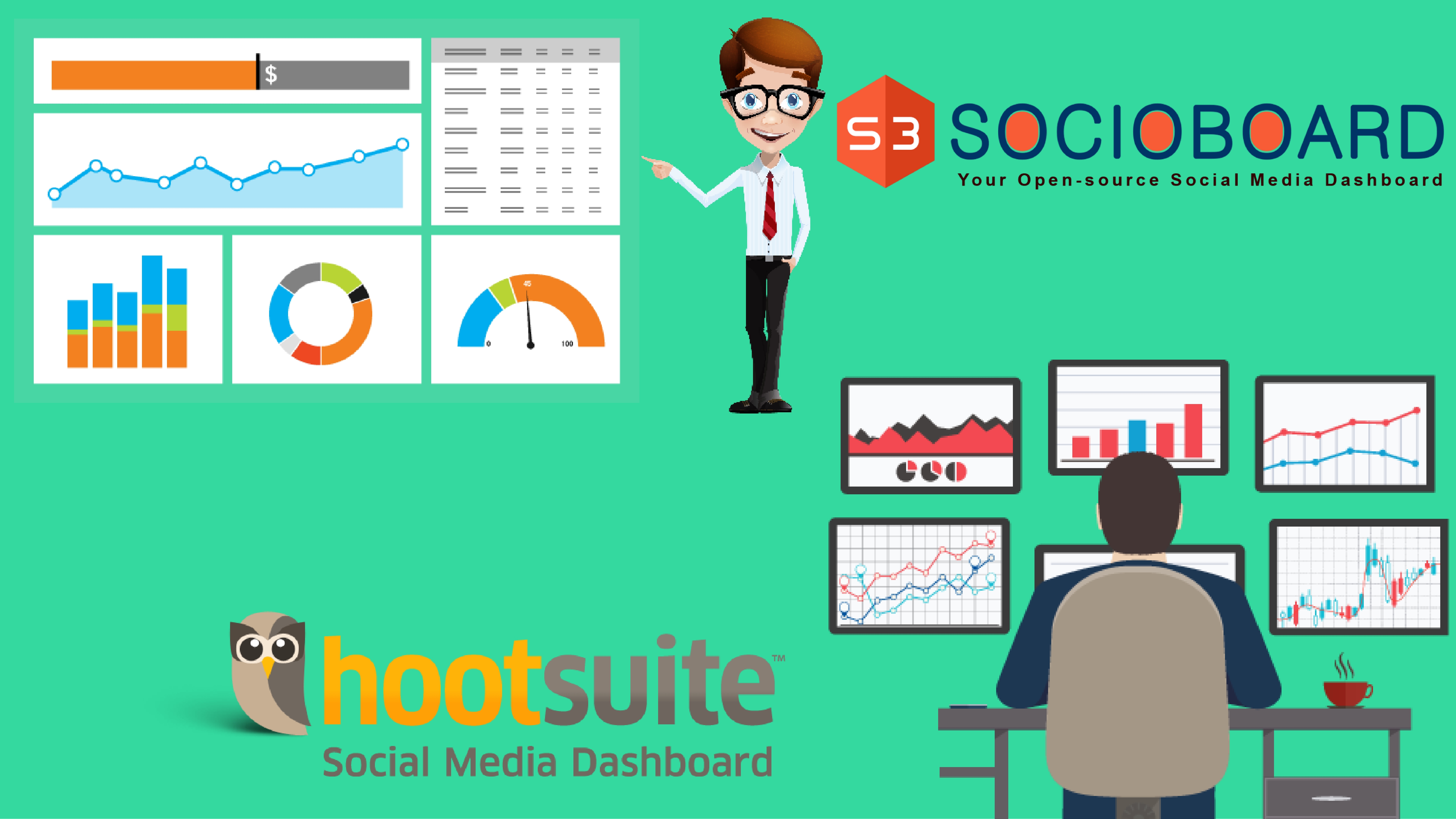 Socioboard:
It offers a dedicated social groups report presenting all the interactions, messaging graphically. Further, it offers stats based on follower demographics, inclusive of all likes, mentions, replies and Re-Tweets.
It also offers separate reports for the standard social media platforms so that users can get a better idea about their engagements for various social channels.
The analytics are distinct and perceptive in nature.
The report section not only covers up the social media posts and networks, but also provides a quick view on team stats and account insights.
Hootsuite:
The analytics offered by Hootsuite covers up all the posted contents on the social media and is streamlined in nature.
The reports are limited per month, but with additional expenditure, one can avail all the features.
The analytical reports might be confusing.
Even though Hootsuite offers a streamlined analytical report, it requires a subscription fee to access every inch of that. Most marketers would prefer reports which are easy to decipher. Thereby in this field, Socioboard has an edge over the others. It offers with reports which are concise and information generating, without any additional cost embedded along.
Socioboard comes in one free and three payable segments such as:
Basic: The elementary free plan comprising of unique features within a single package that best fits the requirements of an individual.
Standard: The next upgradable package offers a certain number of great tools appropriate for small teams. As far as small businesses are concerned this package is befitting and affordable at just $4.99 per month.
Premium: If you are looking to expand your social media networking and availing an efficient management of all such activities. This is the exact package for you. With an $9.99 its economic and business-like.
Deluxe: This package is for entrepreneurs always striving to achieve something extra. It consists of tools to be implemented for sophisticated purposes. It is charged $19.99 per month.
However, all such packages consist of a 30 days free trial for users to get a better experience .
Similarly, Hootsuite also presents three plans namely; Free, Pro(starting from $16.89 per month), Business/Enterprise(starting from $602.95 per month) for meeting the needs of various social media marketers.
Socioboard:
Socioboard Discovery: Nowadays marketers always look forward to expanding their social communities. Thus searching targeted users and creating compelling content through Socioboard Discovery,  simplifies the task to a greater extent. All you need is a good network connection and everything is on your fingertips.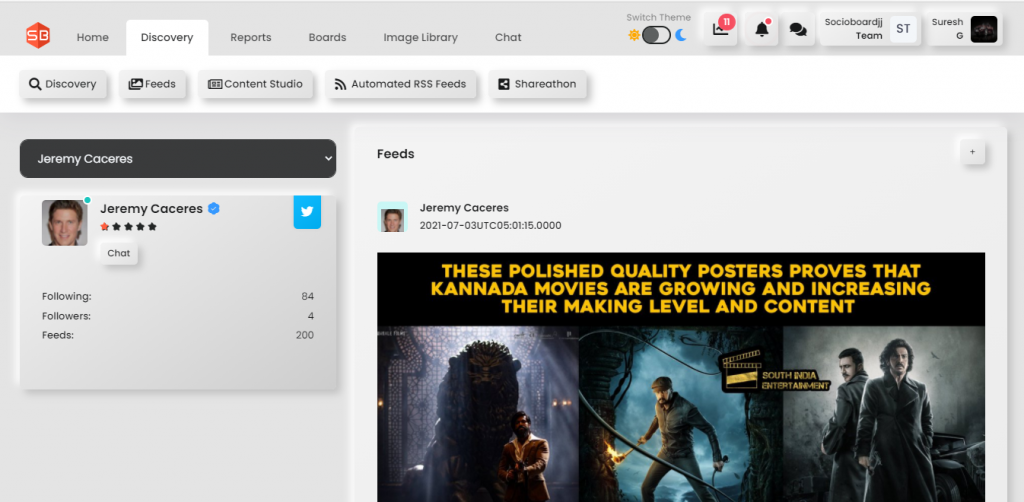 Automate RSS Feeds: This feature automates the process of adding RSS feeds of a website. Thereby you can automate the posting of your RSS feeds on a desired social network.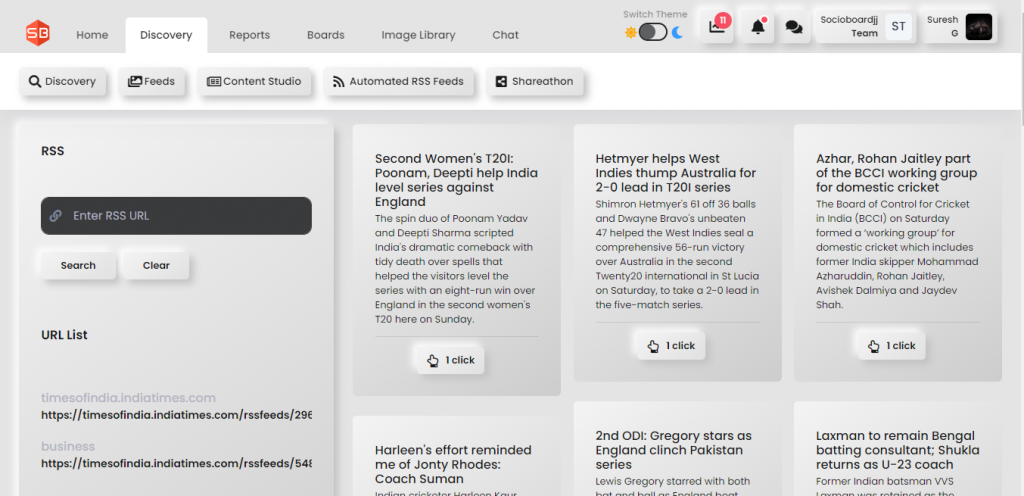 Socioboard Content Studio: Do you have to hustle around in google to search relevant content for your post? Then, this feature is made just for you! With this, you can fetch desired content from appropriate sites in form of images, videos or giphys.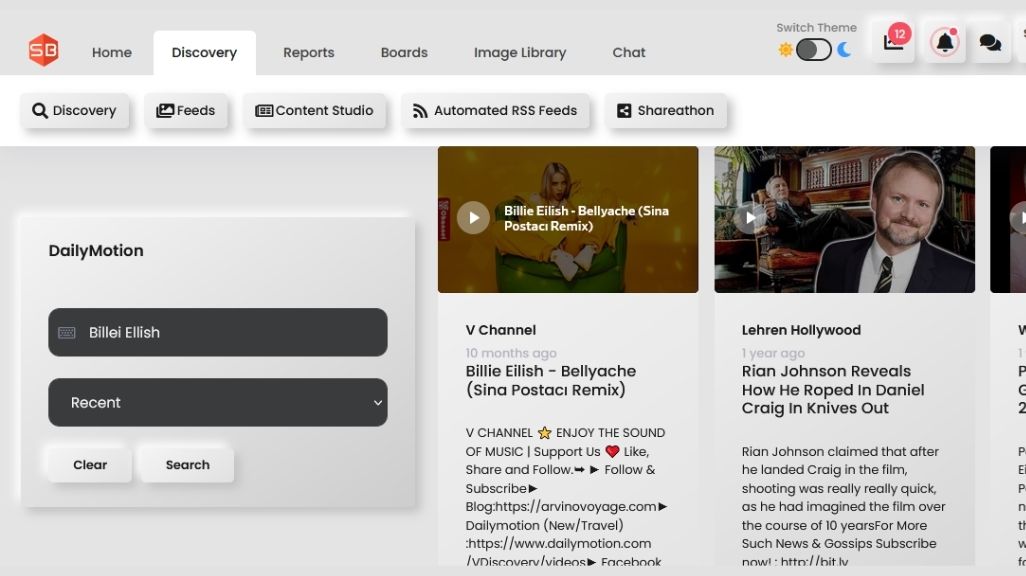 Socioboard Report:  Having a hold on detailed reports of every connected platform seems like a feeling of satisfaction, right? This feature enables us to have not only social media reports but also primitive and archive reports. Currently this feature is not live but its coming very soon.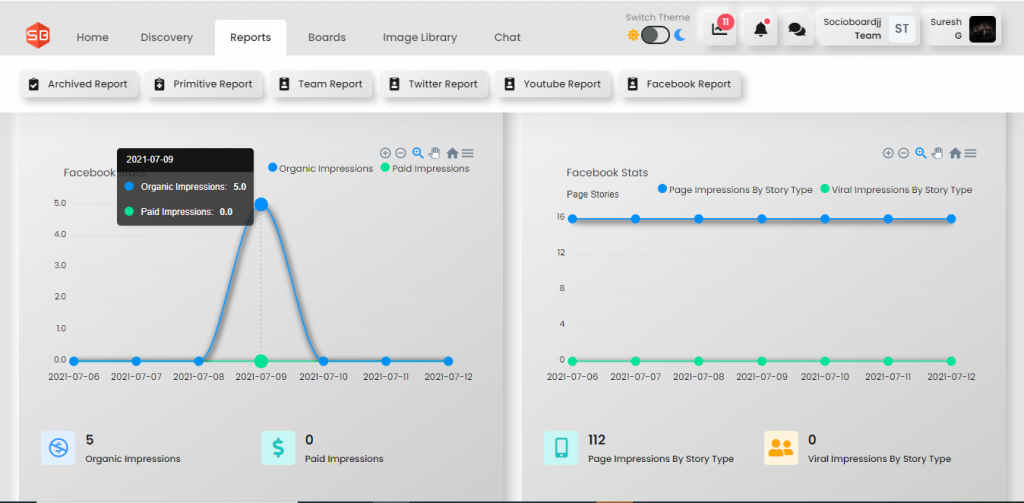 Socioboard New Updates: There are some exciting updates happening in the software right now, which includes Socioboard Shareathon, Content Feeds, Chat box and Archived & Premitive Reports. All of the these are forging a next level runway for your social media optimization. Are you ready yet?
Hootsuite also provides certain extra features of which the renowned ones are, 'Campaigns' and 'Amplify'.
Prime-Time Takeaways:
Socioboard and Hootsuite are incredible tools when it comes to overall social media marketing management. A majority of the companies and organizations looking forward to gain full control over their social marketing procedures are bound to avail such automation tools. As they are the ultimate solution to all your social media marketing hurdles.
However, choosing the best among these two completely depends on your business requirements. Yet on being perceptive it's obvious that Socioboard has the upper hand in various segments. Like, the analytics offered by it is easier to understand as well as truth worthy. Considering the wider range of additional attributes and an integrated economic balance, the open-source social media dashboard- Socioboard will easily be able to upthrust your social media marketing efforts.
Some More Quick Links:
SOCIAL MEDIA TOOL FOR SMBS: SOCIOBOARD VS. HOOTSUITE.
SOCIOBOARD VS TWEETDECK: WHICH IS THE BEST?