Generating traffic to a website is the common goal for any website administrator. There are numerous ways how one can generate traffic to his website.
You can use paid services available or make use of freebies. If you got a large business, then you can afford the paid services. If you are a small entrepreneur, you cannot afford them and need to search for alternatives.
Your business also comes under the same class?
Have you ever heard about Question and Answer websites generating traffic to websites?
Just give it a thought, you can realize how you can utilize them for your marketing. Want clarity? Then continue reading this article to know the ways to leverage these Q & A websites for generating traffic to your website.
Before going to the subject, let me tell you one thing. Once you reached a huge amount traffic, it is very difficult to generate more traffic to the website. And you can hardly feel the impact of any effective method to generate traffic.
So, if you are getting only a few thousand visitors to your website, then you can feel the impact of Q&A websites in generating traffic to your website. If it sounds like you, here you go:
#1 Identify the topic and category:
So, before starting the process, make a list of the topics that are related to your industry. And make sure that people are asking more queries about these topics. Now, search for the topic in the Q&A site you choose to go with. For example, see the below figure that you can know how to search for topics on quora.

You cannot answer all the questions appeared on the Q&A websites. You have to choose the topics that are related to your product. You should make sure that the category of the question relates your business. These are the things you should keep in mind. Your main motto in using these websites is to increase the visitors/time spent ratio.

For that, you have to make sure of some parameters. They are like:
Choose the questions that are not too old. Most probably, select the questions that are about a few hours old. Because fresh questions can get more views. So, you can generate good amounts of traffic.
Once you find the fresh questions, you have to choose the ones that have relatively a number of views. Because this is the indication that people are more interested in those questions. So, there is a probability that you can get more views.
One more thing you have to remember is, the question you chose should not have a number of answers by the time you are answering it. Because, if it got a number of answers, people may ignore your answer. So, make sure that the question has less number of answers by the time.

#2 Write effective answers
In the Q&A websites like quora, the answers are arranged in an order. They are arranged according to the UpVotes they have. So now, your aim is to get more upvotes and be placed in the top row.
Here, I suggest you 3 methods to achieve this:
Method 1:
Write your answer as short as possible. But, give the possible information in the answer. But remember your aim. We are here to get traffic to your website. So, do not give entire solution there in the page only. Just place a link to your website or blog where the readers can get the perfect answer.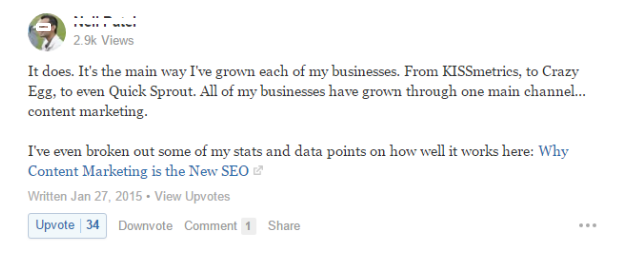 Here, do not compromise in the clarity of the answer at your blog / website. If you compromise there, there is no point making all these efforts. If you can make the reader impressed with your answer, you can make him a permanent visitor for the blog/website.
Method 2:
Keep reference links of the other websites. This does not like promoting other websites. Here you can also post the links to your websites. You can refer the websites where you got the information. Generally, you can prefer the websites like Wikipedia.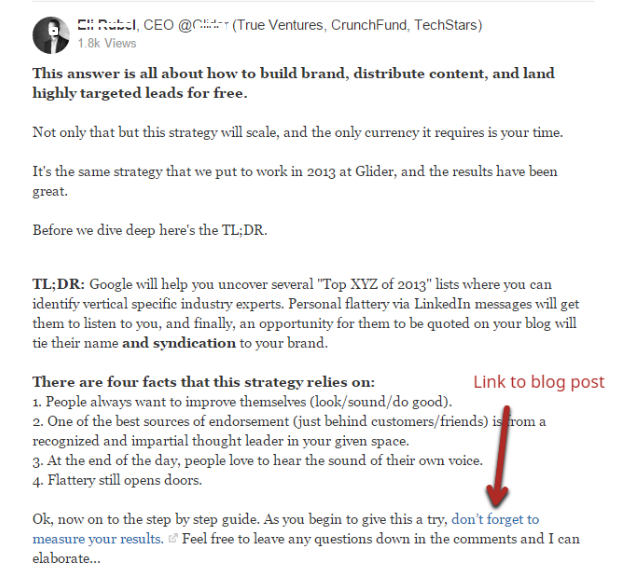 Method 3:
Suggest your product directly. Yes, you can suggest your product without a second thought if you think that the question relates your business and your product can solve the problem. This is the main reason, why these Q&A websites like Quora are very famous for marketing.
If you get more views and upvotes for your answers, readers will definitely try your products.
#3 Trace your approach
The last and important thing you have to do is, track your performance. You have to know how readers are receiving your answers. Overall, this is just a two step process. Apparently, your first 5-10 answers don't do well. These teach you the lessons how to make effective answers.
To know the performance of your answers on quora, just go to the Google analytics of your website. There, check out the referrals in all traffic stats of your website's overview.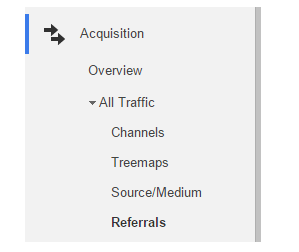 You can find the list of different websites where you get the traffic from. See where the quora are placed at. Click on it to know which answers are the best performers among the all.


Conclusion:
People nowadays are searching online to get the unknown answers to their questions. The websites like Quora, Yahoo answers and Stack Exchange are the best-viewed websites. So, utilize these sites to reach the reader and catch the chance to promote your product directly.
Also Read The Following: