A Social Media Manager is the person who handles the social media accounts of a company or business. He may be the owner of the business or the company's team member. He is responsible for any social media decisions for an organisation or firm. He is considered a company's voice on social and digital media sites like Facebook, Instagram, Twitter, Linked In, YouTube, Pinterest, Company's website, etc.
Social Media Manager is responsible for forming his company's brand value online. He is the one who drives sales from social media platforms and represents the company. The primary role of any Social Media Manager is to grow the social media accounts of a company and increase its follower base or subscriber base organically and inorganically through paid ads and bring audience interactions. 
Have you ever thought worldwide, how many people are using social media? Just think for a while. I think it's a bit difficult to answer. Let me tell you. Actually, according to a report by Hootsuite, around 3.8 billion people worldwide are connected through social media, and in percentage terms, it is about 50% of the total world population. Don't you think it is huge?
Such a boom in social media has offered many opportunities to individuals and businesses (maybe small or large), government, social organisations, or communities worldwide to share, connect, and communicate without specialised geographical boundaries. People are using and spending time on social media platforms in many ways. But the most effective use of social media has been noticed in social media marketing, especially by businesses.
Hit The
Play

Button To Listen To The Podcast:
Instagram, Twitter, YouTube are prevalent applications from youth to businesses to senior citizens too. Due to the covid pandemic and lockdown in almost every country, people have spent more time on social media at home. So login time of social media accounts has tremendously increased. People are spending an average of 2-3 hours on social media like Instagram. So it's the best time for social media managers to understand the enormous opportunity and gather potential leads for their business.
What are the responsibilities of Social Media manager?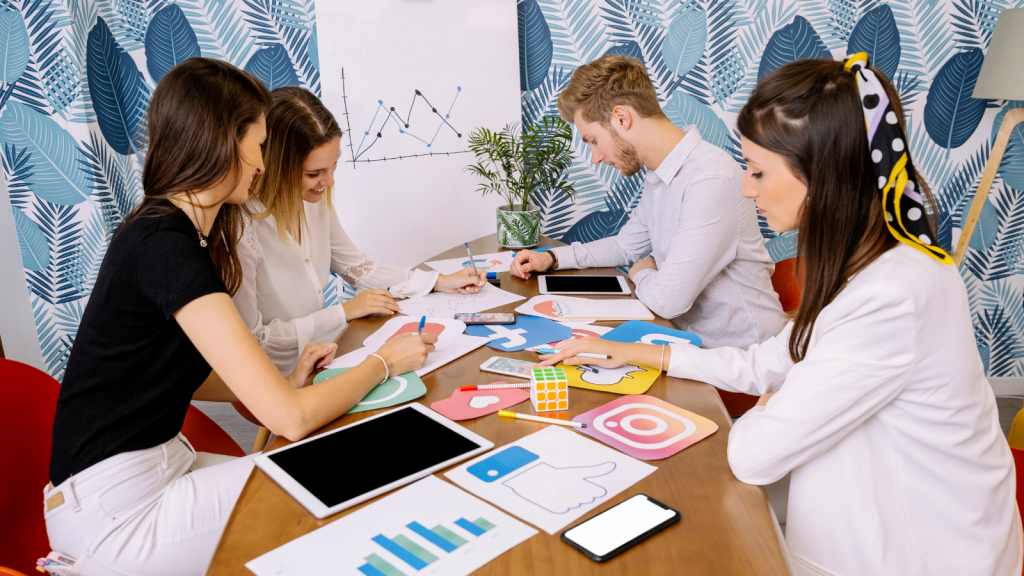 A Social Media Manager performs the following responsibilities :
Content Calendar:

 A Social Media Manager Makes Social Media Content Calendar and posting and scheduling content according to the prepared social media calendar.
Managing Community:

 A Social Media Manager manages all the comments, reviews, and messages on social media platforms and replies.
Owner:

 Acts like an owner of the brand on all social media platforms and decides what is best to post to increase brand visibility online.

Campaigns: 

creating and managing social media campaigns for new and current products.
Copywriting:

 Writing short and attractive text content for all posts.
Influencer marketing: 

 Selecting and identifying influencers for brand collaboration.
Reporting:

 Create monthly and weekly reports to show to the management. The report mentions the growth of social media accounts and various analytics to show how social media accounts are performing.
Social listening:

  A Social Media Manager lists posts and contents on different social media platforms like Instagram using proper hashtags and best SEO practices for indexing.
Content creating:

 making posts to add on social media and all the graphic designing and editing stuff, including photos and videos shooting and editing.
9 Top skills for becoming a Social Media Manager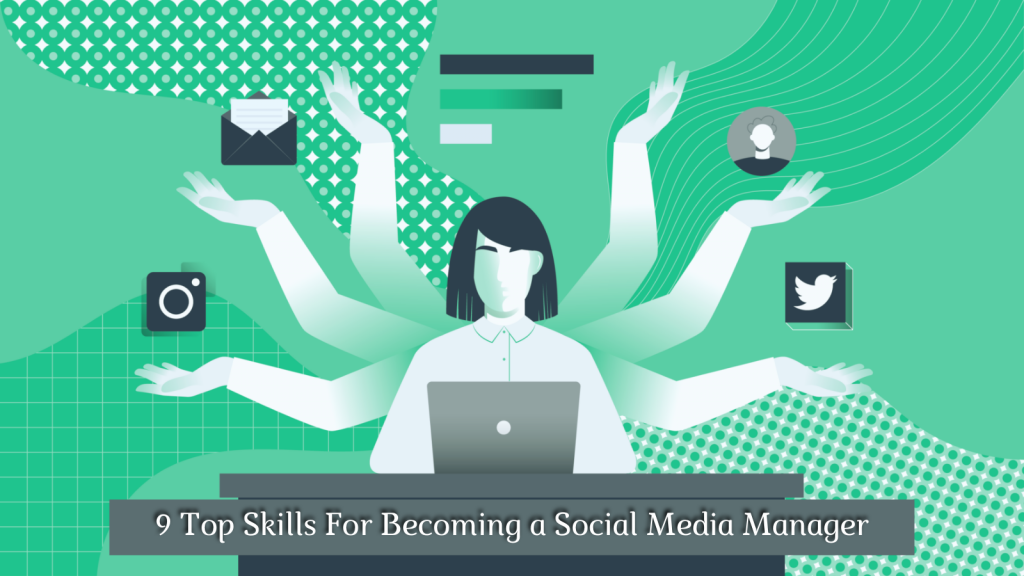 A Social Media Manager manages the brands' Social Media Accounts and grows their following and overall social presence. There aren't too many hard technical skills required for becoming a social media manager. An engineer, as well as a medical student or an arts graduate or maybe just a high school pass, can be a social media manager if he gains the following eleven skills mentioned below : 
Writing: 

This is the topmost and a must-have skill required for becoming a social media manager. Your followers are always ready to point out any mistakes in your post, so always make your content error and grammatical-free. Your short copy should be error-free, and it should be in certain word limits like 280 words, and while copywriting, you should always put the call to action very clearly.

Editing: 

As a Social Media Manager, you should be highly skilled in editing content. You should also be able to do basic photo editing and videos. If something goes wrong while posting, you should be able to figure it out quickly and edit it.

Designing: 

"Pictures are worth a thousand words." So if you are a social media manager, you should be creative and express content in lovely photos and graphics. You do not require to be an expert in highly specialized graphic designing software like photoshop or illustrator. But you should be able to use simple editing tools, which are meant actually for non-designers and social media managers like Canva, Picsart, Inshot app for video editing, etc.

Designing: 

"Pictures are worth a thousand words." So if you are a social media manager, you should be creative and express content in lovely photos and graphics. You are not required to be an expert in highly specialised graphic designing software like photoshop or illustrator. But you should be able to use simple editing tools, which are meant for non-designers and social media managers like Canva, Picsart, Inshot app for video editing, etc.

Meme Creation: 

Every Social Media Manager should have a good sense of humour and love memes. Memes are now the backbone of social media, and memes can connect with people easily. You should know what is trending among the people, and if you can create a meme out of trending topics that favour your brand, too, then you can be a next-level social media manager.

Organisation: 

Every Social Media Manager should be highly skilled in organising a content calendar and be ready to update it quickly. Posting daily on social media is required to grow on it as content is king, but you cannot post anything random on social media and often need to organise things.

Business Minded: 

Social media managers don't need a business degree to excel; it's essential to understand how a business works. Business-mindedness is required if you want to be an excellent social media manager. You have to feel like it's your brand and how you can grow your brand. The responsibility of ensuring that the marketing strategy is consistent with the company's overall objectives is the social media manager's responsibility.

Analytical Skills: 

Social media platforms provide a lot of valuable data and insights into your social profiles. So a social media manager must read all the data and analyse and extract all the useful information that can help change their marketing strategy or improve it. Proper knowledge of data analysis tools like Excel or Google's spreadsheet helps social media managers to analyse data without actually depending on data scientists or data analysts feedback. This is useful when you need to analyse performance per post or dig deeper into precise social analytics. Socioboard is one of the best tools for managing various social media accounts, especially Instagram. With Socioboard, you can create customised boards, schedule your social media content, and see analytics per post and overall account data.

Also Read:

51 Ways to gain Twitter Followers in 2021
How To Promote Your Business: 10 Best Practices For This Festive Season

Time Management and buyer's persona: 

Managing social media accounts means handling the online reputation of that brand, which is a huge responsibility as a social media manager. So you should be able to work under pressure and have proper time management skills. Know your customer better. Understanding your customer's needs, interests and preferences is a critical phase of marketing to deliver customer-centric service and products. Your customers constantly talk about your brand and products on social media. It allows you to listen to your customer to have more customer insight. The collected information will help you further understand your customers, which will surely help you in your social media marketing strategy. For Social Media Managers, it is essential to know who is your buyer or audience. It will help you create relevant marketing content for those you want to target through your marketing campaigns. Now, what do we mean by buyer persona? A buyer persona is somehow a semi-fictional representation of your ideal customer based on your research and data about your actual customers.

In simple words, Buyer Persona is a step-by-step process of gathering data about your future customers. It is essential while creating your buyer persona; you should include the demographics of your customer, their needs and wants, their motivation to buy the product, etc. Creating a buyer persona is a bit challenging job; you will learn it with time experience. However, I'm going to explain this process with straightforward steps. So let us start. The very first step is, conduct in-depth research about your audience. If you are already in a business, then collect information about your existing customers. As a starting point, you may gather the basic information related to their age, gender, location, language, interest, spending powers, and others. But the question is, what are the sources of this information? From where will I collect this information? For this purpose, you may use your customer database, social media analytics, Facebook Insights, and Google Analytics.